Career Choices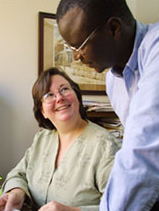 George Fox PsyD graduates are successful in many domains of professional practice, including:
Therapy
Consultation
Psychological assessment
Test development
Higher education
Research
Graduates are prepared for licensure as clinical psychologists. Alumni of the GDCP are licensed in more than 30 states throughout the United States. They practice in a variety of settings, including independent and group practices, hospitals, community and public health agencies, government, correctional facilities, university counseling centers, as well as church and parachurch organizations. Graduates also teach in a variety of settings, including colleges and seminaries.