Historical Roots
The Graduate Department of Clinical Psychology (GDCP) is part of George Fox University, a private liberal arts university associated with the Friends (Quaker) church. Founded in 1891, the university is devoted to providing high-quality higher education within the context of the historic Christian traditions of the Friends church. The GDCP offers the PsyD degree in clinical psychology, enrolling its first students in 1976 when the program was affiliated with Western Baptist Seminary in Portland, Ore. After much consideration, it was determined that the GDCP was more compatible with a university rather than a seminary institutional setting. This resulted in the transfer of the entire GDCP program (including faculty and student body) to George Fox in 1990.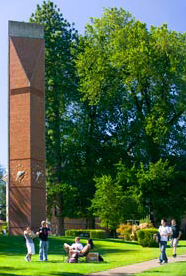 The missions of both the GDCP and George Fox are highly compatible, resulting in a mutually beneficial environment. For hundreds of years, the Quakers have stood for peace, social justice, equality, and social reform. They were the first Christian group to ordain women as ministers. Elizabeth Fry led Quakers in early prison reforms. Likewise, William Tuke led Quakers in early reform of mental institutions. Susan B. Anthony, another Quaker, was a strong advocate for women's voting rights in the United States. Health and welfare programs and service to the poor have been hallmarks of the Quaker tradition. These social reform commitments fit well with the service mission of psychology.
Consistent with the desire of the psychology department faculty, the board of trustees and upper administration of George Fox decided to actively pursue APA accreditation of the GDCP when the program was adopted in 1990. Numerous program enhancements were made resulting in APA accreditation in 1998.