APA Accreditation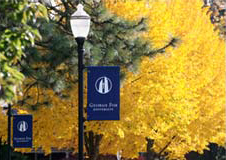 George Fox University's Graduate Department of Clinical Psychology is accredited by the American Psychological Association.* While the PsyD degree provides training in the scientific foundations of psychology and in research methods and statistics, it places greater emphasis on the development of clinical skills.
The PsyD Program received a highly favorable review by the APA during it last reaccreditation visit (2011). A seven-year reaccreditation period was awarded, the longest interval allowed.
George Fox is the only Christian university in the Pacific Northwest with an APA-accredited PsyD program.
*The American Psychological Association's Commission on Accreditation is located at:
American Psychological Association
750 First Street N.E., Washington, D.C., 20002.
Phone: 202-336-5979.