Salamanca Spain Summer Study Abroad Program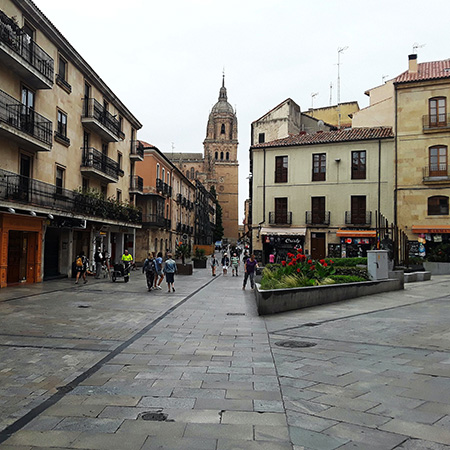 Photo by Leonie Clough on Unsplash
Program Overview
This program is offered in collaboration with the Universidad de Salamanca in Salamanca, Spain. The University of Salamanca is the oldest university in Spain.
Course Content
All students take Spanish acquisition courses at their appropriate level, plus choose three electives each month from:
Composition and conversation
Oral Communication Skills
Written Communication Skills
Culture of Spain
History of Spain
Women throughout Spanish History
Spanish and Latin American Cinema
Business Spanish
Modern Spanish Economics and Society
Modern Spanish History
The Arab World in the Hispanic World
History of Spanish Art
Literary Analysis
Spanish and Latin American Literature
Contemporary Spanish Literature
Translation, English to Spanish
Housing
You will live with a family in Salamanca that provides three meals a day. They may choose single- or double-occupancy. There is a small additional fee for laundry service.
Program Fees & Eligibility
The student cost is the cost of the summer program plus a $300 administrative fee to George Fox University. George Fox pays the Universidad of Salamanca and bills the student. Round-trip airfare is additional. You can get more details on fees on our Fees & Scholarships Page.
To apply, you must be a full-time undergraduate student with junior or senior status, holding a cumulative GPA of 2.75 or higher.
Application Process
Applying to the program is a two-step process, requiring that you complete both a George Fox and external site application. Visit the Application Page to get specific details. Once you've completed the George Fox application, we will provide you with information to apply to the Spain, Salamanca (Summer) program.