Looking for a meaningful career that helps others?
Consider becoming a professional counselor in Salem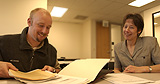 George Fox's Graduate Department of Counseling, shaped by our commitment to an integrated understanding of the Christian faith and mental health, exists to train graduate-level clinicians.
We offer rigorous academic and clinical training to promote the personal and professional development of students, with the goal of promoting relational, psychological, physical and spiritual wholeness of individuals, couples, families, organizations and communities.
Our Salem site offers …
Master of Arts in Counseling (MA)
Marriage and Family Therapy (MA or Certificate)
We are also home of the Northwest Center for Play Therapy Studies (at our Portland Center). It is the only university-based center focused on the study and promotion of play therapy in the northwest United States.
Want to know more? Have questions about our program? Let us hear from you!
Looking for a meaningful career that helps others?