Bruins ranked fourth in preseason basketball poll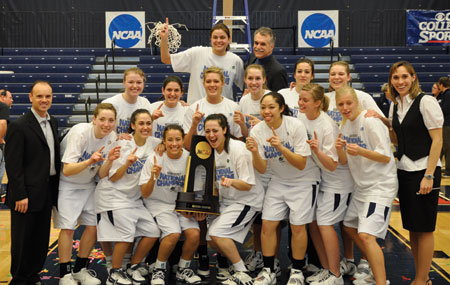 One year after surprising everyone with a perfect 32-0 season and a national championship, the George Fox University women's basketball team finds itself near the top of the preaseason polls as a new season dawns.
The Bruins, who return three starters and nine players for National Coach of the Year Scott Rueck, are ranked fourth in the country by D3Hoops.com. George Fox earned six first-place votes and racked up 509 points in a poll of Division III coaches, sports information directors and media members. Washington University of St. Louis, which George Fox defeated 60-53 in last spring's national championship game, earned a spot atop the poll with seven first-place votes and 588 total points.
Amherst College of Amherst, Mass., was ranked second in the poll with five first-place votes and 579 total points, and Hope College of Holland, Mich., was third with seven first-place votes and 577 points. Rounding out the top 10 were Scranton (492), Illinois Wesleyan (441), Bowdoin (394), UW-Whitewater (385), Brandeis (359) and Muhlenberg (331).
The Bruins will tip off their season with a visit to Corban College on Tuesday, Nov. 17. To read more about the preseason rankings, read the university's press release online. To learn more about the program, visit the George Fox women's basketball web page.