Former hoops standout Shielee to play in Europe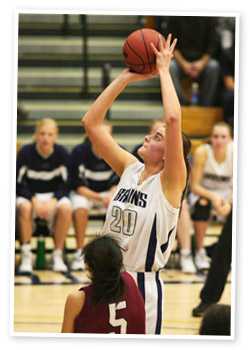 Former George Fox women's basketball standout Kristen Shielee — instrumental in the Bruins' run to a perfect 32-0 record and an NCAA Division III national championship in the spring — isn't putting away her high tops just yet.
The 22-year-old native of Gresham, Ore., is instead preparing to take the court in Europe for a professional team in northern Spain, Pamplona Ardoi. Shielee admits it's a surprising turn of events — especially in light of the fact she considered giving up the sport a year ago. The 6-foot-4 post was offered a spot on the Spanish team after being named the Northwest Conference's Player of the Year, MVP of the Final Four, and an All-American.
Shielee averaged 12 points per game and blocked a school-record 122 shots for the Bruins, who claimed their first title and the first Div. III championship for any school west of the Rocky Mountains.
OregonLive published a story about Shielee in its Tuesday, Aug. 25 edition.