In Print
Leah Payne (seminary) in February published a new book, Gender and Pentecostal Revivalism: Making a Female Ministry in the Early Twentieth Century (Palgrave Macmillan). She also authored a chapter that appeared in the book Toward a Pentecostal Theology of Preaching, released in April, and published an article, "Pants Don't Make Preachers," in the April 2015 issue of the journal Fashion Theory.
Mark David Hall (politics) contributed an essay on Roger Sherman to The Bloomsbury Encyclopedia of the American Enlightenment, published in February.
Abigail Rine's (English) short story "Chaoskampf" was published in the spring 2015 issue of the literary journal Potomac Review. Her article "What is Marriage to Evangelical Millennials?" also appeared in the May 2015 issue of First Things.
Phil Smith (philosophy) contributed two weeks of devotionals to the winter 2015 issue of Fruit of the Vine (Barclay Press), a quarterly devotional book.
Nate Peach (business) had his paper, "Energy Consumption and Economic Growth: A Study of California, Oregon, and Washington," published in the spring 2015 issue of the International Journal of Economics & Social Science.
William Jolliff (English) in May published Twisted Shapes of Light (Wipf and Stock), a book of poetry that incorporates a unique cast of characters, resulting in "an honest struggle with faith and failure – and even an occasional revelation."
Rick Muthiah (student life) coauthored "A Culture of Learning: Inside a Living-Learning Community," published in the Journal of College and University Student Housing.
Annette Nemetz (business) published an article, "A Global Investigation of Government and Community Stakeholder Influences on Large Company Engagement in Sustainability," in the winter 2015 issue of the International Journal of Business and Management.
Kevin T. Jones (communication arts) had an article, "Teaching Audience Analysis with Presidential Texts," accepted for publication in the July 2015 issue of the journal Communication Teacher.
Brenda Morton (education) published an article, "Seeking Safety, Finding Abuse: Stories from Foster Youth on Maltreatment and its Impact on Academic Achievement," in the April 2015 issue of Child & Youth Services.
Ken Badley (education) coauthored Educational Foundations in Canada (Oxford University Press), published in November. The textbook "takes a comprehensive look at the sociological, philosophical, historical, legal and political factors that impact classroom experiences."
Susanna Steeg (education) had an article, "Collaborative Professional Development: One School's Story," published in the March 2015 issue of the journal The Reading Teacher.
Robert Hamilton (engineering) coauthored an article, "Interpreting Ulysses Data Using Inverse Scattering Theory: Oblique Alfvén Waves," published in the March 2015 issue of the Journal of Geophysical Research.
Randy Woodley (seminary) published an article, "An Indigenous Theological Perspective on Sabbath," in the spring 2015 issue of Vision: A Journal for Church and Theology.
Paul Otto (history) published an article, "The Dutch, Munsees, and the Purchase of Manhattan Island," in the January 2015 issue of the New York State Bar Association Journal.
Recent Recognition
For the third straight year, George Fox University was named to the President's Higher Education Community Service Honor Roll in recognition of its commitment to community and civic engagement. All told, faculty, staff and students contributed more than 750,000 hours of community service over the three-year period.
Paul Otto (history) will spend his sabbatical next year at the National Humanities Center in North Carolina's Research Triangle Park after being selected to be a fellow at the center for the 2015-16 academic year. Otto will work on his book Beads of Power: Wampum and the Shaping of Early America during the fellowship. He was also one of 11 historians chosen to be part of Historic Huguenot Street's newly formed Scholarly Advisory Board.
Isabelle Corneaux (world languages) in May was selected by the Confederation in Oregon for Language Teaching as a member of the 2015 Honor Roll.
Rebecca Hernandez (academic affairs) in March was appointed chair of the newly created Council for Christian Colleges & University's Commission on Diversity and Inclusion.
Senior Emily Lund in February was awarded a de Jager prize for exceptional academic performance during her Scholars' Semester in Oxford during the fall 2014 semester.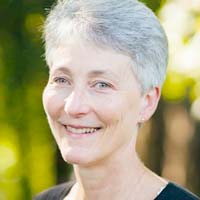 Lori DeKruyf (counseling) in January received the 2014 Western Association for Counselor Education and Supervision Publication Award in recognition of contributions made to counselor education and supervision literature.