Doctor of Leadership in Global Perspectives
July 15, 2021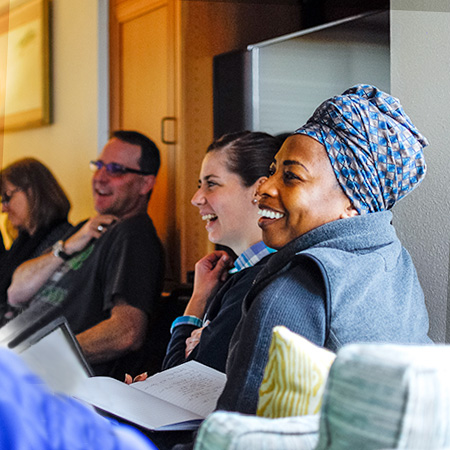 Portland Seminary is proud to introduce its new Doctor of Leadership in Global Perspectives degree, a cohort- and online-based format, three-year program featuring a lead mentor and three in-person gatherings, is designed to prepare students to lead both inside and outside the church. The program will provide Christian leaders with a faith-based professional doctoral degree that is broad, flexible and credible in a variety of environments, including faith-related organizations and nonprofit ministries, and hospice, counseling, social work, administrative and parachurch settings.
"In our disrupted world, Christian leaders already know they need a different learning experience, and we are thrilled to offer them our new Doctor of Leadership degree," said program lead mentor Jason Clark. "This is a distinct and unique opportunity for Christians wanting to grow their leadership and better navigate our complex world – and to do so within a Christ-centered, theologically informed perspective."
The new degree was launched following a survey of alumni from the seminary's former DMin counterpart, the Doctor of Ministry in Leadership and Global Perspectives (DLGP) program. The findings pointed to a need for a professional doctorate for ministry leaders who work outside the church – those in bivocational, nonprofit, marketplace ministry, or business-as-mission environments.
"This new degree provides an opportunity for us to meet the need of a wider population of Christian leaders," said Loren Kerns, director of Portland Seminary's Doctor of Ministry programs. "When we did our market research, we discovered very few leadership degrees that engage the discipline of leadership from a Christ-centered, theologically informed and faith-affirming perspective. The seminary is uniquely qualified and best positioned to offer such a terminal degree."
Lead mentor Clark sets the overall inspiration, ethos and direction of the program and oversees coursework. Students take four courses with Clark over two years, and he facilitates online discussions, provides feedback on individual leadership development plans, and participates in a Project Portfolio examination.
Each week, 12 to 18 students in the cohort join a videoconference conversation with Clark and engage one another weekly on a public blogging platform. Students also regularly interact with project faculty in small peer groups each semester.
The program also includes three face-to-face intensives, called "Advances," over the course of study. Advances are tentatively scheduled in Washington, D.C. (in 2021 only); Cape Town, South Africa; London; and Singapore. Advances serve as "adventures with a purpose" to push the boundaries of students' thinking through on-the-ground engagement with mentors, leaders and scholars.
Applications are currently being accepted for the program's fall launch at seminary.georgefox.edu.
For more information, visit seminary.georgefox.edu or contact Michael Simmons, the program's admissions counselor, at 503-554-6168.
Are you interested in studying at Portland Seminary?