Traditional Undergraduate Commencement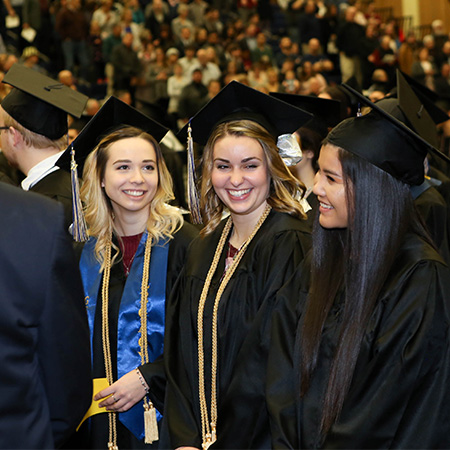 Midyear
We will host a midyear commencement ceremony for traditional undergraduate students at 11 a.m. on Saturday, Dec. 17, 2022, in Bauman Auditorium on our Newberg campus. Doors open to guests one hour prior to the start of the ceremony. We anticipate the ceremony will last approximately one hour.
Tickets
Tickets will be required for all guests. Commencement tickets will be distributed to each graduate when they pick up their cap and gown at the Exodus Grad Fair (or from the registrar's office after Exodus). Number of tickets per student will be announced a few weeks into the semester after commencement attendance numbers have been established.
Livestream
The ceremony will be available to watch via livestream.
Regalia
The Registrar's Office orders regalia for all graduating students based on the sizing information provided on their application for graduation. Students should plan to pick up their regalia at the Exodus Grad Fair on March 22. If students miss the grad fair, regalia will be available for pick up from the Registrar's Office (first floor of the Stevens Center) between 8 a.m. and 5 p.m. starting Thursday, March 23, after completing the virtual Exodus check-out tasks. Questions can be directed to registrar@georgefox.edu. 
Graduation Photographs
We are pleased to announce that we have hired The Grad Team to be our commencement photographers. Students do not need to preorder or request photos before the ceremony.
During the ceremony, professional photographers will take multiple photos of every student and then notify graduates through their George Fox email when photos are ready for online viewing. Please click here for more information.
Guest Services
Guests with Disabilities
Accessible seating is available for guests with disabilities and one companion. This seating area is designated for individuals using wheelchairs and guests with mobility issues. To place a reservation, please contact Laurie Fair at lfair@georgefox.edu.
Interpreting & Assisted Hearing Services
We will offer Spanish and American Sign Language interpreting services, as well as assisted hearing devices. To reserve any of these devices, please email Laurie Fair at lfair@georgefox.edu or call 503-554-2140 or 800-765-4369, ext. 2140.
Bookstore & Dining Options
On Saturday, Dec. 17, the university's bookstore, The Bruin Store, will be open from 9 a.m. to 4 p.m. The Bridge Cafe in Canyon Commons will be open from 9 a.m. to noon, and the dining hall in Canyon Commons will be serving brunch from 9 a.m. to noon as well.
Download a campus map.
Graduation Announcements
To order graduation announcements or college rings, go to the Jostens website or call Jostens at 1-800-854-7464. Announcements take two to three weeks for delivery once they are ordered.
Video Download
The midyear commencement ceremony will be recorded by George Fox University Media Production Services. A digital download is available for purchase for $6.24 by completing this order form. Digital download links will be sent one to two weeks after commencement.
Spring Commencement
George Fox will host a spring commencement ceremony for all undergraduates on Saturday, April 29, 2023 in Stoffer Family Stadium on the Newberg Campus. 
Tickets will be required for all guests. The number of tickets each student receives will be determined once we have an accurate number of graduates participating in the event (within the first month of spring semester).
More details will be provided as the event draws closer.
Questions?