George Fox University annually hosts both spring and midyear commencement ceremonies for its undergraduate and graduate programs.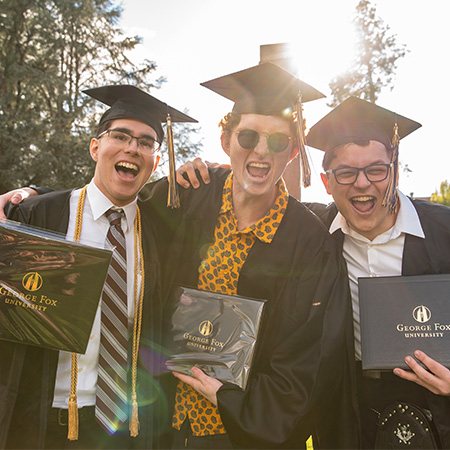 Spring

Undergraduate Commencement:

George Fox will host a spring undergraduate commencement event for traditional undergraduate and George Fox Connect (Adult Degree Program) students on Saturday, April 29, 2023, in Stoffer Family Stadium on our Newberg campus.

Tickets will be required for guests attending. The number of tickets each graduate receives is based on the number of graduates attending. These numbers will be confirmed a few weeks into the beginning of spring semester.

More details will be provided as the event draws closer.
Spring

Graduate Commencement:

Graduate programs will host department-specific commencement and hooding events in the spring. Graduate programs hosting spring commencement events include:
Midyear (Fall) Commencement: 

Saturday, Dec. 17, 2022

The midyear commencement ceremony, scheduled for Saturday, Dec. 17, in Bauman Auditorium on our Newberg campus, will be broken into two ceremonies. Doors open to guests one hour prior to the start of the ceremony.
The undergraduate commencement ceremony for traditional undergraduate and George Fox Connect students is at 11 a.m. Undergrad students will each receive 10 tickets for their guests.
The graduate commencement ceremony for graduate-level students is at 3 p.m. Graduate students will each receive 8 tickets for their guests. Graduate programs who have cohorts completing their degree this fall include:
Students completing their degree from another graduate program are welcome to participate in midyear commencement. Please note: Not all graduate departments host midyear hooding ceremonies. Summer and fall graduates are welcome to delay their participation in commencement if they prefer to participate in their program-specific commencement and hooding held in the spring. Students need to communicate with their department and the registrar's office regarding their commencement attendance.
We anticipate each ceremony to last approximately one hour. Tickets will be required for all guests.
Additional guests are invited to watch the ceremony through the livestream and view the program online. 
Undergraduate Ceremony Program
Questions?