Admission Requirements
Complete a bachelor's degree at an accredited institution with a grade point average of at least 3.0 for the most recent 60 semester hours of graded work.
Complete at least 18 semester hours in psychology. Recommended course work includes the following:

Introductory Psychology
Psychological Statistics or Research Methods
Personality Theory
Human Development
Abnormal Psychology
Psychological Tests and Measurements
Social Psychology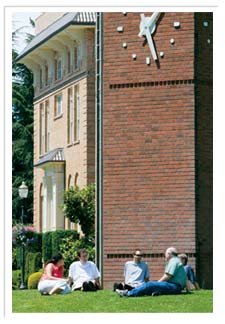 How to Apply
To complete your application and be eligible for file review, please submit the following by the application deadline: 
Online Application: The Doctor of Clinical Psychology application can be found online here.
Application Fee: A $40 non-refundable application fee is required to apply. 
GRE Test Scores: Submit official results from the GRE General Test. More information on the GRE general test is available at gre.org.
Official (Unopened) Transcripts: Order official transcripts from every college or university where you completed even a single course.  Transcripts should be sent to the address below:
Office of Admissions
George Fox University
12753 S.W. 68th Ave.
Portland, Oregon 97223
International Students: Additional requirements for International Students are online here.
Note: You may also choose to include official test scores from the PGRE psychology subject test. This is not required for admission, but is required for current PsyD students. However, a good score would strengthen an application file for the following applicants:
Non-psychology majors
It has been a while since you were in a formal psychology class
You attended a non-accredited or non-traditional institution of higher learning
Your academic background does not reflect your knowledge of psychology 
Application Deadlines
All application items can be mailed or sent electronically to: psyd@georgefox.edu. 
Early Notification Deadline: November 15
Final Application Deadline: January 15
Once Your Application is Complete
All application items must be submitted by the application deadline. The Admissions Committee will then review all completed files and selected applicants will be invited to an on-campus interview. Interviewees will be invited to campus either the weekend of 2/21/14 or 2/28/14.
Additional Information
If accepted, a $200 enrollment deposit is required.
Financial Aid: Many of the students in our program receive federal Stafford Loans to help finance their education. Contact us for additional financial resources that may be available to you. 
Application materials become the property of George Fox University and cannot be returned to the student nor transferred to another institution.
Meeting minimum entrance requirements of a given program does not guarantee admission.
Admission may be granted to applicants who do not meet all admission requirements at the minimal level if other indicators suggest probable success in the program.
Most students admitted to the GDCP describe themselves as Christians and all agree to abide by the community lifestyle expectations during enrollment in the program. See our lifestyle statement for more info.
Contact Us
For questions about the admission process, please contact:
Megan Janes
Graduate Admissions Counselor
mjanes@georgefox.edu

Phone: 503-554-6168