Are you a considerate listener? Is mental health a subject that you're passionate about? Are you interested in making a difference in the lives of others and society as a whole?
If you answered yes to any of these questions, then professional counseling may be your vocational calling.
George Fox offers master's degrees in clinical mental health counseling , school counseling , and marriage, couple and family counseling . We believe counseling is a crucial kind of ministry, and we want to support you as you embody God's unfailing love and change our broken world for the better.
"The counseling program at George Fox enhanced my empathy and really taught me that every person is going through something," says Tim Ide, a graduate of our marriage, couple and family counseling program. 
So why George Fox? For one, our curriculum is spiritually integrated. Our courses are set in Christian values, but we welcome students of any and all belief systems. Above all, we're here to develop your multicultural competency as we teach you how to work with clients from diverse traditions and worldviews.
"There are many layers to someone who is gay and is also a person of color," says Marti Diaz-Domm, who graduated from the program in 2020. "I wanted to help others who face similar challenges. When I interviewed with the graduate counseling admissions team, I was told I would be very welcomed if I chose George Fox. Something inside me said George Fox was the school for me.

"It was the best decision I ever made. Students and professors alike made sure my voice was heard in every class. I never felt rejected. I felt like people wanted to learn from me, and I wanted to learn from them."
To help students expand their knowledge beyond the core curriculum, George Fox offers specialty courses through the Trauma Response Institute and the Northwest Center for Play Therapy Studies . These classes are taught by experienced professionals, and they will stretch your understanding of counseling while simultaneously preparing you for additional certifications if you choose to pursue them.
The degree programs at Fox are extremely flexible, allowing you to choose the path that works best for you. What we want most is to see you succeed in your counseling career, and we'll do everything we can to help you get there.
Our programs only require that you have a bachelor's degree (it doesn't have to be in a mental health field) and a GPA of 3.0 or higher. By the time you graduate, you'll be prepared to work in a wide variety of settings, including private practice, profit and nonprofit institutions, hospitals, and schools.
"This is a unique field where you can touch the lives of tons and tons of kids at a time," says Leah Anderson, a graduate of George Fox's school counseling program and a school counselor at Adam Stephens Middle School in Salem.
We offer spring, summer and fall semester start dates, and you can choose from full- and part-time options. If you feel called to counseling, we want to make sure that time doesn't stand in your way.
The application deadline for fall 2022 is May 1 . If you're ready to take the next step, you can apply online.
Questions?
Visit our website or contact us. We look forward to embarking on this journey with you!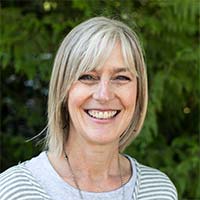 Admissions Counselor, Graduate Counseling Programs