Program Structure
Location
For the first four years of the program (excluding the fifth-year internship) students complete coursework in person at our main campus in Newberg, Oregon. The George Fox PsyD program does not offer courses via online or distance learning.
Program Length
The George Fox PsyD is a five-year, full-time program. Students complete their coursework, practicum and research requirements during the first four years of the program and then take part in an internship during year five.
Schedule
Between classes, clinical practicum, clinical team meetings and research team meetings, George Fox students have a full schedule. Students should anticipate program commitments throughout the week during the day.
Monday & Tuesday: Clinical/Practicum Training
Wednesday: Clinical and Research Vertical Team Meetings on Campus
Thursday & Friday: Classes
Cohort Model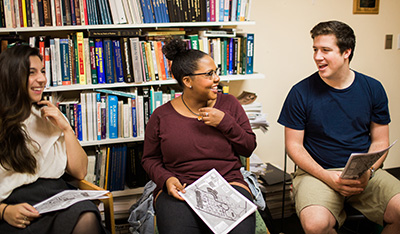 The George Fox Graduate School of Clinical Psychology is a community-based program. Typically, we admit 32 to 36 students each year as members of a cohort. George Fox students value our small community environment and rely heavily on one another as they progress through this transformative program together. All core coursework follows a cohort model.
Specializations
Students have the option to specialize their degree with either a track or area of emphasis.