Parent Perspectives - A Monthly Newsletter for George Fox Parents
March 2013
Articles
Physical Therapy Program
Tyler Cuddeford, PhD, PT
Director and Assistant Professor
Doctor of Physical Therapy Program 
The year 2012 marked the beginning of an exciting new opportunity for George Fox students with the addition of our physical therapy program. George Fox University's Doctor of Physical Therapy (DPT) program emphasizes a problem-solving, evidence-based approach to learning and integrates clinical research into the practice of physical therapy. We are one of only two schools in Oregon and one of just four in the 116-member Council for Christian Colleges & Universities to offer a Doctor of Physical Therapy degree. We are also the only Christian university in the Pacific Northwest with a physical therapy program. More...
Living with an International Roommate
Polly Peterson
Adjunct Instructor
Late last summer, a soon-to-be George Fox freshman approached me as I was leaving church. "I just found out I have an international roommate," he told me. "Do you have any advice?" I assume he asked because I'd hosted international students over the last few years. This year, two students are living in our home.   More...
Getting Work Experience in College: Jump-Starting Employment
Bonnie Jerke
Director Career Services
It wasn't but a few days ago, I met with a senior who was getting her degree shortly and generally appeared clueless about what to do with it or whether or not she even cared. Apart from being modestly alarmed, I began to ask her the pertinent questions that would hopefully lead her to an awareness of her own desires and personal career direction. More...
Supporting Students through Finals
Rick Muthiah
Dean of Learning Support Services
Every semester ends with an odd combination of exhilaration, stress, joy and sadness. Students delight in ending another chapter of their college experience, yet are often sad that after the semester ends, everyone scatters to the winds and meaningful relationships experience sometimes-difficult transitions. More...
Rob Blanck 
Parent Council Chair-ElectR 
In 2005, as we drew close to Christmas, both my wife and I were dogged by a sincere urging that told us to forego the usual purchasing of presents and just concentrate on making time as a family, to spend together. We had no clue what or why the urging was, but we yielded. Our response was to take a Mexican cruise for the holidays. More...
SFS NEWS - Designed to Help You Stay Informed 
Terri Crawford, Assistant Director of Financial Aid
Jenny Getsinger, Director of Student Accounts
In the ever-changing world we live in, staying current can be a challenge, and when it involves finances, being outside of the loop can be costly. The challenge to us, your Student Financial Services team, is to provide timely information that is relevant, concise and clear. More... 
Books on the Nightstand

Rob Felton
Director of Public Information & Director of Marketing Communications
You are my Witnesses: Drawing from your spiritual journey to evangelize your neighbors, by Charles Van Engen. I'm reading this as part of a class my church is offering on relational evangelism. This probably makes me sound more "spiritual" than I am, so I'll share the sad truth that I probably feel more comfortable asking people for money than sharing the gospel with them.  
I own every book by Ivan Doig, a Montana-born novelist, who spins gold with his prose and storytelling. I'm still basking in the memory of reading his most recent: The Bartender's Tale, which is a love story of a 12-year-old boy and his father. (Warning: While I cherish Doig's work, my wife uses his books as well-written sleep aids.)  
And more in the sleep-aid category ...
Llama LLama Red Pajama
by Anna Dewdny and The Mitten: A Ukrainian Folktale by Jan Brett, which my 19-month-old daughter requests each night by saying "Baba," the name of the grandmother in the story. As a first-time Dad, they haven't gotten old yet.
Scot Headley
Professor, Educational Foundations and Leadership 
Reason for Hope: The Faith and Future of the Friends Church by John Punshon. This is a book I first read about five years ago in my attempt to broaden my understanding of the theological underpinnings of the Evangelical Friends Church. I have returned again to this book. Punshon relates the history and development of Friends faith and practice from an evangelical perspective. This work is helpful in learning about the influences on current perspectives adhered to by those of us who align with the Evangelical Friends. Punshon's book is not light reading; however, for those interested in learning more about theological perspective which serves as the foundation for George Fox University and the Northwest Yearly Meeting of Friends, this book will prove to be a valuable resource.
I have just completed reading Dreamers of the Day by Mary Doria Russell, which I received as a Christmas gift! I had read several of Russell's previous novels and enjoyed this one. This book is the story of Agnes Shanklin, a middle-aged school teacher from Ohio who travels to Cairo, Egypt in 1921. Agnes witnesses the events surrounding the Cairo Peace Conference in which the future of the Middle East was determined by the Western powers. Agnes meets and interacts with Winston Churchill and T.E. Lawrence, among many other memorable characters. Dreamers of the Day is a fascinating story that weaves historical events with personal reflections about war, peace, personal tragedy and romance. 
My wife, Debbie, has been a fan of the poet Mary Oliver for quite some time. At Debbie's suggestion, I have been reading some of Oliver's work. Currently, I am reading West Wind, a collection of poems and prose poems. Many of poems in this book have themes regarding the natural world. I have enjoyed reading and reflecting on the words and themes contained in this work. If you love the beach, the forest or the fields, I suggest you pick up this collection of Oliver's work. You may be surprised and pleased by the subtle shades of meaning found there.
Events
George Fox Blazers Night - April 12

George Fox alumni, parents, and students will come together on April 12 to watch the Portland Trail Blazers take on the Oklahoma City Thunder at the Rose Quarter.
Tickets are $22 a piece. 
To register and purchase tickets
click here
. 
Baccalaureate & First Reunion - May 3
An evening of special celebration for the Class of 2013 graduates and their families. Come together for a time of worship in Bauman Auditorium at 6 p.m. and then a semi-formal dinner awaits you in Klages Dining Hall. 
Dinner Cost:
Adults: $16
Children 12 & under: $10
2013 Graduates: Free 
For more information and to register, click here.
Contact Alumni & Parent Relations at 503.554.2134 or alumni@georgefox.edu with questions.
Important Dates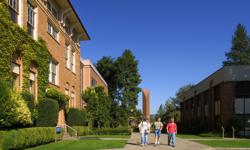 Spring Break
March 23-31, 2013
Spring Commencement
May 4, 2013 
Spiritual Life
Chapels on Monday's and Wednesday's are held from 10:40 to 11:30 a.m. in Bauman Auditorium. Chapel and other programs can be found online in MP3 and video format.
To view a complete chapel schedule, visit the Office of Spiritual Life's website and click on Spiritual Life Calendar.
Announcements
Photos from Homecoming & Family Weekend and Bruin Madness III online
Visit
facebook.com/GeorgeFoxParents
to view photos from Homecoming & Family Weekend and Bruin Madness III.
If you have photos from those weekends that you would like to share, feel free to post them on the George Fox Parents Facebook page. 
Where should you stay in Newberg while visiting the George Fox campus for Family Weekend and other events? Check out the list of recommended local hotels and bed and breakfast establishments, some of whom offer discounts to George Fox families. Click here.
Student Support Network
The Student Support Network (SSN) provides practical and intentional support for students who are struggling academically, spiritually, emotionally, socially, or personally. If you would like to refer a student to the SSN please fill out the Intervention Alert Form found at
ssn.georgefox.edu
. If you have further questions or concerns please see the contact information on the SSN home page.
Quick Links...
Send your student a care package
Bon Appetit Management Company provides food service at George Fox University. It also offers a wonderful selection of special packages for your student to honor birthdays, holidays, study breaks, or just to send a special hug from home. To find out more, click here.
Your comments are welcome!
Please let us know what you like about Perspectives, or what you would like to see in upcoming issues.
Facebook
Like the Facebook Page for George Fox Parents for updates, photos, and videos about what's happening on campus!