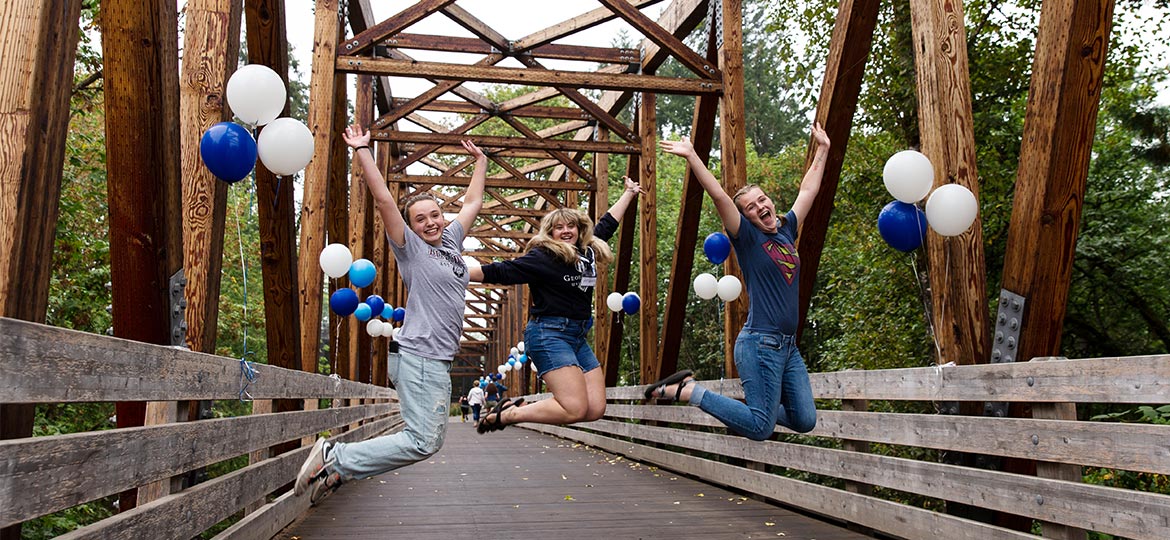 Welcome Weekend Schedule
Note: This schedule is tentative and subject to change. Check your George Fox email account regularly for information about Welcome Weekend.
Not sure where to find an event location? Check out the campus map!
Friday, August 25, 2023
8 a.m. - Noon
Move In
9-10:30 a.m.
Commuter Check-in (Quad)
10 a.m. - 2 p.m.
Community Fair (Quad)
11 a.m. - Noon
Commuter Welcome (Stevens Center)
Noon - 2 p.m.
Lunch
Guests may pay to eat in Canyon Commons, or visit our local Newberg eateries.
Noon - 2 p.m.
Mosaic Scholar Lunch (Canyon Commons 101)
2:30-4 p.m.
Parents: Session with President Robin Baker (Bauman Auditorium)

Students: Meet Your Major AAO Session (Canyon Commons)
4:30-6:45 p.m.
Dinner on the Quad (Purchase Tickets)
Meal plans start for students.
5-6:15 p.m.

First Gen Dinner (Canyon Commons 101) A dinner for first-gen families & students (whose parents/guardians have not completed a 4-year bachelor's degree)

5:30-7 p.m.
IRC Dessert Reception (Intercultural Resource Center)
7:30-8:45 p.m.
University Welcome (Stoffer Stadium). Watch the livestream
After University Welcome
Candlelight Goodbye to Parents
Event takes place immediately after end of University Welcome.
10 p.m. - Midnight
Late Night at Fred Meyer
Busses will shuttle students to the store.
Saturday, August 26, 2023
8-9:30 a.m.
Breakfast (Canyon Commons)
9:30-11 a.m.
George Fox University Mission & Vision Presentation by President Robin Baker and Joseph Clair (Bauman Auditorium)
This session is required for all incoming students.
11-11:45 a.m.
Res Life Hangout (Living Areas)
Note: The transfers res life hangout will be in Gulley.
11-11:45 a.m.
Commuter Life Hangout (Hadlock Student Center)
11:45 a.m. - 1:15 p.m.
Lunch (Canyon Commons)
Go to lunch with your res life team.
1:30-3 p.m.
Student Life Session (Bauman Auditorium)
This students-only event is required.
3-4:30 p.m.
Explore Newberg
Have fun off-campus with your living area and learn about what Newberg has to offer!
5-6 p.m.
Blue Zone Baseline (Stoffer Stadium)
6-9 p.m.
Dinner & Party on the Quad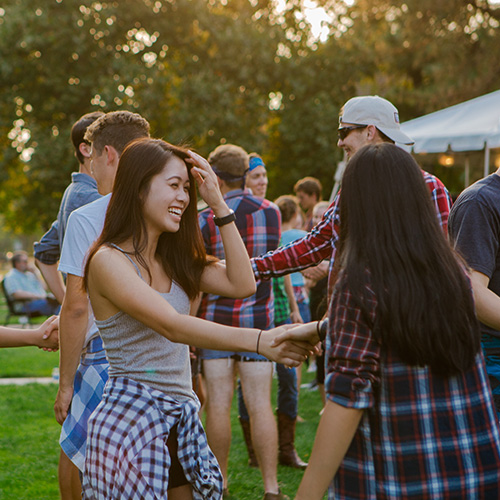 Sunday, August 27, 2023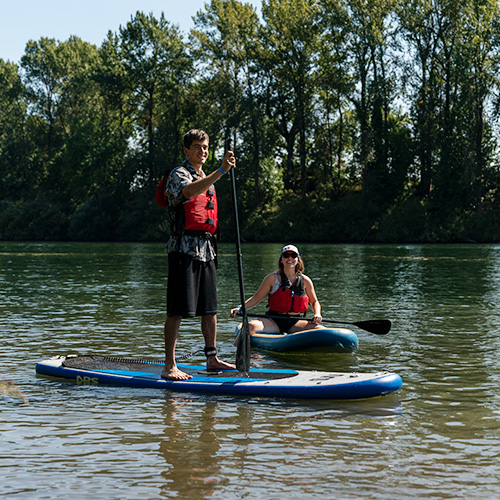 | | |
| --- | --- |
| 9:30-10:45 a.m. | Stress and Coping (Canyon Commons) |
| 11 a.m. - Noon | Campus Worship (Bauman Auditorium) |
| Noon - 1:30 p.m. | Brunch (Canyon Commons) |
| 1-4 p.m. | Puzzle Hunt (Clock Tower) |
| 1-5 p.m. | RecFest (Quad & Hadlock Student Center) |
| 5:30-7 p.m. | Dinner (Canyon Commons) |
| 7-10 p.m. | RecFest (Hadlock Student Center) |