Legacy League
The George Fox University Legacy League – formerly the George Fox University Auxiliary – is a service organization dedicated to supporting the university. The organization sponsors events that provide funds for endowed scholarships each year, given to one or two undergraduate students. Members include friends, alumni, parents and employees of the institution.

Anyone interested in helping make a difference in the lives of George Fox students is welcome to join the Legacy League.
Legacy League Annual Membership
The Legacy League offers members meaningful volunteer opportunities, inspirational programs and a friendly community. Membership fees help offset the cost of mailings and cover additional costs associated with the luncheons. Additional funds from members support the Legacy League Leadership Scholarship.
Objectives
To enlist and unite the members of our community in promoting and supporting George Fox University
To fundraise for scholarships for the endowed scholarship for George Fox University students
To cooperate fully with the administration of the university in plans for projects and programs
Programming for 2021-2022
Legacy League Luncheons
We are excited to announce that in-person luncheons will resume for the 2021-2022 academic year.
For the 2021-2022 school year we will gather four times during the school year on the George Fox campus to enjoy conversation, a shared meal, and presentations from leadership of the university. Additionally, we are offering a hybrid Zoom option for those who cannot attend in person. 
In person option: We are looking forward to gathering as a group again as we enjoy a special lunch together. We encourage you to extend an invitation to friends in the area who may be interested in reconnecting with the university or enjoying fellowship with the Legacy League community. Luncheon tickets are $15/person this year.
Zoom option: Last year we piloted our Zoom meetings and enjoyed that friends were able to participate from all over the United States. This year we will continue with a live Zoom option for the presentation part of our programming. This segment begins promptly at 12:30 p.m.
Registration is still required to participate by Zoom, and the morning of the presentation we will email you a link to the meeting. You will need a computer or smart phone to access the meeting. If you have not already done it before, you will need to sign up for Zoom before the meeting begins. You can do that here .
Registration is required for both the in-person luncheons and the Zoom option. Register below for specific dates.
Please invite your friends to participate in either option this year! We look forward to these engaging programs and shared lunch conversations.
Friday, Sept. 24, 2021

12-1:30 p.m. in person luncheon

12:30-1 p.m. by Zoom

University Update

Robin Baker, President, George Fox University

Friday, Nov. 12, 2021

12-1:30 p.m. in person luncheon

12:30-1 p.m. by Zoom

Liberal Arts: The Cornerstone

Joseph Clair, Executive Dean, Cultural Enterprise

Friday, Feb. 18, 2022

12-1:30 p.m. in person luncheon

12:30-1 p.m. by Zoom

The Wellness Enterprise: Growth and Opportunity


David Cimbora, Executive Dean, Wellness Enterprise
Register here

Friday, April 8, 2022

12-1:30 p.m. in person luncheon

TBD


Register here
Legacy League Annual Fundraising Gala
The Legacy League Annual Fundraising Gala is once again postoned due to the recent surge of Omicron. Currently, our plans are to host Richard Zeller, 11-season baritone with the Metropolitan Opera, as the featured guest for a gala in the spring of 2023.
Supporting students at George Fox through the Legacy League Scholarship continues to be a high priority for the Legacy League. We will participate in the 2022 George Fox Gives Campaign in April, and we invite you to consider a special contribution to the fund during that significant fundraising event! More information about how you can support the Legacy League Scholarship will be mailed to members and friends in the spring. 
Special Teams
Members may volunteer to serve on any or all of the following teams:
Prayer Team – Receive specific prayer requests from university sources on a regular basis
Volunteer Team – Serve at special events such as music productions, commencement, and Bible distribution
Archives Team – Assist the George Fox archivist in preserving historic documents for the university
Special Events Team – Plan, organize and direct fundraising events
Leadership Team – Join the executive team to oversee luncheons, membership, and gala sponsorships. Seats are filled annually, as needed.
History
The organization began as the brainchild of two Newberg women, Amanda Woodward and Evangeline Martin, who, in 1910, canvassed the Newberg countryside with a horse and buggy to raise $30,000 to erect the three-story Old Main, opened in 1911. The building was later named "Wood-Mar Hall" in their honor.
Woodward and Martin gathered 225 initial members for the Pacific College Women's Auxiliary. The name was changed to the George Fox College Women's Auxiliary in 1949, to the George Fox College Auxiliary in 1977 – when men were welcome to join as regular members after years of being allowed only as honorary members – and to the George Fox University Auxiliary in 1996 with the school's change in name following the acquisition of Western Evangelical Seminary.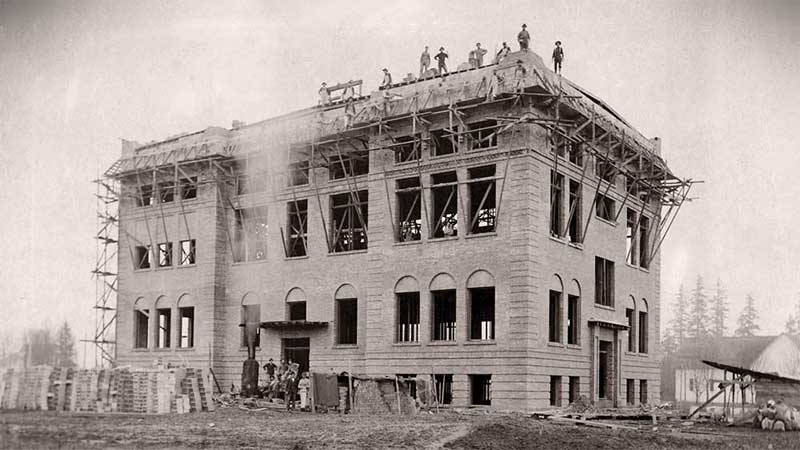 More recently, in the fall of 2018, the name "Legacy League" was adopted to "appreciate our heritage," according to Ruth Baker, executive committee member and wife of George Fox President Robin Baker.
When founded, hundreds of volunteers raised funds to supply students in Kanyon Hall (later named Minthorn Hall) with basic dormitory room essentials of kerosene lamps, pillows, blankets and dresser scarves, and the dorm's kitchen with equipment and even tea towels.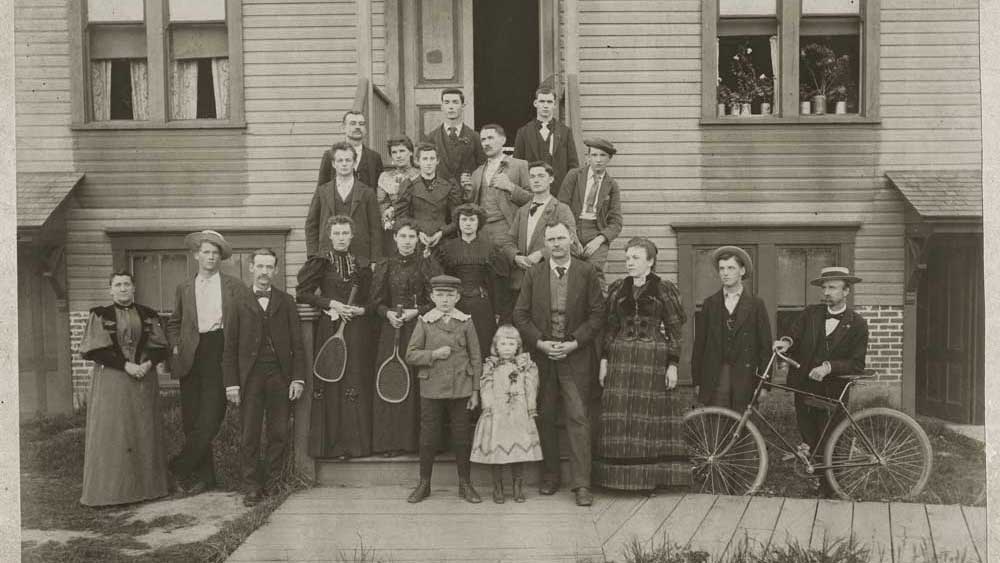 Over the years, the auxiliary provided a new refurnished alumni lounge in Minthorn Hall; funded shelving and cabinets for the Quaker Room in the newly opened Shambaugh Library; funded the project to improve the campus quad with its first Victorian light fixtures; raised money to provide the campus with two lighted reader boards; and, in more recent years, provided presidential china for special events and furnishings for the Edwards-Holman Science Center atrium.
Since 2000, the organization's emphasis has been on providing student scholarships, currently with an endowment of over $130,000, and two or three scholarships of approximately $3000 awarded each year.