We love our Legacy Families and Legacy Students and look forward to welcoming you back to campus for special events designed just for you!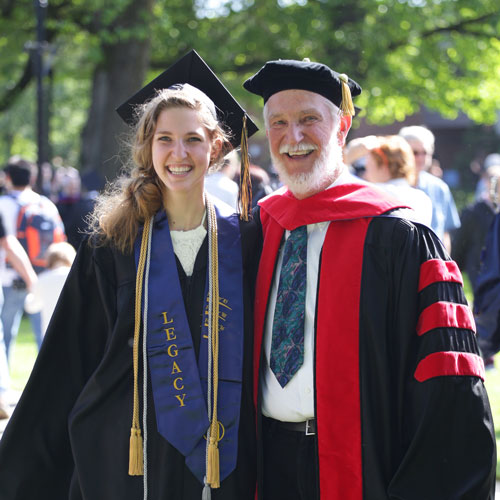 What is a Legacy Student?
A student who has a parent or a grandparent (or maybe even a great-grandparent) who attended George Fox University.
What does this mean for you?
As our way of saying "Welcome," we have a special gift for you to pick up during your first Welcome Weekend at George Fox!
After completing your time at the university, you will receive a Legacy Stole to wear with your regalia at commencement. This is our way of acknowledging that you continue your family's tradition of attending George Fox University.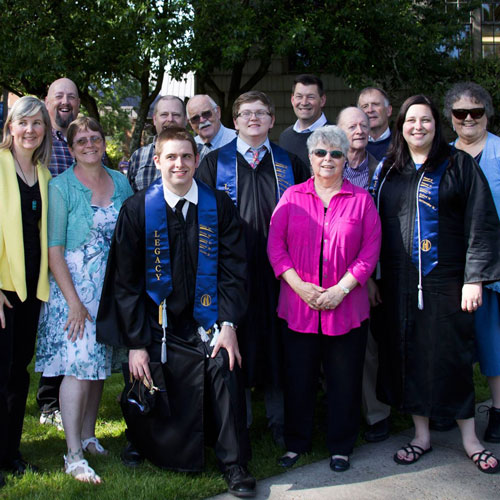 What is a Legacy Family?
If your family has an alumnus/a (either parents or grandparents) who attended George Fox University and currently has a student enrolled, you're a Legacy Family!
What does this mean for you?
During Welcome Weekend, we have a special gift for Legacy Families to pick up at the alumni association booth. During the year – usually Parent and Family weekend – we hold special events for Legacy Families. And if you're ever on campus, be sure to swing by the alumni office in the Stevens Center to see what's happening!
If you think you might be a Legacy Family or Legacy Student but haven't heard from the alumni office before, make sure we know about your alumni/student relationship by filling out the legacy student/family form. Thanks!
Legacy Scholarships
Legacy Students in our traditional undergraduate program automatically qualify for a $500 one-time scholarship! Just mention to the admissions team that you are a Legacy Student and that you would like the Legacy Scholarship applied to your tuition!
Events
Event
Date
Time
Family Weekend
Look for a special coffee open house in the Family Weekend registration and sign up to attend!
Oct. 23, 2021
10-11:30 a.m.
Stevens Center, Third Floor
Questions?
Director of Alumni Relations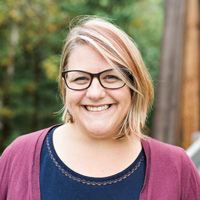 Director of Parent and Family Programs