Everyone knows about the big hits on George Fox University's campus, including the famous bridge and facilities like the Hadlock Student Center. But what about the little things? It's easy to miss the small details that make George Fox special, so we decided to list our top 10 favorite little things on campus. 
#1 The Creek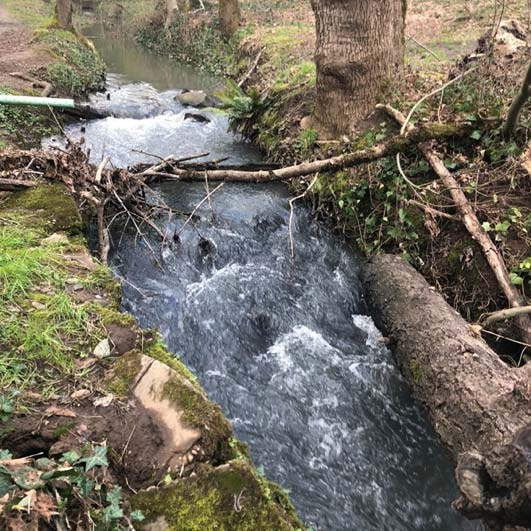 Hess Creek may run through the middle of campus, but it's easy to overlook. Most students cross the bridge multiple times each day without taking the time to really appreciate the canyon. If you pause your busy day for just a minute, you'll find that the creek is a lovely murky blue, and the sound of rushing water is music to the ears. Not every campus has its very own creek!
#2 Fish Sculptures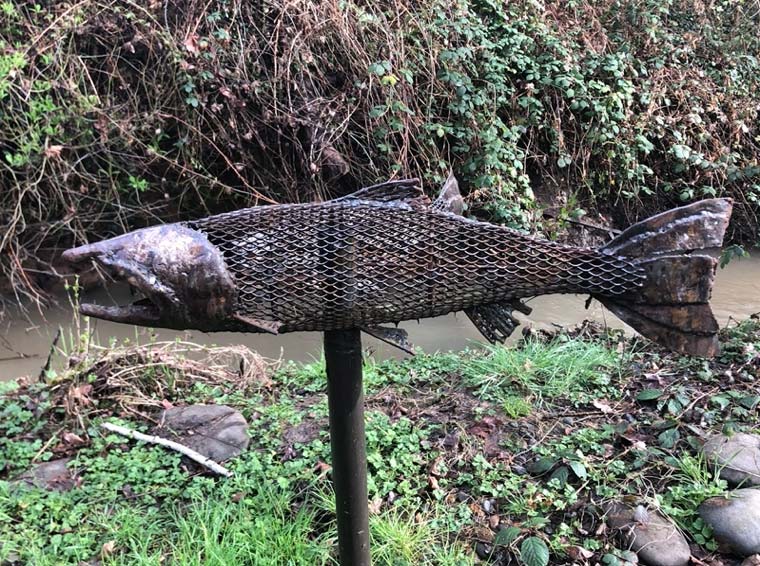 Hess Creek Canyon is full of little surprises, and these metal fish sculptures are one of them. If you enter the canyon from the trail next to Canyon Commons and go all the way down into the canyon, you can find the fish on your right. Plus, there's a bench nearby that you can sit on as you appreciate these beautiful pieces of art.
#3 Forgotten Bridges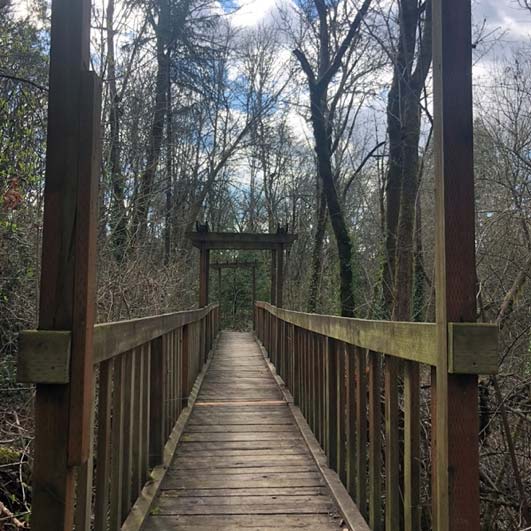 Everyone knows about the bridge, but did you know that George Fox is also home to a couple of smaller bridges scattered across campus? The bridge above is one of our favorites, and it's seriously underrated. If you walk down the steps next to the Spiritual Life (SPIL) office and turn left, you'll come across it. Because this bridge is rarely frequented by students, it makes the perfect place to get away and relax for a while in between classes.
#4 Benches Hidden Throughout the Canyon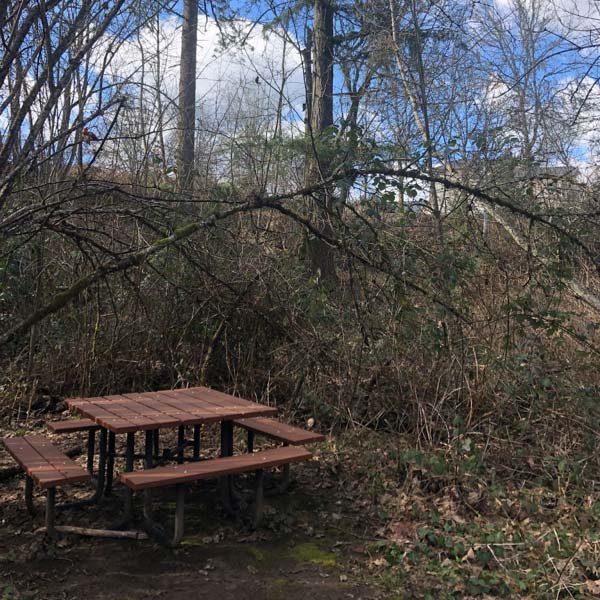 There are a bunch of hidden benches throughout the canyon that make for perfect study spots. You really have to look for them if you want to find them, but it's worth it. Pictured above is one of the most well-hidden ones, and we don't want to spoil the fun by telling you where it is. We'll give you a hint, though – this bench is near the Wheeler Sports Center!
#5 Stone Table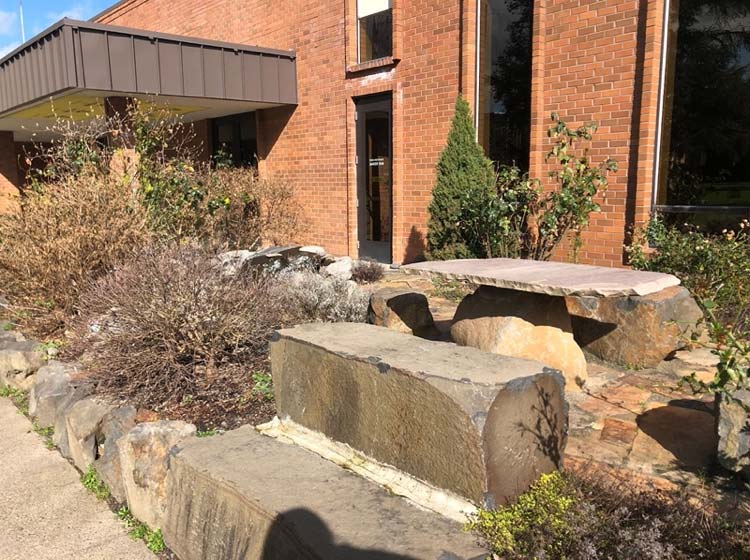 This unique stone table located in front of Klages is often forgotten. It may blend into the landscaping, but it's actually a functioning table! If you're looking to get some fresh air and sun while you work on that upcoming assignment, this may be the perfect place to get started. There's even a mini stone waterfall right next to it, so you can listen to the calming sound of flowing water as you crank out that homework. 
#6 Clock Tower at Night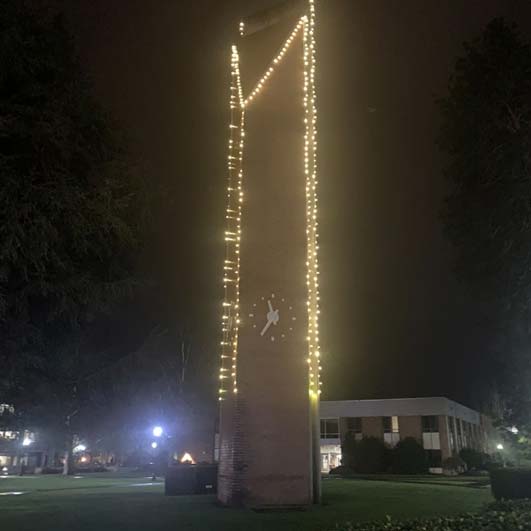 While the clock tower is anything but little (it's 65 feet tall!), it's often taken for granted. It was built in 1991 to celebrate the university's 100th year, and it's been a George Fox staple ever since. Our favorite time to enjoy this ingenious piece of engineering and art is at night when its lights come on. Next time you're taking a late-night walk, check it out for yourself!
#7 Gazebo & Sculptures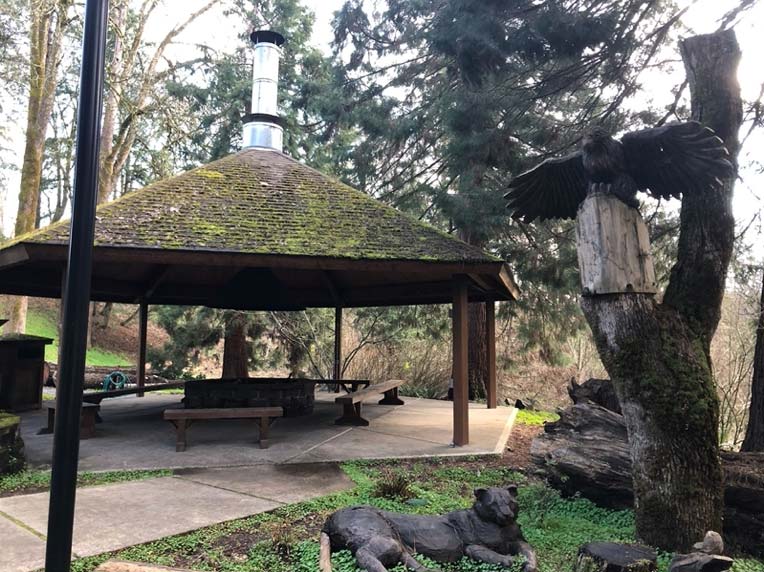 If you venture far enough into the canyon, you'll find this quaint gazebo surrounded by detailed wildlife sculptures. This is the perfect place to get together and enjoy a bonfire with friends, and there's plenty of benches for everyone. Enjoy camaraderie and charming sculptures of bears, birds, deer and more in this gorgeous corner of Hess Creek Canyon.
#8 Stained Glass
Near the Hadlock Student Center and Canyon Commons are six stunning stained glass panels. Each displays a different picture in vivid color, and their beauty is unparalleled when the afternoon sun shines through them. A lot of students walk past these every day on their way to work out or grab a meal, but they're easy to miss. Be sure to give them a look next time you're headed in that direction!
#9 Cross Sculpture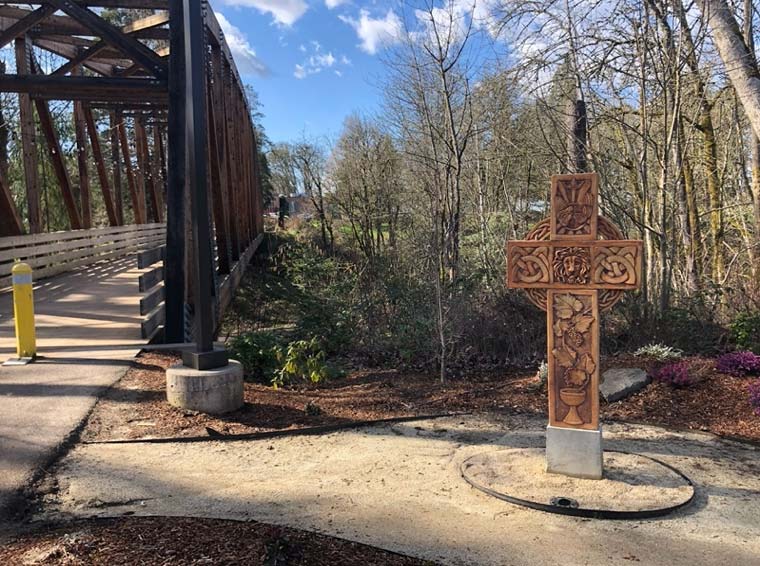 This intricate Celtic cross sculpture is one of George Fox's newest additions, and it fuses Celtic aesthetics with Christian symbolism. From the detailed lion head at its center to the crawling vines on its lower half, this elegant cross adds to our campus and reminds us of Christ's story. 
#10 Tom the Cat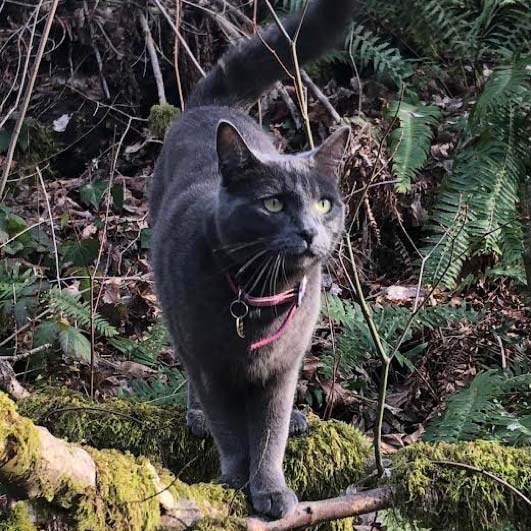 While George Fox's official mascot is Pennington the Bear, the university's unofficial mascot is Tom the Cat. Tom roams around as she pleases (yes, she's a girl!), but you can often find her crossing the bridge, walking around the quad, checking out the canyon, or hanging out with students. If you run across her, give her some love – she likes being petted.
We hope you enjoyed these little things on George Fox's campus just as much as we do. We've only mentioned 10 of these fun campus features, but there's so many more left for you to discover. Next time you're walking around, be sure to look out for little details like these!