By Karis Lee and Kalu Stricklin
This past summer, we both took an internship with the global company Enterprise Rent-A-Car. We worked in Western Washington at separate branches, surrounded by a community of people relative to our age who helped teach us about the industry. Our title was "management trainee intern," and contrary to popular belief, we were very involved in the rental process and customer service aspects of the business.
The days consisted of a variety of tasks, including helping customers in person and over the phone, managing the rental fleet in preparation for appointments throughout the week, incorporating sales and negotiation skills into conversation to promote optional accessories for the vehicle, and more.
The training program was set up to help support an easy transition into the organization, allowing us to take steps at our own pace to make sure we were comfortable with the new material we were learning. Our branch managers and other coworkers supported us every step of the way, helping us feel like we were never alone.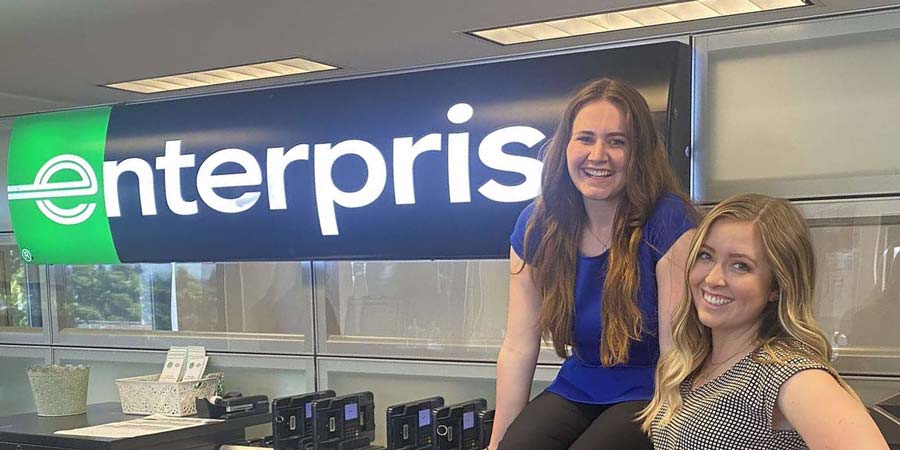 Karis Lee (left) during her internship
Q&A
Q: Would you recommend this internship to other students? Why or why not?
Kalu: I would highly recommend this internship to all business students because of the wide range of skills you can learn. It focuses on different layers of how to run a business, such as managing, marketing, sales and customer service. And it teaches you entrepreneurial skills to take with you in the future career of your choice.
The team you work with is helpful and wants the best for you. They make the experience fun and smooth over the course of the internship. They even buy food and coffee for you from time to time to reward your hard work. On top of that, if you are performing well you can attend "elite" events that reward individuals for their hard work by reaching benchmark numbers in sales.
Q: What is the career progression after you complete the internship, if you choose to stay with the company?
Karis: After you finish your senior year of college and return to the company, your new title is "management trainee." You work on the same tasks you did as an intern, but you're expanding your expertise in order to be eligible to be promoted to a management assistant. As an intern, we all took at least two knowledge tests.
When you transition back to the company, there are a couple of more milestones to complete, like tests to take, before you can apply for your next promotion. One thing that is unique about Enterprise is that there is no specific timeline you need to follow in order to work your way up the ladder. There are some individuals who can go more quickly than others, but it is completely up to you and how comfortable you are with the material to move on to the next step.
After you get to a management assistant position, you can immediately apply for assistant branch manager positions. Then, after some time, you can move on to branch manager, then area manager, and so forth. There is also opportunity to work in fields that are more interesting to you after you get to a branch manager position. For example, you can transition to truck rental, car sales, commute partnerships, human resources and more!
Q: What was a project you worked on throughout the internship? 
Kalu: There was a project all interns had to do, which was a marketing project that consisted of either finding a new or old account to target and find ways to get business from those accounts. And we had to present what we learned in front of high-level executives. The categories were insurance agents/companies, dealerships, body shops, or corporate accounts.
I chose to do insurance agents for my project to learn about different insurance companies' policies, not to learn about what those different companies offered but what Enterprise can offer and their benefits. I met with a few insurance agents around the area to see if these agents were sending their clients to us when they need a rental car, inform them about our benefits and policies, and then most importantly close the deal by offering our business cards, which allows us to gain new customers at our store. This project helped with my word path and how to convey my pitch to different agents to get business from these companies. 
Q: Have you been able to incorporate things you learned throughout the summer into your classes this semester? 
Karis: Yes, I have never worked for a company as large as Enterprise, so that gave me a lot of insight into how organizations at that level function. I also learned a lot about the employee benefits and compensation in the company, which aided to my experience in my Human Resources class. It also gave more insight into the amount of channels some decisions need to go through before getting approved, depending on how many people it would impact.
Finally, I think it was an eye-opener to how important my position was as a part of Enterprise's brand. My relationship with customers, body shops and insurance companies impacted how they viewed Enterprise as a whole. This is very valuable, so it is important that I maintain good relationships and address any issues head-on to avoid problems in the future.