Doctor of Education (EdD) Admissions
Admission Requirements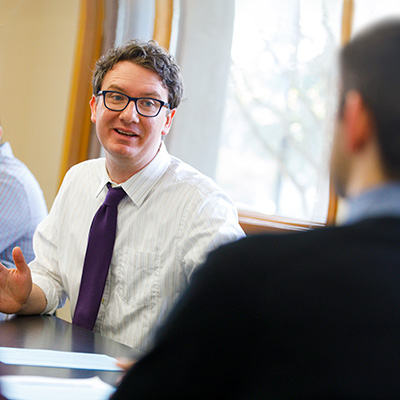 For students seeking admission to the Doctor of Education program, requirements are as follows:
Evidence of an approved, regionally accredited bachelor's and master's degree in education or related field, with a GPA of at least 3.25 on a 4.0 scale
Evidence of at least three years of relevant professional experience
A completed application (see How to Apply)
Application Deadlines
Nov. 30
Spring Application Deadline
June 15
Summer Application Deadline
June 15-July 12
Summer Rolling Application*
*Admission in rolling application window as cohort space allows
Important Dates
Spring Cohort
Jan. 10 - Spring Term Starts
July 11-15 - Spring On-Campus Residency
April 29 - Spring Term Ends
Summer Cohort
July 12 - Summer Term Start
July 12-16 - Summer On-Campus Residency
Aug. 2 - Summer Term Ends
How to Apply
Apply Online

Create an account with a username and password and complete the EdD application online. In response to the financial strain the COVID-19 response has caused for many people, application fees for education programs have been waived until further notice. The online application includes the following:

General contact and demographic information
Academic and professional background information
Resume
Three reference form requests
Five short-answer essay questions

Note: Applications can be saved to be completed at a later time. Log in early to send reference forms and view the essay prompt.

Submit Required TSPC Forms

Submit completed and signed forms to edd@georgefox.edu.

All Students Must Submit

Administrative Concentration Students Must Also Submit

Request Official Electronic Transcripts

Request an official transcript from every regionally accredited college or university where you completed even a single course. Electronic transcripts are preferred for speed and accuracy. They must be sent directly from the institution to admissions@georgefox.edu. If an electronic option is not available, unopened official transcripts can be sent via mail to:

Office of Admissions

George Fox University

414 N Meridian Street #6089

Newberg, OR 97132

Submit Academic Writing Sample

Submit evidence of scholarly work to edd@georgefox.edu. This may be a portion of a master's thesis, graduate-level research paper, or scholarly publication (8-10 page maximum).

In place of previous academic writing or a master's thesis, you may choose to write a five-page research paper on a topic related to your current/future work. Essays should draw from your own experiences and use a minimum of three outside resources. Papers should follow APA formatting and include in-text citations.

International Students
Once Your Application is Complete
All application items must be submitted by the application deadline. The Doctor of Education faculty will then review all completed files and selected applicants will be invited to an on-campus interview.
Additional Information
If accepted, a $200 non-refundable enrollment deposit is required. More information about the enrollment deposit is available online here.
Financial Aid: Many of the students in our program receive federal Stafford Loans to help finance their education. Learn more about financial aid
Application materials become the property of George Fox University and cannot be returned to the student or transferred to another institution.
Meeting minimum entrance requirements of a given program does not guarantee admission.
Transfer Credit
Upon approval by the department, transfer of up to 6 credit hours beyond the Master's degree is allowed toward the EdD program from accredited graduate schools.
Students choosing the Administration Concentration who have previously completed an administrative licensing program (Tier I/PreAL or Tier II/ProAL) may transfer in their credits/license as completion of their concentration (12 credit hours).
Students must have earned a grade of "B" or better for a course to be considered for transfer. All transfer courses must be post-masters from a regionally accredited institution.
If students earned their administrative licensing credential at a state or licensing agency in place of an accredited university, transfer credit may be considered on a case-by-case basis and will need additional approval. Transfer credit will be evaluated by the faculty upon admission to the program.
Questions?
Admissions Counselor, Graduate Education Programs