Stained Glass Reflections
Ken Austin does not want this to be another one of those boring donor appreciation articles.
The founder of dental equipment manufacturing giant A-dec and a man whose philanthropy has touched lives in his hometown of Newberg and across the globe, Austin undoubtedly has had many such pieces penned in his honor. But on this day he has more pressing matters to discuss. 
He wants to talk about the morning after a company Christmas party when he woke up, still in a wrinkled tuxedo, not remembering a thing about the night before – but knowing he had made a fool of himself. Or the time when, after his doctor told him he was drinking too much, he stopped at the nearest convenience store on the way home and got a six-pack of beer, then headed straight to the liquor store for a fifth of gin. Or how he couldn't drive by the grocery store on the way home from work without stopping to pick up something to drink. 
"What really killed my self-worth was when I realized I was drinking every day and couldn't stop," he says, reflecting on a time when addiction to alcohol threatened to tear his family and business apart. 
A brilliant engineer whose inventions changed dentistry as we know it today, Austin also wants to talk about his struggles comprehending Scripture, and how a children's Bible helped him better understand the nature of his creator, because "I was just a child in my faith."
"The greatest thing I've ever accomplished, bigger than A-dec by far, is sobriety," he says. "And sobriety led me to God." 
"The greatest thing I've ever accomplished, bigger than A-dec by far, is sobriety. And sobriety led me to God."
Not long after the interview, news will be released about a donation to George Fox of Austin's beautiful $1.5 million home atop Parrett Mountain for use as a spiritual retreat, newly named the Hy Vista Retreat Center – one of many generous gifts he's bestowed upon the university. But on this day no checks will be cut, no speeches given, no posing with a shiny, new shovel at a groundbreaking ceremony. Instead, on this day, Austin wants to give a little of himself in the hopes that his story will resonate with someone, and that it will provide inspiration and hope. 
"I think it's my calling to share the things I've learned," he says. "I'd love to have it inspire people to ask the question, 'Am I becoming the person God meant me to be?'" 
Local Boy Makes Good
Long before Austin became a well-known entrepreneur, engineer and philanthropist, the only people who knew his name lived in the city of Newberg. Business-minded from an early age, young Kenny Austin could often be found selling green beans and tomatoes at a roadside stand near his family's farm. 
He learned honesty from his parents – like the time his mom found out he held his finger down on the scale and shorted a customer the full weight of her beans. "She told my mom," Austin recalls, laughing and slapping his hands together to simulate the sound of a firm spanking. "I never did that again." 
He also learned generosity on the family farm. "I asked my dad why he took milk down to the neighbor, and he said, 'We have more milk than we can drink, so we can share it with our neighbor who has no cow.'"
Those examples of integrity and generosity would stick with him throughout his adult life, and are evident in everything A-dec does today. "You build a business to give, not to get," he says.  
Austin would go off to college at Oregon State to get a degree in engineering. Then, back in Newberg, he started dating a young woman by the name of Joan Zemke who had a heart for animals and was at first more interested in opening a pet shelter in town than getting married. "I'm the lucky dog that she put in her pet shelter first," he says with a big smile. 
They got married in 1953, and not long after he began a three-year stint in the military as an Air Force pilot. But five years and six jobs later, then living in Colorado, Austin was still finding his way. After being fired from his last job, he had been offered a temporary position as a draftsman, and recalls going on a picnic with Joan and their two young children to celebrate the end of two weeks of unemployment. Joan asked if he would be happy at this new job. 'No, not really,' was his reply. 'Is there anything you would like to do?' she responded. 
"When I said I had an idea for a product, she immediately said, 'I'll help you no matter what it takes – even if we have to live on bread and beans,'" he recalls. "That was on a Sunday afternoon, and Sunday night I started sketching out an oral evacuator." 
Little did Austin know that his invention would become the world's first successful air-powered saliva ejector – the dental vacuum so commonplace today – and revolutionize modern dentistry. The next day he began machining a prototype, and within months he had moved back to Newberg to start the Austin Dental Equipment Company – later shortened to A-dec. 
"I started dreaming," he says of that first conversation with Joan. "You dream, you design, you draw, and then you do it. . . . And as I've grown older I realize that wasn't my idea. That was the chief engineer in the sky who was guiding me, saying this is a better way, try this."
Success and Struggles
Later Austin inventions would establish the sit-down dentistry we know today and introduce the Rota-Dent, a portable dental unit designed to work in locations without running water or electricity. To date, thousands have been donated to support mission dentistry around the world. 
Along the way, Ken and Joan became an entrepreneurial dream team. He was the engineer and inventor; she handled the finances and administrative duties. Both were dedicated from the start to giving back and making sure employees were treated fairly – two things A-dec is renowned for to this day.  
That was 1964. Today, A-dec is one of the largest dental equipment manufacturers in the world, with close to 1,000 employees and annual sales of $300 million. But by the early '80s, a drink or two at social occasions had turned into a habit Austin could no longer control. 
"I couldn't stop once I started," he says. "It made me feel, I guess you could say, all-powerful. I could dance, I could sing, I could do anything. And I'm going to have another drink because then I could do even more. And it just puts you under."
Austin knew he had a problem, but he wasn't sure what to call it. "I never drank during the day so I'm not an alcoholic – that was my reasoning," he says. "I'm not an alcoholic because I don't drink at lunchtime; I don't drink until after work."
Soon drinking after work became a regular occurrence. 
"I would be thirsty and think a beer would relax me, and I'd pull into the store and buy a six-pack," he says. "It got to the point that I couldn't go by there without buying beer on the way home." 
Austin went to Alcoholics Anonymous, but one important point of the program just wasn't resonating with him: giving himself over to a higher power. "That's not for me," he remembers saying at the time. "I believe I'm a Christian, but God isn't going to fix me."
Part of the disconnect was the fire and brimstone version of God that was so prevalent in Sunday school teaching across the nation in the '40s. "I just couldn't fathom the faith and the God that I was being brought up in," he says. 
But then, on New Year's Day 1982, something clicked, and it all made sense. 
"I was looking out over the ocean at Gleneden Beach, and I was just awestruck as a seagull flew by. I realized I didn't know anybody that designed and built seagulls," Austin describes with a true engineer's sense of logic. "And it just hit me like a ton of bricks. So, I say a seagull saved my life, because whoever created the seagull was a power greater than man. And right then it came to me – that is God's work. . . . And so I was willing to turn my will and my life over to this power greater than myself, and that was the start of my journey." 
It wasn't easy, but Austin hasn't had a drink since. 
Seeing Clearly Through Stained Glass
Many years ago, Ken and Joan went to Egypt on vacation. The tour company they were with had provided thick textbooks that described the pyramids in great detail, but Austin had never been a big reader and simply didn't have the time. So, on a whim, he decided to buy a children's book that he saw in the gift shop when they arrived. "It was written for a child, but as far as I was concerned I was a child in Egypt," he says. "I didn't know a thing about Egypt."
"I was a grown man, but I was just a child in my faith."
"The next day when we went out in the field, people were asking questions and I was answering all of them," he recalls, chuckling. Others in his tour group asked where he had learned all this information, and Austin sheepishly told them. "When we got back from the pyramids, I went to the gift shop, and it was full of the people from our group buying up children's books about Egypt." 
So when he got sober and wanted to learn more about God, it made perfect sense to head to the bookstore and pick up a children's Bible. "I started with something very basic; it was probably written for children 4 to 6 years old," he recalls. "And I kept upgrading. The last book I bought was written for young adults, and that one was getting more meaningful." 
But Austin wanted to learn more, and he needed help. "I was a grown man, but I was just a child in my faith," he says. A member of the George Fox Board of Trustees since he became sober in 1982, Austin had developed a friendship with Robin Baker that continued to grow when the latter was promoted from provost to university president in 2007. Despite a significant difference in age, the two found they had much in common. When Austin told Baker about his quest for knowledge, it prompted an interesting conversation: "He asked me if I knew how they taught the Bible before the printing press. I said, 'I don't know.' And Robin answered, 'They taught Bible stories by pointing to the pictures that were on the stained glass in the church.'" 
The concept struck a chord with both men, and they agreed to meet and read together on a regular basis. Austin brought his book for young adults, and Baker, appropriately, brought a copy of The Bible in Stained Glass, a book that incorporates windows from churches around the world to illustrate the words of Scripture. "That pretty much cemented that Robin could share with me and keep my interest going, keep me reading and searching," he says. "And I'm still searching."
After Austin went through rehab, it inspired him to build Springbrook, a drug and alcohol addiction treatment center in Newberg. "I thought there was a better way to be treated as a human being than the treatment center I went to," he says. Now, as he continues his faith journey, he has again decided to put his money where his heart is, donating to the university his longtime home to be used as a spiritual retreat center in the hopes that the scenic 15-acre property can help inspire others as they grow in their faith.   
 "I came to realize that everything belongs to God," Austin says of his decision to donate the property. "Joan and I had 41 wonderful years of living on the hill. This is an opportunity to give that land and house back to God. I believe this is God's will, not just mine."
'Little Things Make Big Things'
Early in 1981, when Austin was still struggling with sobriety, he attended a conference where the speaker challenged everyone in the room to move their watch from their left wrist to their right. The next day, only a handful of those in attendance had been able to break the lifelong habit. Austin was one of them. Months later, during an open house at A-dec, he was shaking hands with visitors. "One of them bumped my watch and said, 'You're wearing your watch on the wrong arm,'" he says. "And I thought, 'Okay, I'll move it over to my left arm.'"
Later that day, Joan asked him what time it was, and he instinctively looked down at his now-bare right wrist. "I've changed!" he yelled in victory as a room full of people looked on, wondering what all the commotion was about. "After accomplishing that, I realized I could change if I wanted to."
Years later, after Joan passed away in June of 2013, Austin again moved his watch from his left wrist to his right. He told his AA group, "I'm sick and tired of being sick and tired. I'm sick and tired of crying the blues. . . . I'm going to change, and to remind myself I'm going to change I'm going to move my watch to the other arm." 
Over time, he was able to find happiness again. "Little things make big things," he says. 
Austin wants you to know that even the smallest changes can lead to big changes. He wants you to know that if you have a difficult time understanding the basics of a complex topic – even the Bible – you can read children's books. He wants you to know that if you dream it, design it and draw it, you can do it. He wants you to know that generosity is a quality everyone should have, regardless of financial means.  
"My advice to the people growing up in the world today is learn to be a giver and not a taker," he says. "If you're a taker you're not going to have a lot of people who want to help you in the down times – and there are always going to be down times."
He wants you to know these things because they're lessons that took a lifetime to learn, and they have served him well. Whether or not you're aware of the building projects he funded or the many charities he supports, quite honestly he couldn't care less. 
Instead, he'd much rather have you consider his story – successes and failures alike – and perhaps see a little bit of yourself in him. He'd like you to ask the same question he now asks himself on a regular basis: "Am I becoming the person God meant me to be?"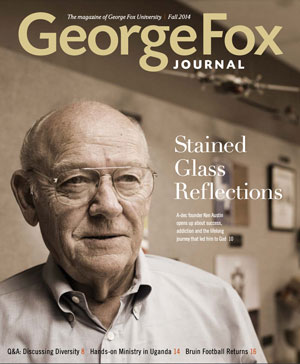 Looking for more?
Browse every issue of the George Fox Journal to read more of the stories of George Fox University, Oregon's nationally recognized Christian university.