Gayathri Ramprasad was terrified. It was presentation day in her Effective Communication class, and all 20 MBA students were required to give a five-minute speech centered on a quote. But the presentation itself wasn't what scared her – it was what she planned to say. 
For the first time in public, Ramprasad was going to share the truth about her journey through depression and the shame and stigma that came with it. The quote she had chosen was "Courage is fear that has said its prayers." It wasn't an easy story to share, but after much praying and soul-searching she decided it was finally time to speak up. 
Tough Love and Silence
Ramprasad's childhood in Bangalore, India, was idyllic, but that all changed when she enrolled at the local university. In her first year, she denied the romantic advances of a fellow student, who responded by privately bribing the administration to fail her and publicly threatening to rape her. 
In some parts of the world such actions wouldn't be tolerated. But in India, where stories of rape, dowry killings and acid throwing regularly make international headlines, women are often forced to live without a voice under the shadow of fear and intimidation. 
Ramprasad began having intense panic attacks, accompanied by vomiting and insomnia, though she had no name for her affliction. No one did. She could hardly make it through the day, either living through a panic attack or in terror of one. She had access to the best health care in the country, but all of the doctors simply treated the physical manifestations. For her panic, they prescribed "tough love" and silence. 
Eventually Ramprasad married and moved to America, where she thought she would be free from her past. This was a place, she thought, where she could start fresh; and for a while she did, her symptoms receding as she adjusted to life in Oregon. 
The couple had their first child in 1986. While Ramprasad loved being pregnant, she was completely blindsided by post-partum depression. "It was like the demons of my past were back," she says.  
"Their compassionate response liberated me and set me free. They embraced my humanity."
During a visit to India with her child, Ramprasad's panic attacks worsened. She begged her parents to kill her. She was taken to a physician, who promptly recommended she be taken to a psychiatrist. 
Within a few minutes she had a diagnosis: clinical depression. "For a breath, I was relieved that whatever it was, this demon that had debilitated me for so many years had a name," she recalls. This was followed by the realization that she had a mental illness – that she was crazy. She feared her diagnosis would destroy her family's reputation.
Then came electric shock treatments, medications and behavioral therapy. Her in-laws asked a priest to exorcise the demons of depression; instead, the priest molested her. She was unable to cope with her lack of a voice. Who would they believe, the holy man or the crazy woman?
Digging a Backyard Grave
Back in America, Ramprasad hit her breaking point after an unsympathetic letter from her mother. She could no longer live with the shame or the pain, so she decided to bury herself in the backyard. While her daughter watched Mister Rogers' Neighborhood inside the house, Ramprasad got on her hands and knees, scraping at the dirt with her bare hands. She was digging her own grave, praying her family would forgive her. That is how her husband and best friend found her. 
This was Ramprasad's darkest day, yet she remembers it as a blessing. Finally someone outside her family knew that something was wrong. She recalls her best friend held her and promised she would never let go. That day changed everything. "The biggest misperception that I was raised with was dispelled," she recalls. "If I disclosed [my depression] they would discard me, and here was this friend who said, 'No. I'll be here as long as you need me.'"
That day, Ramprasad started her journey to recovery. She agreed to be hospitalized, and also made a life-changing decision: "From that day on I would always speak my truth." Then, in treatment, she met other people like herself, and they showed her she was not alone.  
Partially for her daughters, partially for her new friends and partially for herself, Ramprasad made a promise. "For every day I lived in despair, I would bring hope to the lives of people like myself," she told herself. This promise kept her alive, made her fight to recover, and eventually brought her to George Fox University.
Finding Her Voice
Ramprasad realized she needed more education to make a difference for others on a global scale. So she entered George Fox University's degree-completion program, where professor Bill Essig opened her eyes to the world. "I learned I was a global citizen, and as such I had a voice," she says. 
After earning her bachelor's degree, she then decided she needed an MBA because her goal was to become a social entrepreneur. "I wanted to change the world," she says. "Me, a woman with a mental illness, was going to transform mental health care!" 
But first she had to tell her story. After she nervously recounted her experiences in that classroom for the first time, her professor and fellow students applauded her courage. 
"Their compassionate response liberated me and set me free," she recalls. "They embraced my humanity." Many of them encouraged her to continue sharing her story.
Ramprasad took their encouragement to heart and since graduating with her MBA in 2001 has never stopped speaking truth. In 2006, she founded ASHA International. Asha means "hope" in Sanskrit, and in English it is an acronym for "A Source of Hope for All." Her desire through this organization has been to "share all the lessons I learned in pain to bring hope to just one person." 
Through advocacy and resources, ASHA has reached more than 30,000 people all over the world. The organization promotes mental health awareness, leads cultural competency workshops and provides peer mentoring. Ramprasad wants individuals to recognize that struggles with mental issues are part of the human existence, and with love and support, those who struggle can grow and thrive.
She has also written a memoir about being an Indian-American dealing with mental health issues, soon to be published by Hazelden Publishing. She wants her "daughters to know their mother's truth," all of it – the good, the painful and the hopeful. 
Gayathri Ramprasad's journey started with bravery to take a step: to stand in front of a classroom and tell her story. She made her fear say a prayer, and now she is changing how people all over the world consider and react to mental health issues. She is sharing her truth, and freeing others as a result.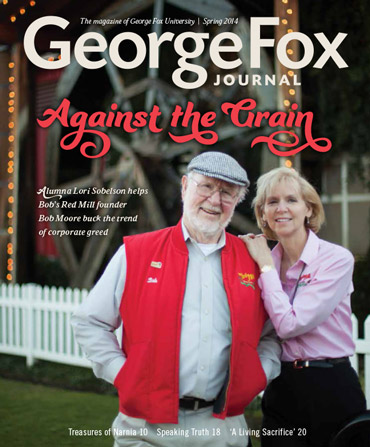 Looking for more?
Browse every issue of the George Fox Journal to read more of the stories of George Fox University, Oregon's nationally recognized Christian university.