Justine Haigh watched from the back of the classroom as 12 young adults sat at highly specialized engineering computers, intently listening to instructions for building gaming applications for smartphones. Other business professors, engineering professors and IT specialists hovered in the background. All was quiet on the George Fox University campus during spring break. But in this classroom students were learning, interacting and being challenged, all because of the dream one woman had to give people in the autism community a voice, a passion and a purpose.
A Close Call
Sixteen years ago, Haigh's first child was born. He seemed a normal baby, though he never liked being held. When he was 6 weeks old, he began crying and never stopped. When he was 2, he stopped looking into his mother's eyes and saying the few words he had learned.
It wasn't long before Haigh realized her son had symptoms of autism. People with autism rarely have physical markers, and the disorder can be difficult to diagnose. Autism is a spectrum disorder encompassing a wide range of difficulties with social interaction, communication and repetitive behaviors. Some individuals have intellectual challenges, while others are highly intelligent but struggle reading social cues. For Daniel, who is nonverbal, "the world is a collage of noise, color and sound," says Haigh. "[He] didn't understand there was an order, a structure; for him, it was just chaos."
Helped by some dedicated teachers, Daniel began to understand that the sounds and images around him had meaning and purpose. Haigh glows with pride describing her son. "He is really well behaved. He never cries, and he goes everywhere with me. He's my best friend, an absolute delight." As a professor in the university's College of Business, Haigh was focused on her child and work. She had little time in her life for anything else, or so she thought. Until her son ran away from school.
Daniel has no concept of danger, so when Haigh was notified that he was missing from his middle school, she jumped in her car, asked God to save her son, and rushed to the school. She arrived, panicked, to find Daniel waiting for her. He had been found on the other side of the highway without a scratch on him. Haigh was mystified. Later, a fellow parent described how she saw Daniel approach the intersection and walk out into oncoming traffic without stopping. While cars made emergency stops all around him, Daniel walked diagonally across six lanes of traffic with no fear. He made it to the other side of the street, where a police officer brought him back to school.
"It was an act of God [that he survived]," the mother said – and she was right. The world can be an unwelcome and sometimes dangerous place for those with autism. Haigh knew she had to take action.
'What Happens After I'm Gone?'
Haigh soon realized that the autism community could use any help she could offer. Recently the Center for Disease Control reported that 1 in 68 American children is on the autism spectrum, a 30 percent increase from 2013. This number only reflects those in K-12 who have been diagnosed. In Oregon in particular, autism rates are skyrocketing.
Haigh became involved with Autism Risk & Safety Management, an organization that teaches police officers how to interact with individuals diagnosed with autism, and partnered with the company to produce an instructional video for K-12 educators. Her advocacy work brought her in contact with many families concerned for their children's future. As she says, the question for many parents is, "What happens after I'm gone?" How will these adults with autism, 90 percent of whom are unemployed or underemployed, be able to support themselves?
"For many, it was the first time they had a vision for their lives."
Soon Haigh's MBA classes began doing projects with the autism community. Then, in April 2013, a student sent her a link to a program called nonPareil, based out of Plano, Texas. nonPareil was started by two parents of children with autism. They recognized that young adults diagnosed with autism tend to have an aptitude and interest for computer programming but often cannot work in a regular office environment.
"nonPareil is about taking these guys and putting them in an environment that works for them, one that promotes mutual respect and teamwork," says founder and CEO Dan Selec. nonPareil has created a business that builds gaming applications within the context of a caring community. Many students at nonPareil label their former selves as "shut-ins"; now they are part of a community.
After participants complete the training program, they have the opportunity to become nonPareil instructors and be paid for their work, and also may earn income from the software they create. "Rather than teaching [students] skills and then kicking them out, we say let's stay together and build a software company," says Selec. The program is booming in Texas, with almost 1,000 people who have applied for admission. Families have even moved to Plano to increase their chances of entrance into the program.
After reading about nonPareil, Haigh called across the hall to now-College of Business Dean Chris Meade, "It looks like I'm moving to Texas." He called back, "You can't leave. Why don't you bring it here?"
A New Home
Within the last year, Haigh has fervently pursued bringing nonPareil to Oregon. She started by visiting the organization on the campus of Southern Methodist University, taking with her fellow College of Business professor Ryan Halley.
From those connections, Haigh set up a programming camp at George Fox over spring break. Twelve young adults with autism came to campus, as did Selec and two trainers with autism from Texas. The students spent two days learning the software nonPareil uses to create video game applications. Professor Gary Spivey and the College of Engineering allowed the camp to use their computers, and business professors and IT specialists offered their assistance as well.
The first day was quiet; the students did not talk with the trainers or each other. The second day, the students began helping each other and asking the trainers questions. They started to develop a sense of excitement for what they could learn and create.
"When the students saw the trainers [with autism] for the first time, they had a vision: 'I could be that person,'" recalls Haigh. "For many, it was the first time they had a vision for their lives."
For Selec's organization, the partnership with George Fox was a perfect fit. "This camp is something we've been thinking about doing, but we had no funding for the hardware," he says. "What was unique about George Fox was they provided the IT support, the hardware, the volunteers, the organizational structure. That's unheard of – that really just doesn't happen."
Ever since, Haigh has continued her mission to bring nonPareil to Oregon, raising funds and awareness, and making contact with the Technology Association of Oregon, area schools and departments at George Fox University, all of which could provide the research, materials and facilities needed for the venture. If the funds and support emerge, a local nonPareil campus could be set up within the year – perhaps even on the university's Newberg campus.
It won't be easy. First, $10,000 must be raised for a town hall meeting, then another $100,000 to get the program off the ground. Strategic partnerships must be formed. Roadblocks overcome. But if anyone can do it, it's Haigh. "It's going to happen because she's going to make it happen," says parent Dave Brebner.
It's a labor of love, inspired by her son and so many like him who just want to find their place in life. "They have so much to offer in the right context," she says. "This is why I teach. I want students to find their passion and purpose. . . . I want [the autism community] to have the same satisfaction that all human beings should: finding what matters for them in their lives and making a contribution."
Visit facebook.com/nonPareilPortland to learn more about nonPareil Portland and how to make a donation.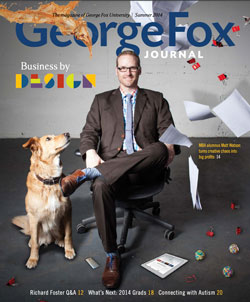 Looking for more?
Browse every issue of the George Fox Journal to read more of the stories of George Fox University, Oregon's nationally recognized Christian university.