News and Life Events
Alumni Key
B Bachelor's degree
M Master's degree
D Doctoral degree
n non-degree
1950-59
Marion Wilhite (n50) had his life and Navy experience highlighted in a Veteran's Day tabloid special in the Pamplin Media Group newspapers in Oregon. The headline read "Newberg sailor among few remaining WWII veterans in the United States." He served in Guam from 1945-46, just as the war ended, and was later a banker for more than 35 years, starting in Newberg.
1960-69
Brian Beals (B65) and Janice (Kennon) Beals (n66) received attention last summer when The View newsletter of Friendsview Retirement Community highlighted them during the 60th anniversary celebration of the retirement center adjacent to the George Fox campus. Both worked for Friendsview during its early years, Brian on the grounds crew to help fund his college tuition and later on the construction crew, and Janice earning income as a waitress in the dining hall. His father, Charles, was the founder and first executive director of Friendsview.
1970-79
Shirley (Roberts) Hadley (B71) and Dale Hadley (B72) are both continuing to work part time in their careers. She is a bookkeeper with Grace Community Church in Gresham, Oregon, and he continues with The H Group as a certified financial planner.
1980-89
Scott Wilding (B82) and Wendy (Forman) Wilding (n83) had their home featured in a July article in the Yakima Herald newspaper, titled "Yakima Abode: A New Life in an Old House." Their 1942 house has been updated by respecting its original style.
Janelle (Puckett) Engle (B82) and Frank Engle (B82, M95) in April moved to Spokane, Washington, where she is continuing her private counseling practice and he has retired after 22 years with Friendsview Retirement Community, most recently as director of residency planning after serving as director of marketing.
Mike Royer (B82) in August was inducted into the Quincy (Washington) School District's Wall of Fame, chosen for bringing "honor to themselves, our schools and the community." He still holds individual basketball records at Quincy High School and was named a first-team all-state player in 1978, prior to joining the George Fox Bruins, for whom he was a standout guard for four years. Since 2014 he's been a counselor, athletic director and a girls' basketball coach at Irrigon (Oregon) High School.
Roger Watson (B82) started in August as the new chief financial officer at Friendsview Retirement Community in Newberg. He moves up from the position of controller, held for nearly two years.
Brian Barkdull (B83) retired this year after 23 years in Sierra Vista, Arizona, where he worked as CEO of American Southwest Credit Union. He took early retirement, and he and his wife left this year for a 23-month mission for The Church of Jesus Christ of Latter-day Saints, serving as communication specialists in Asia. They are living in Tokyo.
Dan Cammack (B84) is traveling the world in his first year as the field director for Evangelical Friends Mission. During the first quarter of this year he was in Bolivia, Peru, Thailand and Ireland to visit missionaries. He is responsible for the care of missionaries and development of international fields and field support teams. He was pastor of the Tigard (Oregon) Community Church until 2012, followed by eight years as executive director of EFM in Newberg.
Darleen (Mock) Ortega (B84) has been a judge on the Oregon Court of Appeals since 2003. That's her day job. Her other job is working as a movie critic, and in October she was honored as the "Critic of the Month" for the Portland Tribune newspaper. She is the first woman of Hispanic heritage and the first woman of color to serve on the court of appeals. In May she was reelected for her fourth six-year term, winning 64 percent in a rare contested race.
Steven Knudsen (B85) is president of Frontier Gratings and an independent nonprofit development professional in Atlanta, in his third year. But he may be better known as a member, since 2019, of the Gwinnett County Public Schools Board, serving Georgia's largest district, with 179,000 students in 141 schools.
Matt Mount (B86) is audit partner and SEC reviewing partner with KPMG in Dallas. He's worked for the international audit and tax advisory services company for 33 years. His expertise is with healthcare entities and companies in the insurance and biotechnology fields.
Doreen Dodgen-Magee (B87) in October released her new book, Restart: Designing a Healthy Post Pandemic Life. It was the subject of a lengthy question-and-answer interview on Oregon Public Broadcasting on March 15. She is in her 31st year as a psychologist, based in Lake Oswego, Oregon, but with a national and international presence as an author and speaker who focuses on how technology shapes people.
Brian Gardner (B89) is in his third year as vice president of advancement with Gordon-Conwell Theological Seminary in Hamilton, Massachusetts, after two years as senior philanthropic advisor with Gordon College. His background includes advancement roles at Wheaton College, Indiana Wesleyan University and George Fox, where he was the vice president of advancement from 2012 to 2014.
1990-99
Tim Graham (B90, M98) in April was hired as the new principal of the Forest Grove (Oregon) Community Alternative Learning Center, the non-traditional route for earning a high school diploma. He is helping guide the renovation and expansion of its facility as it grows to house 160 students in the fall. In February, he resigned as principal of Catalyst High School in the Newberg School District, where he had been since 2017 after seven years as head of an alternative school in Oregon City, Oregon.
Darcy (Edwards) Davis (B91) is now teaching graduate-level social work classes for the University of Nevada, Reno, as an adjunct instructor following retirement from the Nevada Division of Public and Behavioral Health, for which she was a statewide emergency and disaster behavioral health coordinator.
Jon Burgi (B92) is back in the U.S. after six years in Managua, Nicaragua, directing the nonprofit Engineering Ministries International, for which he also was project leader. He is now in Sherwood, Oregon, serving as the lead project manager with McMillen Jacobs Associates, in his second year.
Rob Felton (B92) in February was named by George Fox President Robin Baker as his chief of staff, moving up from director of executive communication after nearly three years. He has been with George Fox for nearly 28 years, initially serving as sports information director, then holding several roles in marketing communications, including executive director.
Jon Hagen (B92) is vice president of operations with Custom Decorators in Portland, an in-home design and installation service company. He is completing his 10th year.
Christine (Deboy) Drazan (B93) is one of three candidates to be the next governor of Oregon, winning the Republican nomination in the May 17 Primary Election. She resigned her seat, effective Jan. 31, as a member of the Oregon House of Representatives (District 39) to make the run. A resident of Oregon City, she was the incumbent House Republican caucus leader, elected to her representative post in 2018 and reelected in 2020 to serve much of Clackamas County.
Jeff Kosmicki (B93) is the chief of police with the Newberg-Dundee Police Department, given that post in July after serving as interim chief for 14 months following the resignation of chief Brian Casey (B98) after 29 years with the department. Kosmicki, a graduate of the FBI National Academy, has been with the department for 25 years, 24 as captain. He won out over 13 candidates.
Mike McConaughey (B93, M09) was honored in March as Newberg's 2022 "Amazing Educator" by the Newberg Graphic and Pamplin Media Group. He was cited "because he fosters a nurturing environment where budding thespians and production crew members can grow." He has been at Newberg High School for seven years, teaching language arts and career and technical education classes in addition to being drama director.
Julie (Van Hook) Anderson (B94, M95), after years of research, in December published a 262-page biography of one of the chief founders of Pacific Academy, the forerunner of George Fox University. William Hobson (1820-1891): Pioneer, Minister, and Founder of the Evangelical Friends Church (Quakers) in the Pacific Northwest recounts the life of the man who left Iowa on a mid-life call from God to establish a new Quaker community on the West Coast. Anderson is the congregational care pastor at Newberg Friends Church.
Randy James (B94) and Amy (Kierulff) James (B97, M99) and their three children were the subjects of a newspaper feature in the Bend (Oregon) The Bulletin newspaper, which noted they "take it to another level of involvement" in area theater activity, where all are on stage or backstage helpers. The couple started when they moved to Bend and became active in theatrical dessert performances at their church. She currently is working with the Ellipse Theater Community to develop future projects and establish infrastructure, in addition to teaching at Oregon Family School, a charter school in Bend. He is with Lucidly, a software and information technology company in Bend, for which he's been director of customer experience the past three years.
Heidi (Schneiter) Pender (B94) and Rachelle Staley (B00, M15) have started a nonprofit organization that provides parenting education and adoption home study services to adoptive families throughout Oregon. Integrity Home Studies was launched in 2020 in Newberg. Both are co-executive directors, with Heidi directing social services efforts and Rachelle serving as managing director. Rachelle is the youth pastor at Wayside Friends Church in Newberg, started in 2017. Heidi and her husband, Michael Pender (B94), own and manage several vacation rental homes in Newberg, and he is also a consultant and home renovation specialist under the name M Systems, LLC.
Wendi Upjohn (B94) is back at George Fox, starting a year ago as coordinator of the College of Business' undergraduate program. She worked the nine years prior at Bay Club of Tigard, Oregon, in positions in marketing, graphic design and pro shop management.
Ian Bingham (M95) is a 35-year global operations leader at ESCO, a manufacturer of mining and infrastructure equipment in Portland, acquired by the Weir Group in 2021. Since then, as senior director for sustainability, he has led its sustainability initiatives, including energy reduction programs.
Kenna (Yonker) West (B95) is a new member of the League of Oregon Cities Board of Directors, starting in January with the Salem-based association of 242 cities. She is in her fifth year as the city manager of Willamina, a town of just over 2,000 in Yamhill County. She also is co-owner of the Double Bar W Ranch in Amity, Oregon, started in 2007 with a focus on raising, training and racing barrel horses.
Aaron Downs (B96, M97) started last July as superintendent of the Canby (Oregon) School District after 22 years with the nearby West Linn-Wilsonville School District, where he was a teacher, principal of Wilsonville High School for four years, then assistant superintendent of secondary schools starting in 2015.
Jason Gardner (B97, M05) in February became vice president of product engineering with Gainwell Technologies in Portland, a healthcare company offering Medicaid management information systems and other services.
Larry Garrison (B97) received the award for the best original scientific research paper at the 2021 annual conference of the American Society of Extracorporeal Technology. He is chief of cardiovascular perfusion at Franciscan Health Medical Center in Indianapolis after previously serving as a product and clinical segment project manager with Transonic Systems, a manufacturer of medical devices that measure blood flow volume.
Rachel (James) Poet (B97) recently became a partner in the business where she practices: Highland Veterinary Hospital in Redmond, Oregon. She has worked there more than 18 years after receiving her degree in veterinary medicine from Oregon State University.
David Coulombe (B98), after 20 years with the law firm Brewer & Coulombe in Corvallis, Oregon, has completed certifications for marriage mentoring and is looking forward to shifting his career focus from litigation to mediation and conciliation. He has become an advisor to local governments on land use planning and labor and general municipal matters, and is a deputy city attorney for Corvallis, Philomath and Harrisburg, Oregon. He has been admitted to the Tribal Court Bar of the Confederated Tribes of Grand Ronde.
Barbara (Smith) Holmes (B98, M05) moved this spring to Cocoa, Florida, where she and her husband own and operate P & S Power Electronics, a business that specializes in creating software and solutions for general engineering projects. She is working on a second book after publishing her first book, He Calls Me Bethany, in 2020.
Anne Marie (Bracco) Jacob (B95) is in her second year as personalization and move-in coordinator with the Friendsview Retirement Community in Newberg.
John Knight (M98) in October was named community development director for Camp Verde, Arizona, a city of 11,000 surrounded by Prescott National Forest. He moved from Jerome, Arizona, where he was a zoning administrator for two years.
Julie Morse (B98) is vice president of customer success at Swan Island Networks in Portland. She started with the firm in 2017 and moved to her current position during her first year with the cloud services computer security company that provides businesses with highly secure software. She also is a product and technology consultant through her own firm, River Parkway Labs, founded in 2011.
Cari (Hogan) Nimeth (B98) this year completed a doctor of ministry degree in spiritual formation and discipleship through Nazarene Theological Seminary in Kansas City. She is completing her 22nd year working for the Salvation Army, the last eight writing discipleship curriculum for teenagers.
Cherie Buckner-Webb (B99) now has a Boise, Idaho, city park named for her. The half-acre park was dedicated in August, named for Idaho's first Black woman in the state's legislature. She served in the Idaho House from 2010 to 2012, then in the Senate through 2020. She is the founder (2007) and principal owner of Sojourner Coaching in Boise.
Kristie (Ragan) Freeman (B99, M20) last July was named assistant principal at Neil Armstrong Middle School in Forest Grove, Oregon. She taught language arts at that level for 22 years, the last five at the school, and was also part of the leadership team.
Chad Hollabaugh (B99) and Jaliene (Miller) Hollabaugh (B00, D12) are in Normandy Park, Washington, where both are involved in his fourth-generation business, Hollabaugh Brothers & Associates. It is a manufacturers' representative firm connecting plumbing and HVAC wholesalers with end users. He's been with the company since 2004 and has served as president since 2013. She is director of marketing/manufacturers' representative, in her eighth year with the company, and is working on a chapter on self-care for teachers, part of a book being prepared by a doctor of education cohort friend.
Jefferson Mildenberger (B99) is now using his management skills to help the city of Newberg, where he grew up. He was appointed in March to fill a vacancy on the seven-member city council. He is in his 11th year with Kaiser Permanente, in his fifth year as a business consultant working on the impact of social determinants of healthcare and Medicare for the national chain.
Celia Núñez-Flores (B99, M05) in February was named by the Oregon State Senate to the governing board of the Oregon Institute of Technology (Oregon Tech) in Klamath Falls. She also served on the 15-member board previously, from 2015 to 2019. She is deputy director of Oregon's Higher Education Coordinating Commission Office of Community Colleges and Workforce Development, leading strategic policy and funding coordination for 17 state community colleges.
Melissa (Smith) Radcliffe (M99) is beginning her second year as principal of Bandon High School on the Southern Oregon Coast. She took over leadership of the 200-student school in August after 22 years with the Tillamook (Oregon) School District.
2000-09
Jennifer (Records) Filonczuk (B00) and her husband Joseph are in Bavaria, Germany, where he is a U.S. Department of Defense teacher on the Army base there. They have authored two children's books: Adventures of Joseph and Esther: Mask of the Red Ninja, and Adventures of Joseph and Esther: Esther and Pooh in the Case of the Missing Space Boy.
Shawn Horn (M00, D04), describing herself as "The Shamebusting Psychologist," is a speaker and writer in addition to her private practice as a licensed psychologist. She was a TEDx speaker in October in Spokane, Washington, and has launched a podcast, Inspired Living. She also has a YouTube channel; is cohost of a TV show, Uncovered; and is a columnist for TOI magazine, a health and wellness website. Since 2018, she has been in residency with the University of Washington School of Medicine.
Andrew Wilson (B00) is the new executive director of the safety and security division of TriMet, the Portland-area mass transit system. He was appointed in January and oversees the departments of safety, security, transit police and environmental services.
Bryce Brewer (n01) is in Spokane Valley, Washington, where he was a youth and young adult director with Downriver Church in Spokane, Washington, for more than two years until April 2021. He is now a chief operating officer for Pinnacle Investigations, started in 2018, and also serves as a pastor, speaker, emcee, host and officiant.
Drew Coleman (B01) has launched Opt Real Estate, announced in January in partnership with Side, a real estate technology company. Headquartered in Lake Oswego, Oregon, the new company has 20 agents.
Laura (Yeamans) Kvam (B01) is in Hallstahammar, Sweden, where she is a sloyd teacher at a public grade school. The course teaches handcrafts, and she instructs sewing, crochet, knitting and weaving in the textiles lab. She started in 2018 and also is studying at Linkoping University to earn a teaching degree, this year completing her dissertation in Swedish.
Robert Nava (M01) is the new associate vice president of academic affairs and dean of graduate studies at Minnesota State University Moorhead. He began this last academic year after serving for two years as dean of the College of Education at Montana State University Billings.
Tamara (Yeamans) Nydell (B01) has launched her own piano tuning and repair business, Songbird Piano Service, started in 2019 in Paonia, Colorado, where she is also homeschooling her four children.
Erin (Stelzenmueller) Watson (B01) is in her third year as program manager for the first-of-its-kind International Alliance for Cancer Early Detection at Oregon Health & Science University's Knight Cancer Institute. She is a collaboration specialist with the Advanced Research Center.
Ryan Dearinger (B02) has returned to his alma mater, starting last fall as an associate professor of history. He holds a PhD in history from the University of Utah, received in 2009.
Sharia Hays (B02) is on campus again, now as associate dean of student life, starting last fall. The previous five years she was at Rochester University in Rochester Hills, Michigan, where she held the positions of accommodations officer, Title IX coordinator, dean of students and adjunct professor.
Melissa Skoczylas (M02) is an account manager in Indianapolis at the headquarters of the health insurance company Anthem, which is changing its name to Elevance Health. She started in 2021 after several years in Portland and two years in Honolulu with Kaiser Permanente.
Matt Gerber (B03) is now in Dallas, where he is involved in global corporate social responsibility with Gartner, an information technology research and consulting company. His focus is on measuring and amplifying the impact of the company's 16,000 employees worldwide, seeking to increase volunteerism and philanthropy to engage and impact communities. He is currently in a dual doctorate (PhD, DBA) program through the Royal Academy of Economics and Technology in Zurich, Switzerland.
Kevin Leid (B03), an information technology operations engineer with ICON plc in Portland, reports his company was the primary lab for the development of the Pfizer COVID-19 vaccine. He has 25 years of experience in information systems, IT consulting and project management.
Deb (Waterman) Marinos (B03) is owner/manager of Adaptability for Life in Woodburn, Oregon, offering licensed professional counseling and diversity training.
Angela Plowhead (M03, D06) is owner and clinical psychologist, in her ninth year, with Capacity Solutions in Portland, which offers therapeutic services related to issues of aging. Recently, she was a candidate for the new Oregon U.S. Congressional District 6 position, but did not win the Republication nomination in the May 17 Primary Election.
Benjamin Gorman (M04) has taught English and writing courses at Central High School in Independence, Oregon, for 20 years. He's also the president of the Central Education Association, the local teachers' union. He may be better known as owner of Not a Pipe Publishing, started in 2013. His success with the company was detailed in a December feature article in The Oregonian newspaper.
Betty Jo Steele (B04, M08) is now serving as a pulpit supply minister for area churches following her retirement in January and move to Salem, Oregon, after working as a chaplain at Silverton (Oregon) Medical Center since 2014. Previously, she was a dental hygienist for 27 years.
Carlos Marin (M05) is a new leadership coach with Building Champions, an executive coaching firm in Lake Oswego, Oregon. He started in August, leaving Portland Bible College after nearly 15 years, the last two years as vice president for advancement.
Joseph Agyei-Mensah (D05) is senior associate pastor at Calvary Baptist Church in Accra, Ghana, with a membership of 2,500. In that position since 1995, he guides ministry programs and has 25 pastors and volunteers under his supervision.
Trevor Combs (B05), in Portland for the last 10 years with Trelleberg Sealing Solutions, in March was promoted to technical manager for global off-highway and America's fluid power. He is responsible for providing technical inputs that begin strategic development of products.
Abigail (Rine) Favale (B05), dean of George Fox's College of Humanities since 2020, has left the position to become a faculty member at the McGrath Institute for Church Life at Notre Dame University, starting July 1. She started at George Fox in 2011 as a professor of English and later directed the honors program for two years before being named dean. An author and speaker, she has recently been a Life and Dignity Writing Fellow at Notre Dame.
Malorie (Wilson) Glavan (B05) in November became the first theatre manager for Riverfront Playhouse in Redding, California. She has been involved as an actor with the all-volunteer theatre organization for 10 years.
Laura Douglas (B06) is a child, family and adolescent therapist with Deschutes County Health Services in Central Oregon, now in her sixth year. In February, she became trained in parent/child interaction therapy. She is approved to supervise licensed clinical social workers and is launching a consulting business to assist them.
Christine Estrada (M06) has made the move from government service to private practice as a licensed professional counselor. In January 2021, she joined New Springs Counseling Service in Tigard, Oregon, after nearly 12 years with the Oregon Department of Corrections as a licensed mental health counselor and program manager.
Duane Rubink (B06) is the new police chief of Jerome, Idaho. He was chosen in January to head law enforcement in the city of 12,500 and moved up from his position as captain. He has worked in the department for 20 years, serving as a patrol officer, detective and sergeant.
Lindsey (Blankenship) Straight (B06) is in her second year as senior manager of lab operations with CRISPR Therapeutics, a biotechnology gene-editing research company in Cambridge, Massachusetts.
Rachel Bylsma (B07) in July was named external affairs manager for the Alaska Oil and Gas Association. She was previously director of constituent services for Alaska's U.S. Senator Dan Sullivan, in that role since he was first elected in 2014, after serving as a senior policy advisor to Alaska Governor Sean Parnell.
John Campbell (M07) and his twin sisters were featured in an article, "Family Business is Now in the Classroom," published in the Madras Pioneer in July. The trio grew up on a farm in Madras, Oregon, and all three are now agriculture science (ag) teachers in the state, with John at South Umpqua High School in Myrtle Creek, Oregon, since 2020.
Kirsten Green (B07) is in her fourth year as manager of commerce product management with Apple in Cupertino, California. She has been with the company since 2014.
Amaris (Tronson) Longmire (B07), after serving as an assistant coach for three years, became the new head coach for girls' soccer at Chelan High School in Washington last fall. She's also assisted with the school's softball program after playing both soccer and softball at George Fox. In addition to coaching, she is the owner of Traditionally Rooted, a catering and event planning firm.
Amanda Newman (B07) was named a partner in her law firm, Dickinson Wright, in Phoenix in January. She joined the firm in 2015, just after graduation from the Sandra Day O'Connor College of Law at Arizona State University. She specializes in commercial and business litigation.
Jordan Stacy (B07) in January was promoted to enterprise support manager - strategic with Amazon Web Services. Based in Beaverton, Oregon, he started with Amazon nearly three years ago as a technical account manager.
Jennylyn Tapat (B07) in December passed the professional engineer examination and is an engineer and associate project manager with the Wilson Okamoto Corporation in Honolulu. She is in her sixth year with the civil, traffic and transportation, and planning firm.
Audrey (Higuera) Williamson (B07) and Trevor Williamson (B07) live in Central Point, Oregon, where she is an assistant production manager with Darex, a manufacturer of sharpening tools in Ashland, Oregon. He started in November as director of operations for Empire Medical in Medford, Oregon, a technology company that simplifies and handles purchases of orthotic and prosthetic devices for the medical profession.
Kristi (Sandvik) Wilson (D07) in February was presented the American School Superintendents Association Distinguished Service Award in Nashville, Tennessee. She was last year's president of the national association. She has been superintendent of the Buckeye (Arizona) Elementary School District since 2013, after serving as assistant superintendent for three years.
Caitlyn (Boultinghouse) Bennett (B08) started last July as director of honors student experience in the honors program at John Brown University in Siloam Springs, Arkansas. She started with JBC in 2018 as interim director of student engagement.
Holly Fay (B08) earned a doctor of nursing practice in 2019 from Gonzaga University in Spokane, Washington, and last July started as a family nurse practitioner at the Neighborhood Health Center in Beaverton, Oregon.
Scott Gragg (M08, D21), after more than 10 years as a player in the NFL, is now guiding 20 teams in 13 sports as the athletic director at McNary High School in Salem, Oregon. He has been at the school of 2,000 since 2016. In 1995, he was drafted in the second round by the New York Giants, playing five years there before joining the San Francisco 49ers for five seasons and the New York Jets for one year.
Ryan MacKenzie (B08, D15) in January became clinic director for Step & Spine Physical Therapy in Prineville, Oregon, opening a sixth office location for the Central Oregon chain.
Kali (Ramey) Martin (B08) has written her first book, Potager: From the Garden to the Kitchen, published in December. The Salem, Oregon, resident also has launched a quarterly magazine, Notebook Quarterly.
Travis McFetridge (B08, M12) is vice president of student services at Treasure Valley Community College, named last June. He was director of admissions and student services for the last three years and has been on campus for 16 years, previously serving as Title IX coordinator and training coordinator in the office of compliance and training.
Ryan Russell (M08) is now senior vice president of design and user experience with Hinge Health in Seattle. He started in July after nine years as director of user experience at Amazon in Bellevue, Washington, where he led the design of innovative products such as Prime Now, Amazon Key and Amazon Flex.
James Wolfer (B08) started in November as the new school resource officer with the Sherwood (Oregon) School District. He joined the Sherwood Police Department initially as a reserve officer, then went full time in December of 2020.
Kristine Cody (B09) in August was highlighted by the Tri-Cities Area Journal of Business as one of the top "Young Professionals for 2021." She has been back in the Tri-Cities, Washington, area since 2018, and in August started with Pacific Northwest National Laboratory as a staff development consultant, moving from a position as assistant director of career services at Washington State University Tri-Cities after nearly three years.
Sara Kelm (B09) is using her writing and literature degree at Auburn University, where she is a lecturer in the Department of English and Philosophy. In May 2021, she earned a PhD in rhetoric and composition from Texas Christian University, where she also taught writing-related courses and was named English Department Graduate Instructor of the Year in 2019. Previously, for five years, she was a part-time instructor at George Fox.
Nick Loftin (B09) published his article "Five Steps to Make Telehealth Work for Physicians and Patients" in the March issue of Medical Economics, a monthly magazine for physicians. It also was published in Dermatology Times. He is director of virtual care with Pivot Point, a healthcare IT consulting firm near Nashville, Tennessee.
Amy (Turner) Malinauskas (B09) is in her second year as a registered nurse with Obria Medical Clinic in Lebanon, Oregon, and is training to be certified in limited obstetrics ultrasound.
Amberle Mangis (B09) started last fall as executive assistant at Love Justice International in Centennial, Colorado, a nonprofit helping orphaned and abandoned children in Asia and Africa.
Katie Plumb (n09) on July 1 became the new public health director for the Crook County Health Department in Central Oregon. Based in Redmond, she was promoted from deputy director, in that position since 2019.
Violet Read (B09) is back in Oregon after more than eight years in Texas, most recently in Waco, where she was a therapist and mental health specialist with the Waco Center for Youth. She started in February as program director with Morrison Child and Family Services in Portland, which provides mental health and substance abuse treatment, support and prevention services.
Jeri Turgesen (M09, D12) had a region-wide audience Jan. 31 when her thoughts were shared in an article in Pamplin Media Group newspapers in Oregon. In the feature, "Psychologist Sees 'Mental Health Pandemic' Behind COVID Fatigue," she describes the symptoms and the ages it impacts and suggests solutions. She is a clinical psychologist in Newberg at Providence Medical Center.
2010-19
Jonathan Ciraulo (B10) is an assistant professor of systematic theology at Saint Meinrad Seminary and School of Theology in Indiana. He started in 2018 after earning a PhD in systematic theology from the University of Notre Dame the same year. His dissertation, "The Eucharistic Theology of Hans Urs von Balthasar," this March resulted in a new book published by Notre Dame Press: The Eucharistic Form of God, which addresses the significance of contemporary sacramental theology.
Lauren (Kewley) Creel (B10) is in Bend, Oregon, where in August she became chief operating officer for the Cactus Cancer Society (formerly Lacuna Loft). A former cancer patient herself, she now heads the nonprofit that provides psychological support for young adults facing cancer.
Eli Matthews (M10) last July became the new president and CEO of the Chamber of Medford and Jackson County, Oregon, after serving as senior vice president for the organization for 12 years.
Sabrina (Sanborn) Orozco (B10) is in her first year with the Austin (Texas) Independent School District, where she is an attendance specialist at Covington Middle School.
Judd Rench (B10), who opened Bula Kava House in Portland in 2011, this spring opened a second store, this time in downtown Vancouver, Washington. The business features a drink extracted from the root of a Pacific islands plant, served in coconut bowls.
Jordan Schatz (B10) started in August with the Pasco (Washington) School District, where he is a math teacher at Pasco High School following long-term substituting in nearby Kennewick schools.
Henry Balensifer (B11) is using his political science degree as the mayor of Warrenton, Oregon, a city of 6,000 on the northern Oregon Coast. He started with the city as a commissioner in 2013 and was elected mayor in 2017. He is manager of marketing and government relations with LEKTRO in Warrenton, a manufacturer of towbarless aircraft towing vehicles, with the company since 2014.
Marie Ballance (D11) is a teacher in the Mt. Angel (Oregon) School District, serving the last nine years as a mentor to 61 teachers, two counselors and six administrators.
Andrea Byerley (M11), after 17 years with George Fox University, in May became senior associate registrar at Linfield University in McMinnville, Oregon.
Justin Callistini (B11) is a silicon validation engineer at Intel Corporation in Hillsboro, Oregon, in his 13th year.
Connor Campbell (B11), captain of the men's soccer team while on campus, is now head coach at the University of Jamestown in North Dakota, an NAIA school with 1,200 students. He started last July, just after receiving a master's degree in coaching from Ohio University in Athens, Ohio.
Kathy Milhauser (D11), after being an adjunct faculty member and dissertation committee member since 2013, last fall joined George Fox University's College of Business as an associate professor of management.
Luke Neff (M11, D15), after 11 years with the Newberg School District, left in February to move to the nearby McMinnville School District as director of information technology. Neff, who also has been an adjunct professor at George Fox, left the Newberg district as the longest-serving member of the superintendent's cabinet.
Mary Puntenney (B11) is CEO, owner and therapist with Flourishing Families Counseling, a business started last September in San Diego that specializes in serving kids and teens.
Mary Sperling (M11) became a news source twice in March, as KGW-TV in Portland turned to her for comments about how to discuss the war in Ukraine with kids and on adapting to masks in the classroom. She is a psychologist, serving all grade levels, with the Salem-Keizer (Oregon) School District.
Lucas Tomlinson (B11) is in Detroit Lakes, Minnesota, where he works with his family construction business, Tomlinson Schultz, as a carpenter. He also serves as parish support with Source & Summit, a Catholic software/technology company publishing missals and hymnals aimed at renewing liturgy.
Allen Cassel (B12), after five years with AKS Engineering and Forestry in Tualatin, Oregon, in August moved to Coffman Engineers, a national firm that opened its Portland office in 2019.
Jacob Cuniff (B12, M14) is a literacy workshop teacher at Rock Creek Middle School in Happy Valley, Oregon, completing his seventh year.
Sam Engleman (B12) continues to live in Atlanta but has changed companies. He is now with Bison Holdings, an investments advisory firm, joining the business in January 2021 as director of portfolio management and trading.
Amanda (Winkelman) Howard (B12) has returned to campus, where she is the director of marketing content for undergraduate programs. She started in September after working for three years as director of marketing and admissions at Westside Christian High School in Tigard, Oregon.
Daniela (Sifuentes) Jones (B12) remains in the aircraft industry but has changed jobs. She is now a senior technical program manager - aircraft development for her new firm, Volanci, a drone delivery development company in Bend, Oregon. She started last July after nine years with Columbia Helicopters. She is now responsible for managing the design, development, integration and validation of the Volanci M20 unmanned aircraft program.
Jacquie (Pickett) Lai (B12) is a professional portrait photographer who owns her own business, Jacqueline L. Photography, in Columbus, Georgia. She started the business in 2018 in the Washington, D.C. area, but relocated last summer when her husband, in the U.S. Army, was reassigned.
Keisha (Gordon) Olsen (B12, M18), after nearly nine years at George Fox in admissions roles, is now a program officer with the Marie Lamfrom Charitable Foundation in Wilsonville, Oregon. She started at George Fox in 2012 as an assistant women's basketball coach, became an admissions counselor the following year, and rose to senior associate director of undergraduate admissions her final year.
Alex Rettmann (B12) is lead pastor of Saints' Hill Church in Newberg, started in 2018 as a church plant by Bridgetown Church in Portland, where he was a youth pastor.
Jason Rogers (B12) was named Tigard, Oregon's "2021 First Citizen" in May, recognized for his involvement as member, then chair, of the city's parks and recreation board; member, then chair, of the city's planning commission; member of the Washington County Parks and Recreation Board; and for his involvement in Boy Scouts and the American Legion. He is with Medical Teams International in Tigard as a U.S. programs emergency response manager.
John Sawyer (M12) is associate pastor/campus pastor at Bon Air Baptist Church - James River campus, near Richmond, Virginia. He is also the founder and chairman of the nonprofit Bridging RVA, which was featured in a December issue of the Richmond Free Press newspaper for making more than 7,000 deliveries of food to doorsteps of those quarantined during the COVID-19 pandemic.
Ben Tissell (n12) has two careers going: as an actor/musician/director and as a program director for a youth camp. Since 2019, he's been on the staff of Trout Creek, a Bible camp for youth in Corbett, Oregon. His professional performing career includes singer/songwriter for two full-length albums and five EPs. In October, he took the stage as a lead with the Broadway Rose Theatre's (Tigard) performance of Loch Lomond.
Brennan Altringer (B13) is now in Frisco, Texas, starting in February as director of audience development with Complexity Gaming, an esports franchise located in The Star, the headquarters of the Dallas Cowboys.
Rachel Brumfield (B13) returned to campus in December to work as the director of marketing content for George Fox Digital in the marketing communications department. Previously, she was assistant director of communications at Pacific University in Forest Grove, Oregon.
Casey Hostetler (B13, M14) opened two businesses in McMinnville, Oregon, during the year. Last June, she and four others started Elena's Wine Bar, where she is manager. Ten weeks later, she opened Alt Coworking, offering shared work space for those not needing full-time office locations. This follows a career timeout during which she and her husband sold all their possessions and road-tripped America's 48 contiguous states for 14 months, traveling 31,000 miles and also visiting Mexico, Canada and the Bahamas.
Stephen Kenyon (B13) is beginning his second year in his assignment in Southern Oregon as parochial vicar at St. Anne Catholic Church in Grants Pass. He also serves missions at Our Lady of the River in Rogue River and St. Patrick of the Forest in Cave Junction.
Austin Morrell (B13) started in 2020 with the Spokane Valley (Washington) Fire Department as a fire protection engineer in training.
Bethany Nguyen (B13, D16) has returned to campus as an assistant professor of physical therapy. Previously, she was a home health physical therapist with Connected Home Health & Hospice and an injury prevention specialist with WorkRight NW, both in Portland.
Chelsea (Bradely) Qualls (n13) recently finished her first year as an assistant softball coach at the University of South Dakota. She had been head softball coach and testing specialist at Sprague High School in Salem, Oregon, since 2018.
Danny Rodriguez (B13, M16, D19) is back at George Fox, starting last fall as an assistant professor of clinical psychology. He moved from being a behavioral health provider with Providence Medical Group in Sherwood, Oregon.
Kathryn Saunders (B13) last June left her position after four years as community life director at Friendsview Retirement Community. She moved to a position across the street as an assistant professor of social work and associate director of field education at George Fox. She started teaching on an adjunct basis at George Fox in 2014.
Bailey (Dekker) Smith (B13) has launched her own company, Indie Travel Design, in Salem, Oregon. It was started in 2019 after she started planning travel for others as a side gig. She says it combines her skills and experience in the business world with her passion for helping others travel after she experienced her study abroad trips in college.
Mike Souza (M13) in February became the new pastor of Harvest Community Church in Madera, California. He moved back to his home state after five years as pastor of the Sunnyside, Washington, Presbyterian Church.
Kelsie Wring (B13) is a staff assistant with the COVID-19 vaccination team of King County Public Health in Seattle, where she started in 2021. This follows nearly three years with the Peace Corps, until March 2020 in Gulu, Uganda, as a knowledge management and communications volunteer with CARE International.
John Bacon (D14), who has worked at Southwestern Oregon Community College for four years, is now a full-time assistant professor of business after serving as director of the Small Business Development Center.
Vincent De Benedetto (B14, M15) is the founder and CEO of Automated Dreams in Portland, a marketing automation firm providing strategy and building business systems for local firms.
LeAnn (Veenendaal) Bowers (B14) and Levi Bowers (B15) are in Eugene, Oregon, where he is a human resources coordinator with Managed Health Care Pharmacy. She was a sales representative with VWR/Avantor until last spring and is now a stay-at-home mom.
Kelsey (Tullis) Duman (B14) in September became director of operations for Gales Creek Camp Foundation, a nonprofit that hosts a summer camp for children living with type 1 diabetes. She lives in Albany, Oregon, and works remotely except during the summer camps.
Elise (Fajen) Duchesne (B14) is in Portland working as an enterprise customer success manager with ZoomInfo. She is starting her second year in the position after joining the company in 2020.
Angelyn (Haughey) Holmes (B14) and Micah Holmes (B14) are in Rockaway Beach, Oregon, where in April they started as program directors at Twin Rocks Friends Camp & Conference Center.
J.D. Mowery (B14) in April was announced as the new chief operating officer for Treadwell Therapeutics, a Seattle-based clinical-stage biotechnology company developing medicines for unmet needs in cancer.
Brittany (Rich) Revuelta-Ozuna (B14) is a senior retirement counselor, just finishing her sixth year with the Contra Costa County Employees' Retirement Association, a public employee retirement system in Concord, California.
Julio Bautista (B15, M18) is starting his second year with the Northwest Regional Education Service District, based in Hillsboro, Oregon, and serving 20 school districts in four counties. He is an educator improvement coach, part of the instructional services professional learning team, and collaborates with the districts in focusing on recruitment and retention of BIPOC educators.
Micah Beauvais (B15) is in Chicago, where he is an education and learning development coordinator with Chicago Public Schools, in his second year. He also has performed in city musical productions.
Joshua Dolar (B15) is completing his first year as communication and technology coordinator at West Linn (Oregon) Lutheran Church.
Luke Hammer (B15, D18) in September opened BenchMark Physical Therapy in Sherwood, Oregon, part of the national chain. He is co-owner and clinical director and is a certified orthopedic clinical specialist.
Ofelia McMenamy (B15) in November became a bilingual engagement specialist with Kaiser Permanente in Portland. She helps create sales opportunities through targeted enrollment activities to increase membership.
Stephanie Moen (B15) started last fall as a process improvement consultant with the OHSU Health Hillsboro (Oregon) Medical Center. In February, she received Project Management Professional certification.
Ziva (McLaurin) Robinson (B15) is in Fort Wayne, Indiana, with AME Group as a professional services engineer, working for the cloud services company that offers technology solutions and IT support.
Christine Swanson (B15) was back on campus this December for the opening of her "En Plein Air" paintings exhibition in Lindgren Gallery, which featured a dozen oil paintings created on site in Oregon's outdoor escapes. From her own studio, and connected with Art Elements in Newberg, she creates work for sale and also exhibits and teaches painting classes at the Chehalem Cultural Center in Newberg.
Stephen Tissell (B15), calling himself an "aspiring entertainment journalist and freelance writer," is having success with CBR (Comic Book Resources), for which he is a featured guest writer. He lives in Beaverton, Oregon, while also working as a floor supervisor with LEGO Group in nearby Tigard.
Peter Vogelezang (B15) started last July with General Atomics Aeronautical Systems, Inc., in Poway, California, where he is a senior engineer.
Alexandra Began (B16) started in January as design and communications specialist with Rolling Hills Community Church in Tualatin, Oregon, while continuing a remote position as a 3D character animator with Spyence, an online Bible lesson series. She also continues freelance work as an animator and illustrator.
Derek Brown (D16) started in January as the new director of technology with the David Douglas School District in Portland, leaving his position as assistant superintendent of the Newberg School District after nearly five years.
Chandler Brutscher (B16), after receiving a master of fine arts degree from Kent State University in 2019, is back at George Fox as an assistant professor of art and design. She previously taught at Kent State (Ohio), the University of Akron (Ohio) and Grove City College (Pennsylvania).
Sean Eberhardt (B16) has changed realty firms and started last June as a realtor with eXP in Clackamas, Oregon, moving from Keller Williams in Portland.
Becca Olson (B16) is a member of the athletic training staff at California Baptist University in Riverside. She started last July and works with the men's water polo and baseball teams.
Michelle Osborne (D16) is in Raleigh, North Carolina, where she is chief deputy insurance commissioner for the state's Department of Insurance. She is also coauthor of The Maid, based on real-life stories of human trafficking. Released in January, the paperback weaves interviews with actual victims into fiction based on facts.
Bryant Quinn (B16, M17) and Hannah (Busch) Quinn (B19) are in Newberg, where he has completed five years with the Newberg School District as a physical education teacher at Edwards and Ewing Young elementary schools. Since 2017, he also has been an assistant cross country and track and field coach at George Fox. She is a physical therapy aide at Big Sky Physical Therapy in McMinnville, Oregon, in her second year, while completing a master's degree in kinesiology this year online from A.T. Still University of Health Sciences. She has been accepted into the George Fox Doctor of Physical Therapy program, starting this fall.
Julia (Howell) Ryan (B16) in January was named marketing and foundation coordinator for Oregon Coast Community College, a 2,000-student school with Newport, Waldport and Lincoln City sites.
Sydney Thiessen (B16) started in March as a project manager with Stagecraft Industries in Portland, a manufacturer and installer of theater curtains, rigging and lighting.
Jade Becker (B17) is a visiting assistant professor of English at George Fox after two years as a writing instructor in an interdisciplinary first-year experience course.
Catherine Ng Flaherty (B17) is starting her second year as a production designer with Pivot, a Tigard, Oregon, branding, customer research, employee training and web design firm.
Joel Mayward (M17) is an assistant professor of Christian ministries, theology and the arts at George Fox. He previously was at the Institute for Theology, Imagination and the Arts in the School of Divinity at the University of St. Andrews in Scotland, where he earned a PhD in divinity in 2021. The author of three church ministry books, he also is theology editor for The Other Journal, an interdisciplinary program produced by the Seattle School of Theology & Psychology.
David Ween (B17) in August received a master of arts degree in philosophy from Ohio University and is now a graduate teaching assistant and PhD student at Tulane University in New Orleans, studying how people behave in society.
Alyssa Wegner (B17) is a critical care nurse with Salem (Oregon) Health, in that role for nearly five years. Her normal routine during the COVID-19 pandemic became a front-page story in the Oct. 9 issue of The Oregonian newspaper, as it subtitled its story "Glimpse inside a Salem intensive care unit reveals exhausting toll on healthcare workers tending to patients facing death." The top-of-the-page headline, "Dying in front of our eyes," and accompanying photo of Wegner preceded three pages of coverage.
Melissa Alonzo (B18) and her husband have opened Gunner CrossFit in McMinnville, Oregon, now in its third year. She was introduced to the fitness program while stationed at Marine Corps Base Camp Pendleton in California. She has eight years' experience as a hospital corpsman second class in the U.S. Navy.
Dakota (Buhler) Armour (B18, M20) is an English and literature teacher at McMinnville (Oregon) High School, starting there in 2020. She also is a track and field coach.
Hunter C. Bomar (B18) joined the university's marketing communications office as a content specialist in December, specializing in video production. He previously worked a semester as an adjunct professor of communication at George Fox, and since 2014 he's served as a mass communications specialist for the Oregon Army National Guard.
Micah Charleston (B18) is now manager, paid research with Adidas in Portland, starting in July after leaving a position as associate manager, media services, with New Engen, a digital marketing firm.
Greg Jehanian (M18) has been featured in publications with national audiences twice during the last year. Christianity Today magazine interviewed him for a story about the band he is with, mewithoutYou. He's been the bassist for the band, now on a farewell tour after 20 years together, for six albums and EPs. In addition, HM magazine (formerly Heaven's Metal), a monthly digital and print on-demand publication focused on rock music and alternative culture of interest to Christians, interviewed him for a piece.
Anna (Lampman) Kusters (B18) and Mitchell Kusters (B17) are living in Wilsonville, Oregon, while they work in other cities. She started last year as a pediatric registered nurse at Randall Children's Hospital at Legacy Emanuel Medical Center in Portland. He is a sixth-grade science teacher at French Prairie Middle School in Woodburn, Oregon.
Carson Newman (B18) started in January as a team member with Columbia Forest Products in Klamath Falls, Oregon, a manufacturer of hardwood plywood and veneer. In 2020, he received a master of arts degree in history from Liberty University in Lynchburg, Virginia.
Madeline Rennie (B18) graduated from Kingston University in London with a master's degree in marketing and brand management in 2020 and is now using his degree as a marketing and brand management specialist with The Malilangwe Trust in London, a Zimbabwean nonprofit dedicated to environmental conservation and the development of lives in local communities.
Skyler Rieke (B18) in October became regional manager with MBE Hospitality Management, headquartered in Kalispell, Montana. The firm provides management, consulting, design, development and accounting services for six hotel, motel and resort properties.
Tanner Shadbolt (B18) is using his George Fox experience, combining his degree and his work-study job, into his occupation as a juvenile probation officer in Polk County, Oregon. A sociology major, he worked all four years as a campus security officer. He started in April 2021 after more than two years as a juvenile justice officer in Jefferson County, Oregon.
Lisa Watson (B18, D21) joined Chehalem Physical Therapy in Newberg, where she is a physical therapist. She had been a group exercise instructor with Sherwood (Oregon) Family YMCA for 20 years.
Katie Wells (B18) in December earned a master of arts degree in international education management from Middlebury Institute of International Studies in Monterey, California. She started in January as an international program advisor at Syracuse University in New York.
Alexandria (Baker) Bennett (B19) is in her second year as a registered nurse with Providence St. Vincent Medical Center in Beaverton, Oregon, where she has worked night shifts in the COVID-19 unit. She is a volunteer with George Fox's Young Life program and also serves as a mentor for the university's Bridge Network.
Emily Brink (B19) is a fourth-grade teacher at North Clackamas Christian, a K-12 school of 260 students in Oregon City, Oregon. She started in 2020 after receiving an MEd from Concordia University in Portland.
Erin Brudi (B19) received a master's degree last year in museum and gallery studies from Kingston University in London and is now a marketing executive in Fulham Palace. She started last June, working in a structure started between 1485 and 1507, owned by the Church of England and now operated by the Fulham Palace Trust, for which she works.
Megan Buchanan (B19) has moved across the country, starting in November as a child life specialist with St. Jude Children's Research Hospital in Memphis, Tennessee.
Douglas Bursch (D19) got a national audience in January with Three Practical Ways to Engage in Online Peacemaking, as part of Christianity Today's blog forum, "The Better Samaritan." He also is the author of the paperback Posting Peace: Why Social Media Divides Us and What We Can Do About It, published last year. He has produced and hosted more than 1,200 Christian radio broadcasts and currently is producer and host of The Fairly Spiritual Show radio program and podcast. Since 1998 he has been co-pastor of Evergreen Foursquare Church in Auburn, Washington.
Ben Buslach (M19) started last fall as the new West Coast market development manager for Benjamin Obdyke, a wall and roof systems manufacturer based in Horsham, Pennsylvania.
Nina Dahl (B19) is using her degree in history as the new director of the Hoover Minthorn House Museum in Newberg. She started in August, moving back from Loveland, Colorado. The house, built in 1881 by a George Fox University founder, Jesse Edwards, and sold in 1885 to another founder, Henry John Minthorn, was the boyhood home (1885-1888) of Herbert Hoover, the 31st U.S. president.
Kylie Duppenthaler (B19) is a marketing and communications coordinator with Good Samaritan Ministries, now in her third year. The faith-based nonprofit headquartered in Beaverton, Oregon, provides counseling services and counselor training in 29 countries worldwide.
Lynda Gittens (D19) is now an author with the September release of Finding Your Miracles Amid Pain: Journeying Through Mourning to Morning. She is executive director of Babies Youth Children Empowerment in Missouri City, Texas, which helps academically struggling children.
John Kimber (D19), despite retiring in 2020 as principal of The Greencroft Group in Vancouver, Washington, continues in a third career, now as an adjunct professor of business at George Fox University. He was in the research and consulting field for seven years with Greencroft after 32 years with Liberty Mutual Insurance.
Sarah King (B19) became George Fox University's first Olympian when she competed in August in the games of the XXXII Olympiad in Tokyo. She was selected to be on Switzerland's 4x400-meter relay team after winning the 400-meter individual title in June with a 52.99-second time, her personal best. An Oregon resident with dual citizenship, she represented her mother's native country. She has been a volunteer assistant track coach since 2019 while also working as a client services engineer with Swan Island Networks, a computer security company based in Portland. She also is training for the European Athletics Championships in Munich, Germany, in August.
Alexander Knopp (B19) has been an email marketing manager since February with Quantum Lifecycle Marketing in Boise, Idaho. He also runs his own freelance business, Ascent Social, helping small businesses with social media and other needs in the digital space.
Savanna Poston (B19) is in Georgia, where she started in January as a team member with Revive Consignment, an outreach of the Jubilee Church in Woodstock, with a retail operation there and in Smyrna.
Kyler Stephens (B19), after receiving a master's degree in electrical engineering from Baylor University in Waco, Texas, started last June as spacecraft assembly test and launch operations engineer with Millennium Space Systems in El Segundo, California, a developer and manufacturer of military satellites.
Josiah Tully (B19) is using his marketing degree in Greenville, South Carolina, where since September he has served as an associate brand marketing manager with Techtronic Industries (TTI), a manufacturer of indoor/outdoor power tools and floor care equipment.
Jason Whitehead (D19) is executive director of the Phenix City (Alabama) Housing Authority, in that role since September 2020. He also is founder of both Impacting Generations Inc., a nonprofit organization committed to creating a path out of poverty, and Xcel to Excellence, an organization dedicated to empowering individuals to fulfill their dreams.
Charity Woodard (D19) has been named Outstanding Higher Education Art Educator of the Year by the Kansas Art Education Association. The award was presented in October in Wichita. She is an assistant professor of art at Emporia State University.
2020-22
David Angeles (B20) joined the university's marketing communications department in December as a graphic designer. He worked previously for four years as a graphic design freelancer, most recently with the Opus Agency on assets for the Amazon Reshape event.
David Bacher (B20) last year received a master's degree in astronautical engineering from the University of Southern California and has a fellowship to continue there as a PhD student in the same field. He is a research engineer with the school's space engineering research center and is studying entry, descent and landing systems to enable interplanetary exploration.
Garrett Banister (B20) is using his civil engineering degree as a project engineer with JR Merit, Inc. in Vancouver, Washington, an industrial construction company.
Miranda Davidson (B20) has just completed her first year as a visit coordinator with George Fox's undergraduate admissions office, where as a student she was an admissions intern for three years. She spent her first year after graduation as the social media director for Family Life Church in Newberg.
Rebekah Evergreen (B20) is using her degree in social and behavioral studies as a private in-home caregiver for a frontotemporal dementia patient in Kapaau, Hawaii. She says it is not a job but a vocation that has "brought ever-deepening grace while enhancing my patience and empathy beyond words."
Noah Fitzsimmons (B20) is using his business management degree as a transaction coordinator with Synergy One Lending in Portland, a mortgage transaction firm where he started in the fall after graduation.
Yuan Gao (M20) has just completed her second year as a Mandarin Chinese language teacher at the International School in Portland, which has 400 students in three international language tracks.
Riley (Moresco) Genandt (B20) is completing her second year with the International Sports Sciences Association in Phoenix, where she is an education support specialist. She started in 2020 with the teaching institution that trains personal and athletic trainers, coaches, therapists and other professionals.
Peyton Hanel (B20) is a cofounder of Diabase LLC, a computer software business in Newberg. It was started in December 2020 after he left Big Zeta in Portland, where he was a software engineer. Cofounder Taylor Dawson (n20) is also a software engineer, starting in January 2020 with Blocknative Corporation, a blockchain processing firm.
Hannah Jodoin (M20) is president and CEO of Miss Hannah's Gourmet Popcorn Co. in Newberg, which opened in 2017. It is part of the family-owned operation that started in 2001 with a shop in Bridgeport Village in Tigard, Oregon, and now has 25 employees.
Mason Koch (B20) was featured in USA Today in March, when the newspaper picked him as one of seven it highlighted in an article on how former college students are dealing with the moratorium on federal student loan payments due to the COVID-19 pandemic. It asked borrowers what student loan forgiveness would mean to them. The subject of the article was moot for Koch, who has already repaid his student debt. He is in Renton, Washington, where he is a first assistant golf professional PGA associate with the Fairwood Golf & Country Club, now in his second year.
Karina Kreider (D20) is in practice with Therapeutic Associates, Inc. in Newberg, and is pursuing additional training in treatment of patients with pelvic health concerns.
Tony Nehren (B20) was back on campus in October to talk about using his social work degree with the Oregon Department of Human Services Child Protection Services, working in Marion County. He is a certified Native American and Alaskan native specialist.
Karen (Malm) Nygren (B20) is a mental health registered nurse with Oregon State Hospital in Salem, Oregon, now in her third year. During the COVID-19 pandemic she was a volunteer with the Medical Reserve Corps, helping with vaccination clinics.
Jordan Planck (B20) is back in her home city of Eugene, Oregon, where she is a research associate with Abcam, starting her second year. The company produces protein research tools to help with drug research.
Amanda Ripley (B20) in February was promoted to accounting analyst with Hilton in Vancouver, Washington, after being a guest service agent since last June.
Joel Sigrist (B20) and Noelle (Murray) Sigrist (B20) are living in Medford, Oregon, while both are working remotely with companies headquartered elsewhere in Oregon. He is a GTM marketing specialist, cross portfolio marketing with Intel in Hillsboro, starting last July. She is in her third year as an operations coordinator with the Oregon Association of Relief Nurseries, based in Newberg, which focuses on child abuse and neglect prevention and early childhood development providers.
Alice Ai (D21) is in her second year as a career and academic planning coach with George Fox's Career & Academic Planning Center. She has 23 years of teaching experience and 11 years of program leadership experience, including eight years as director of English teaching programs at Chongqing University of Posts and Telecommunications in China.
Hayes Beathard (B21) is using his degree in accounting as an audit associate with Eide Bailly, a CPA and business advising firm, in Billings, Montana, starting last July.
Vanessa Carrillo (B21) is with New Horizons In-Home Care in Salem, Oregon, as a home care provider. This follows more than a year with Avamere Family Companies in Newberg.
Heather Clay (B21) has joined Resource One, Inc. in Portland, where she is an office manager, working with the chief operating officer for the Hillsboro-based company that helps businesses with their technology systems.
Eva Fast (D21), after earning her doctorate, is continuing on the campus of John Brown University in Siloam Springs, Arkansas, where she is an assistant professor of entrepreneurship and marketing. Finishing her doctoral studies after more than four years, her students greeted her with an office full of flowers, a stethoscope to wear as a "doctor," and asked her to give her dissertation presentation in front of the class.
Ginni Frazier (B21) continues on the George Fox campus, using her computer science degree as a systems coordinator in IT after working as an infrastructure intern for two years.
Loren Hrabak (M21) in October became national sales manager for CTL in Beaverton, Oregon, which manufactures Chromebooks, laptops, desktops and PCs. He was promoted from manager of its digital sales team, a position held for a year after he joined the company in 2019.
Kasandra Lassagne (B21) started last August as a junior environmental data scientist with Axiom Data Science in Anchorage, Alaska, an informatics and software development firm.
Anthony Lathan (M21) started in November as a behavioral health technician with CODA, Inc. in Portland, a treatment center for substance abuse disorder.
Nathan Leid (B21) is now in Texas as the service teams and care coordinator with Fellowship Bible Church in Dallas. He helps members find service opportunities, schedules events, and is the primary contact for volunteering.
Hannah McCormick (M21), after interning at Laurelhurst Elementary School in Portland, is using her degree as a social worker with the Oregon City School District, starting her second year.
Brenna McGuire (B21) continues at George Fox after graduation, where she is an admissions specialist for the honors program in which she participated as a student.
Chris McMullan (M21) last June started as a medical social worker at Willamette Valley Medical Center in McMinnville, Oregon.
Cam Oliver (B21) has found an immediate position to use his degree in theology, as youth director at Living Hope Church in Vancouver, Washington.
James Pardee (M21) is in his second year as a residency planning counselor with Friendsview Retirement Community in Newberg. This follows nearly three years with the Hillsboro (Oregon) Police Department as a domestic violence advocate.
Savannah Sexton (B21) is a graduate assistant athletic trainer for the football and golf teams at Wingate University in North Carolina, while she is pursuing a master's degree in sport management and athletic administration.
Santina Sisson (B21) is in Boston as part of the Jesuit Volunteer Corps, working at Playworks New England, where she is creating curriculum for kids to remain active during the school year. Playworks is a youth development nonprofit program for students ages 10 to 14 in low-income areas, helping them build social and emotional skills through play.
Anna Smoll (B21) is using her music degree with Salem-Keizer (Oregon) Public Schools as a choir director at Waldo Middle School.
Megan Stewart (B21) is staying in Newberg, using her journalism and psychology degrees and her experience as coeditor of The Crescent student newspaper in her position as a reporter for the Newberg Graphic newspaper. She started in November.
Caroline Strode (D21) has stayed in Yamhill County and is now a physical therapist with Therapeutic Associates, Inc. in McMinnville, Oregon.
Kody Ulrich (B21) is using his interior design degree in his first year as a junior home designer at Wise Owl Home Plans in Vancouver, Washington.
Jen Wright (B21) spent last summer on the news team at KLCC FM, an Oregon public radio station in Eugene, and is now a staff writer for the magazine of Bates College in Lewiston, Maine, a private liberal arts college of 1,800.
Paul Casavant (B22) is a system validation engineer with Intel Corp. in Hillsboro, Oregon. He started in the role officially after graduation but was an intern in the position during his senior year. He has been with the company for nearly 10 years in a variety of roles.
Josh Hicks (B22) is a software engineer with TZ Medical in Portland, a medical devices manufacturer. He continues in the position he held as an intern his senior year.
In Memory
Hazel Mary (Houser) Harrison (B42), Sept. 2, 2021, in Newberg.
Bill Stein (B43), June 28, 2021, in Corvallis, Oregon.
Robert Hurford (n48), Sept. 27, 2021, in Newberg.
Lorna Fertello (n49), April 28, 2022, in Newberg.
Enid Briggs (B50), Dec. 16, 2021, in Milwaukie, Oregon.
Harold Magee (B51), Aug. 11, 2021, in Mount Angel, Oregon.
Howard Harmon (B52, M59), Oct. 2, 2021, in Newberg.
Marilyn (Jones) Antrim (n53), Jan. 22, 2022, in Newberg.
Maribeth (McCracken) Hampton (B53), April 17, 2022, in Newberg.
Carmen Parmenter (n54), March 8, 2022, in Independence, Oregon.
Harley Brotherton (B55), Aug. 28, 2021, in Seattle.
Chester Harris (n55), Nov. 15, 2021, in Greenleaf, Idaho.
John Lyda (B58), June 13, 2021, in Newberg.
Carolann (Moor) Palmer (n58), Jan. 26, 2022, in Newberg.
Betty Lou (Walls) Sargent (n58), Dec. 15, 2021, in Newberg.
Bob Willcuts (B60), Feb. 18, 2022, in Parma, Idaho.
Loren Hinkle (B61), Jan. 15, 2022, in Roseburg, Oregon.
Sherrill (Hull) Comfort (B63), Aug. 15, 2021, in Newberg.
Dennis Paola (n66), Oct. 7, 2021, in Salmon Creek, Washington.
Nick Maurer (B65), Jan. 11, 2022, in Newberg.
Twila (Arndt) Osborn (n65), Aug. 25, 2021, in College Place, Washington.
Sharron (Moore) Templeton (B66), Feb. 17, 2022, in Spokane, Washington.
James Dickason (B68), Oct. 5, 2021, in Irrigon, Oregon.
Sara (Hill) Grant (B68), Aug. 11, 2021, in Newberg.
Bruce Ankeny (B69), Oct. 2, 2021, in Nampa, Idaho.
Juanita (Roberts-Eoff) Duncan (B69, M06), Sept. 4, 2021, in Castle Rock, Washington.
Martha (Davenport) Beck (B73), Sept. 10, 2021, in Caldwell, Idaho.
Roger Bendel (B78), Feb. 19, 2021, in Salem, Oregon.
Judy Henderson (B78), Jan. 4, 2022, in Nehalem, Oregon.
Gregg Enns (B81), Oct. 10, 2021, in Silverton, Oregon.
Michael Grigsby (B88, B91), July 12, 2021, in Sisters, Oregon.
Diane Choate (B89), Sept. 8, 2021, in Portland.
Steven Grotjohn, also known as Steven Shank (B89), Feb. 12, 2021, in Longview, Washington.
Danny Jacobs (B89), Oct. 23, 2021, in Longview, Washington.
Carolyn Strey (n94), Aug. 1, 2021, in McMinnville, Oregon.
Christopher Close (B95), Dec. 10, 2021 in Franklin, Tennessee.
Robert Danielian (M00), Nov. 12, 2021, in Dallas, Oregon.
Sharon Shaw (B04, B10), Aug. 5, 2021, in Newberg.
Kyle Kincaid (B09), June 19, 2021, in Newberg.
Karen Ashby (M12), June 29, 2021, in Boise, Idaho.
Philip Katon (B17), Aug. 28, 2021, in Clatskanie, Oregon.
Javier Garcia, June 19, 2021, in Manzanita, Oregon. Director of George Fox University Honors Program, associate professor of religious studies, 2016-2021.
Frank Furtado, Dec. 4, 2021, in Seattle. George Fox football and basketball coach, trainer, instructor of physical education, 1961-1964.
Wes Cook, March 13, 2022, in Redmond, Oregon. George Fox track and field and cross country coach, professor of health and human performance, 1987-2006.
Dan vanderWater (B11), Jan. 27, 2022, in Newberg, Oregon. George Fox planning and space utilization manager, 1996-2021.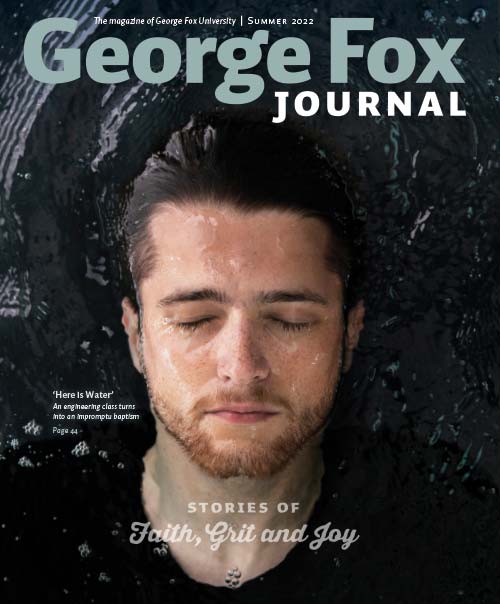 Looking for more?
Browse this issue of the George Fox Journal to read more of the stories of George Fox University, Oregon's nationally recognized Christian university.