George Fox hosts midyear commencement ceremonies Dec. 18
December 07, 2021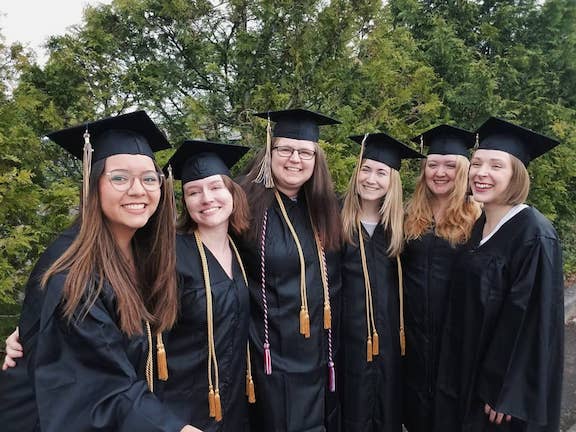 NEWBERG, Ore. – Two-hundred and fifty-four students will be recognized for earning diplomas at George Fox University's midyear commencement ceremonies on Saturday, Dec. 18.
Ceremonies for both undergraduate and graduate students will take place in Bauman Auditorium on the school's Newberg, Ore., campus. Seating for the undergraduate event begins at 10 a.m., and the ceremony will start at 11 a.m. The ceremony for graduate students – those receiving masters and doctoral degrees – begins at 3 p.m.
Tickets are required for both ceremonies, and seating is limited to four guests per graduate. A live broadcast of both ceremonies will be available to watch online on the university's midyear commencement page.
Masks are required indoors in all George Fox University facilities as the university continues to take a cautious approach that meets state requirements. The ceremonies are each expected to last approximately one hour.
All told, 133 students will receive bachelor's degrees after completing study in one of George Fox's undergraduate bachelor's degree majors or its adult degree programs. Another 121 will receive a master's degree or a doctorate after completing study in one of the university's graduate programs. The university hosts its primary commencement event in the spring.
Speaking at the undergraduate ceremony will be Jennie Harrop, associate dean of the George Fox Connect online initiative and an associate professor of professional studies. Kurtley Knight, an assistant professor of spiritual formation at Portland Seminary, a part of George Fox University, will speak at the graduate ceremony.
More specifics on the ceremony are available on the midyear commencement page, cited above.
George Fox University is classified by U.S. News & World Report as a "Best National University." More than 4,200 students attend classes on the university's campus in Newberg, Ore., and at teaching centers in Portland, Salem and Redmond, Ore. George Fox offers 60 undergraduate academic programs, degree-completion programs for working adults, and 19 master's and doctoral degrees.
-30-
Contact:
Laurie Fair
Office of Academic Affairs
George Fox University
503-554-2140