Robin E. Baker Named 12th President of George Fox University
March 12, 2007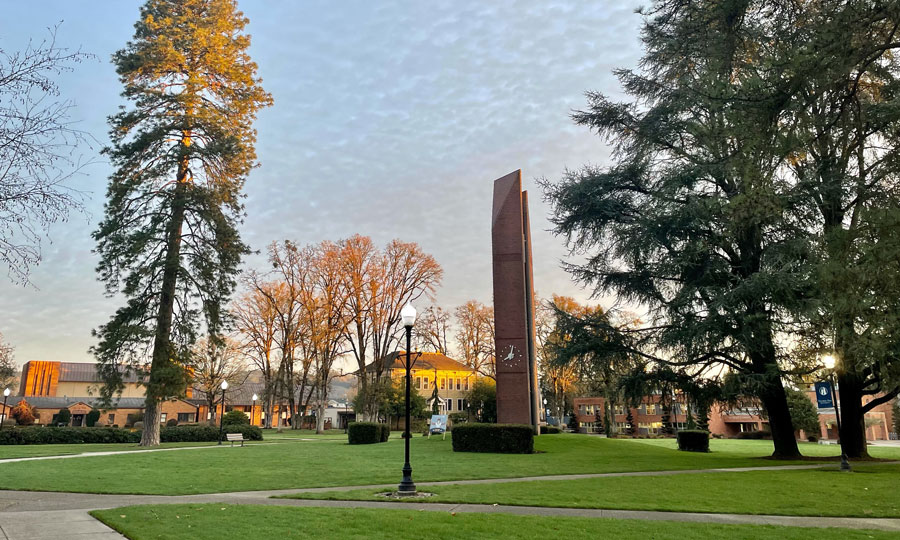 NEWBERG, Ore. (March 12, 2007) – George Fox University Provost Robin E. Baker, who has overseen a dramatic expansion of academic programs at the university since 1999, will be the institution's next president, effective July 1.
Baker, 49, was selected this weekend by the George Fox Board of Trustees, which met on the Newberg campus for its annual spring meetings. He will begin his presidential duties following the retirement of President David Brandt.
"After conducting a national search and evaluating the complex requirements for leadership at George Fox University, the board is unified in our excitement that Dr. Robin Baker has accepted our offer to be our next president," said Barbara Palmer, chair of the board of trustees and senior vice president of Bank of America. "Dr. Baker is very talented, and we believe he is uniquely gifted to think globally and then execute programs where George Fox students can make an impact in the world for Christ."
"It has been an honor to serve as provost for the past eight years at George Fox University as we have grown in size and quality," Baker said. "This is an excellent place to earn an undergraduate or graduate education in an environment that seeks to nurture and develop the whole person. I now look forward to leading the institution in its effort to become one of the premier institutions of Christian higher education in the country."
"I am very pleased with the selection," said Colin Saxton, superintendent of the Northwest Yearly Meeting of Friends Church and a member of the selection committee. "Dr. Baker knows the inner workings of the university better than anyone else on campus. He is passionate about Christ-centered higher education and is deeply committed to the mission of George Fox. We feel like he will be an excellent spokesperson for the community and will help the university move into the future in creative and faithful ways."
As provost, Baker supervises all academic programs, institutional technology, intercollegiate athletics, student life, and library services. During his eight years, Baker has overseen the addition of six new undergraduate programs (engineering, political science, art, philosophy, nursing, and theater) and five graduate programs (doctor of ministry, doctor of management, MBA executive track, master in school counseling, and master in school psychology).
He also worked with the university's academic units to help gain specialized accreditation for the engineering, social work, athletic training and music undergraduate programs, as well as the seminary and psychology graduate programs. During his tenure, the faculty has grown from 80 to 180 and the university has quadrupled institutional funds for academic research. He initiated new efforts in globalization of the curriculum and helped create the university's new Act Six program, which each year will offer 10 full four-year scholarships to multicultural Portland students.
Baker completed a doctorate in history with honors at Texas A&M University in 1989. He was named outstanding graduating student at Hardin-Simmons University, where he earned his master's degree in history in 1982. He earned his undergraduate degree with high honors from Grand Canyon University in 1980. His research has focused on the American Civil War and Reconstruction, 19th-century American political/quantitative history, and the history of the southern United States. Baker has taught classes at George Fox as professor of history.
In addition to his work in political history, Baker speaks frequently on the integration of faith and learning in the Christian university and he has a special interest in the works of C.S. Lewis and J.R.R. Tolkien.
Baker has served as an accreditor for the Northwest Commission of Colleges and Universities and has served on several boards for the Council of Christian Colleges and Universities.
Prior to George Fox, Baker was senior vice president at Grand Canyon University in Phoenix. Baker served at Grand Canyon from 1994 to 1999, beginning as associate professor of history. In 1996, he was named dean of the College of Liberal Arts. In 1997, he became vice president for academic affairs, and in 1998 he was named senior vice president.
Baker was an assistant professor of history at Wheaton College in Illinois from 1989 to 1992, then assistant professor of history at John Brown University in Arkansas for two years.
Baker met and married his wife, Ruth, in 1980 while a student at Grand Canyon University. Ruth is a homemaker and serves as a substitute teacher in the Newberg School District. They have three children: Jacob (15), Rebekah (13), and Tara (11).
George Fox University is a Christian university of the humanities, sciences, and professional studies ranked by U.S. News & World Report as a "Best Value" and as a top-tier western regional university. It offers bachelor's degrees in more than 40 majors, degree-completion programs for working adults, a seminary, and 12 master's and doctoral degrees. Nearly 3,200 students attend classes on the university's campus in Newberg, at its Portland, Salem, and Boise centers, and at other teaching sites in Oregon.
Contact: Robin Baker
Provost, George Fox University
503-554-2142
rbaker@georgefox.edu
Rob Felton
Director of Public Information
503-554-2129
rfelton@georgefox.edu