Professors in school counseling, physical therapy named George Fox University's top graduate researcher and teacher, respectively, for 2014-15
May 08, 2015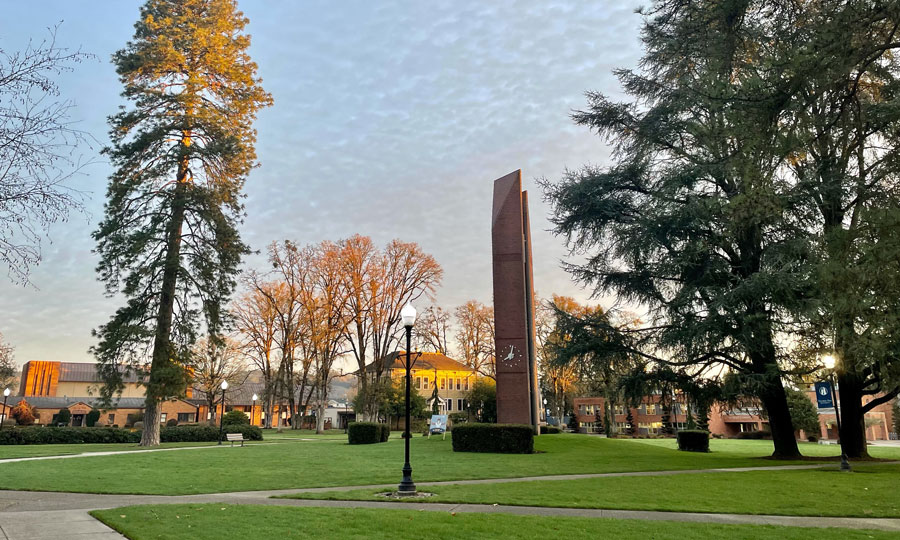 NEWBERG, Ore. – A doctor of physical therapy professor and the director of the university's master's degree program in school counseling were honored as George Fox University's 2014-15 graduate teacher and researcher of the year, respectively.
Andy Meszaros, who joined the university with the launch of the school's physical therapy program in 2012, was selected for the Graduate Faculty Achievement Award for Teaching, while Lori DeKruyf, who joined George Fox in 2002 after 20 years as a school counselor and teacher at the high school level in Wisconsin and Washington, was recipient of the Faculty Achievement Award for Graduate Research and Scholarship.
Students describe Meszaros as organized, innovative, demanding and the kind of teacher who presents material in such a way that it triggers a "learning experience." He expects students to bring their "A game" to class while at the same time reminding them that learning doesn't stop at the end of class but that synthesis, analysis and critique continues outside of it.
"George Fox physical therapy students are the best that I've ever encountered in 15-plus years of teaching," Meszaros said. "Their hard work, curiosity and good humor make teaching a joy. We tell our DPT students that the best way to grow professionally is to surround yourself with people who are better than yourself. This award reflects the level of excellence found in the faculty that surround me in the physical therapy program."
Jim Foster, dean of the university's College of Behavioral and Health Sciences, praised Meszaros for "his professionalism, his ability to explain difficult material, and the innovative ways that he has found to deliver the content."
Meszaros completed a PhD at the University of Iowa in 1998 and National Institutes of Health post-doctoral fellowship (1999) in the College of Medicine's Injury Prevention Research Center.
DeKruyf earned the honor for her scholarship and influence in the field of school counseling. Recently, she and two national collaborators edited a two-part edition of Professional School Counseling, the flagship journal of the American School Counselor Association, which maintains a membership of more than 20,000. It was her work in school counselor professional identity that positioned her to serve as co-editor for this special edition.
DeKruyf's research interests are reflected in the topics she has published and presented on locally, regionally and nationally. These include school counseling site supervision and school counselor professional identity, cross-cultural mentorship, cultural sensitivity, narrative counseling, and social justice advocacy.
"Lori is a consistent scholar whose work in school counselor identity is aligned well with her service agenda and with her teaching goals," said Scot Headley, dean of the College of Education. "She has been consistent in scholarly engagement throughout her career at George Fox. The journals in which she has published her work are important and influential in her field. In fact, at the current time, Lori is gaining national influence in her professional field."
DeKruyf believes that in order to best serve all students, school counselors must embrace a conjoint professional identity of both mental health professional and educational leader—a case she makes in the lead article published in the Professional School Counseling's special edition.
She holds a PhD in counselor education and supervision from Oregon State University, a master's degree in school counseling from Western Washington University, and a bachelor's degree in German from Dordt College.
George Fox University is ranked by Forbes among the top Christian universities in the country and is a Christian college classified by U.S. News & World Report as a first-tier regional university. More than 3,700 students attend classes on the university's campus in Newberg, Ore., and at teaching centers in Portland, Salem and Redmond, Ore. George Fox offers bachelor's degrees in more than 40 majors, degree-completion programs for working adults, six seminary degrees, and 11 master's and doctoral degrees.
-30-
Contact:
Linda Samek
Provost, George Fox University
503-554-2142