Four George Fox University students selected for Stanford's innovation fellows program
November 17, 2016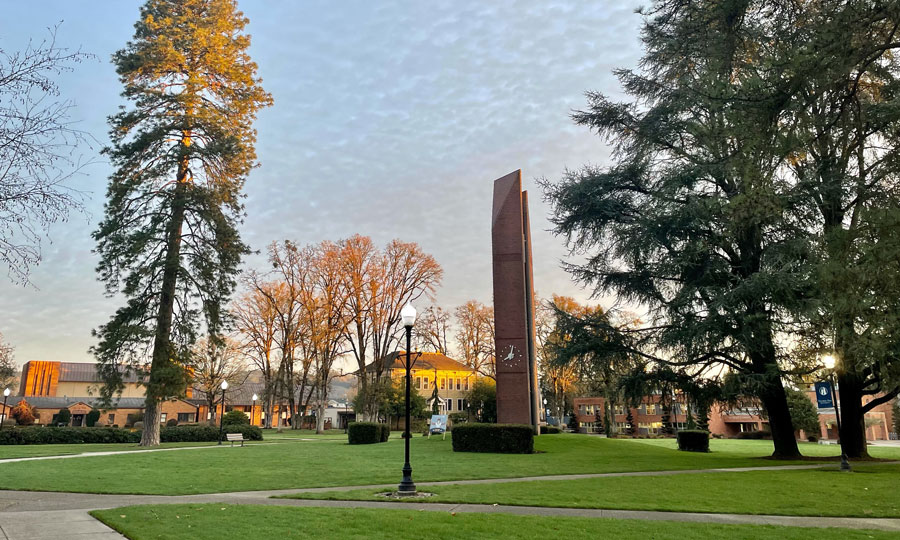 NEWBERG, Ore. – With George Fox University's installation this fall of a makerspace – an area designed to encourage innovative and entrepreneurial thinking on campus – four students are working to ensure the new resource is being used to its fullest potential.
Students Kelsey Dody, Caleb Hubbell, Ethan Moss and Codi Morton recently completed training to join the University Innovation Fellows, a global program run by Stanford University's Hasso Plattner Institute of Design (d.school) that empowers students to increase campus engagement with innovation, entrepreneurship, creativity and design thinking. The program includes 169 students from 49 higher education institutions in four countries.
As fellows, Dody, Hubbell, Moss and Morton will design innovation spaces, start entrepreneurship organizations, host experiential learning events and work with faculty to develop new courses. Ultimately, the goal is to help their peers gain the knowledge, skills and attitudes required to compete in the economy of the future and make a positive impact on the world.
"They are essentially the idea creators," said Neal Ninteman, associate professor of civil engineering at George Fox. "They are looking for ways to be catalysts for innovation and entrepreneurship on campus, and have come up with some really cool ideas to maximize the potential of our new makerspace facility – not just for the engineers, but for students from all majors to synergize and collaborate on projects."
The makerspace is part of the school's newly opened Engineering Innovation Center, a 15,000-square-foot collaborative design facility that formerly housed the school's cafeteria. "This remodel represents a pivotal investment in advancing our students as servant innovators and cutting-edge thinkers, providing them with a greater capacity to design, build and test a variety of prototypes," said Bob Harder, dean of George Fox's College of Engineering.
George Fox's fellows represent four of the school's majors – Dody, from Corvallis, Ore., is majoring in computer engineering; Hubbell, from Summerville, Ore., is studying computer science and computer engineering; Moss, from Richland, Wash., is a computer science student; and Morton, from Parker, Colo., is majoring in both entrepreneurship and marketing.
Among the fellows' ideas is a three-day fair with an innovation contest that allows students from all majors to participate; student-led focus classes that allow students to teach a skill they are proficient at; networking events to promote communication between students from across disciplines; and the creation of an app used to connect people across campus who want to collaborate on the same business idea.
"We believe that students can be so much more than just the customers of their education. They can be leaders of change can co-design the higher education experience," said Humera Fasihuddin, co-director of the University Innovation Fellows program. "This core belief has driven the program since its inception, and we've seen the results of this belief put to action at schools around the world. Fellows are collaborating with their peers, faculty and administrators to create more educational opportunities for students at their schools. They are making measurable gains, both in the number of resources and the students served by the innovation and entrepreneurship ecosystem."
Individual fellows as well as institutional teams of fellows are sponsored by faculty and administrators and selected through an application process twice annually. Following acceptance into the program, schools fund the students to go through six weeks of online training and travel to the annual University Innovation Fellows Silicon Valley Meetup. Throughout the year, they take part in events and conferences and have opportunities to learn from one another, Stanford mentors, and leaders in academia and industry.
In March 2017, students will have the opportunity to participate in the Silicon Valley Meetup, which brings together all fellows trained in fall 2016 and spring 2017. During this gathering, fellows will take part in immersive experiences at the d.school, Google and other Silicon Valley organizations. They will participate in experiential workshops and exercises focused on topics including movement building, innovation spaces, design of learning experiences, and new models for change in higher education.
The Hasso Plattner Institute of Design at Stanford University (d.school) brings together students and faculty from radically different backgrounds to develop their creative confidence and their potential as innovators by tackling real-world challenges.
George Fox University is ranked by Forbes among the top Christian universities in the country and is a Christian college classified by U.S. News & World Report as a first-tier regional university. More than 4,000 students attend classes on the university's campus in Newberg, Ore., and at teaching centers in Portland, Salem and Redmond, Ore. George Fox offers bachelor's degrees in more than 40 majors, degree-completion programs for working adults, six seminary degrees, and 13 master's and doctoral degrees.
-30-
Contact:
Neal Ninteman
Associate Professor of Civil Engineering
George Fox University
503-554-2714