Prospective students invited to George Fox University campus during Oregon Private College Week July 29 to Aug. 2
June 17, 2019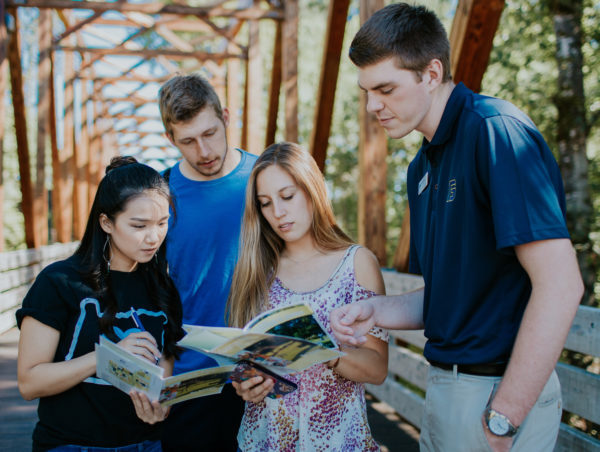 Those who visit four Oregon Alliance schools receive application fee waivers to any member institution
NEWBERG, Ore. – Prospective students interested in learning more about a George Fox University education are invited to a series of free campus visits scheduled in conjunction with Oregon Private College Week July 29 through Aug. 2, 2019.
George Fox is among 11 private, nonprofit institutions participating in the event. Students who visit at least four institutions during the week will receive application fee waivers that they may apply to any member of the Oregon Alliance of Independent Colleges & Universities.
Sessions at George Fox begin at 9 a.m. and 2 p.m., Monday through Friday. Prospective students and their families are invited to learn about financial aid and academic programs, meet experts in admissions and tour campus. The program is specifically designed for prospective students who have not gone through the application process.
The deadline for reservations is 10 a.m. on Wednesday, July 24, although George Fox is willing to accept walk-ins for each session throughout the week. Registration is available by visiting this link.
Together, the Alliance's member colleges and universities offer degrees in more than 260 fields of study, including engineering, business, law, and computer science. Alliance institutions confer 66 percent of all education degrees in Oregon, 53 percent of all health profession degrees, 24 percent of all business and marketing degrees, and 20 percent of all public administration and social services degrees.
The majority of undergraduate students (62 percent) enrolled in Alliance member institutions finish their bachelor's degrees in four years – the highest rate of completion in the state – and 28 percent graduate with zero debt.
Among other facts about private higher education:
Nearly one in three undergraduates at an Alliance member institution receives/is eligible for Federal Pell grants. Twenty-one percent of undergraduates are the first in their family to attend college, and 32 percent of undergraduates identify as students of color.
One of the best indicators of success is class size, and the student-to-faculty ratio averages 11:1 at Alliance institutions. Faculty utilize high-impact teaching strategies that include service learning, research with faculty, internships/field experiences, and study abroad options.
Eighty-five percent of undergraduates at Oregon private, nonprofit colleges and universities receive institutional aid. For those undergraduates at Alliance institutions who have need, 99.8 percent receive financial aid.
The Oregon Alliance of Independent Colleges and Universities ("The Alliance") is comprised of 16 private, nonprofit, independent colleges and universities. In total, these institutions educate 34,289 students, delivering high-quality experiential learning with high-impact teaching strategies. Earned undergraduate and graduate degrees total 10,446. For more information, visit oaicu.org.
George Fox University is ranked by Forbes among the top Christian universities in the country and is a Christian college classified by U.S. News & World Report as a "Best Regional University." Money magazine ranked it the No. 1 school in Oregon in its 2017-18 "Best Colleges for Your Money" list. More than 4,000 students attend classes on the university's campus in Newberg, Ore., and at teaching centers in Portland, Salem and Redmond, Ore. George Fox offers bachelor's degrees in more than 40 majors, degree-completion programs for working adults, six seminary degrees, and 13 master's and doctoral degrees.
-30-
Contact:
Kelly Friesen
Assistant Director of Visitor Experience
George Fox University
503-554-2248