Two free art exhibitions currently on display at George Fox University
August 27, 2019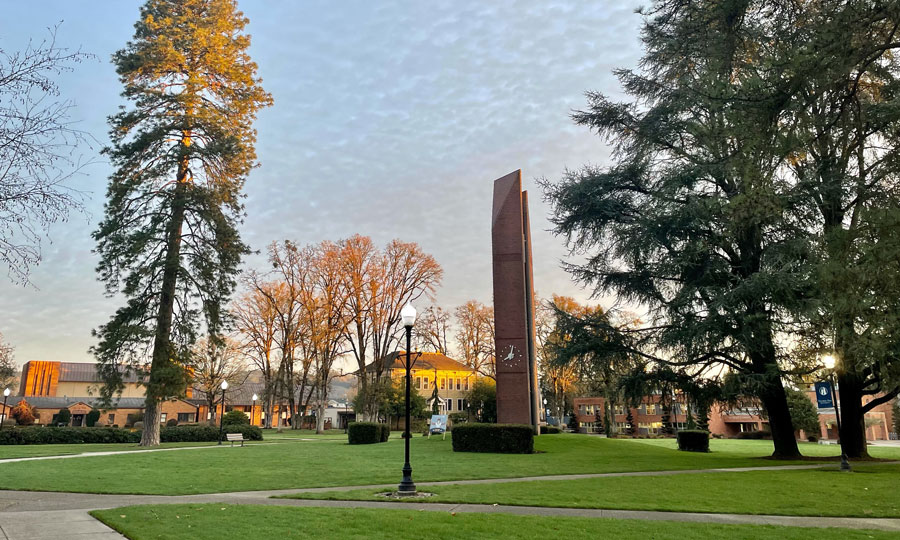 Brazilian painter Milla Oliveira's works, as well as pieces by the university's art faculty, occupy the university's two galleries
NEWBERG, Ore. – The Newberg community is invited to view two art exhibitions currently on display on the George Fox University campus. Both are free of charge.
In the university's Lindgren Gallery, a collection of paintings by Brazilian native Milla Oliveira, a Eugene-based artist who works as a painter and educator, is on exhibit. Titled "Outside it was Tuesday," the show is up through Friday, Oct. 11, with a closing reception scheduled for Monday, Oct. 7, at 7 p.m. The gallery is open Monday through Friday from 9 a.m. to 5 p.m.
"Working with color is working with essence and conflict," Oliveira said of his work. "In spite of our attempts to name it, catalogue or control it, color is more ambiguous than it is definable. The influence of color cannot be fully comprehended; the closest I get to fully understanding color is to feel it. At some point in the past, color has been defined as a visual experience, exclusively. It is much more, a cluster of senses that includes sound, touch, emotion, memory and taste. Color has entered my dream state and emerges as tangible emotional structure."
Meanwhile, in George Fox's Minthorne Gallery, an exhibit featuring a collection of art pieces by current George Fox faculty members is on display. It will remain up through Thursday, Sept. 12. The Minthorne Gallery is also open Monday through Friday from 9 a.m. to 5 p.m.
More information on the exhibits is available by contacting Jennifer Salzman at jsalzman@georgefox.edu.
George Fox University is ranked by Forbes among the top Christian universities in the country and is a Christian college classified by U.S. News & World Report as a "Best Regional University." More than 4,000 students attend classes on the university's campus in Newberg, Ore., and at teaching centers in Portland, Salem and Redmond, Ore. George Fox offers bachelor's degrees in more than 40 majors, degree-completion programs for working adults, seven seminary degrees, and 13 master's and doctoral degrees.
-30-
Contact:
Jennifer Salzman
jsalzman@georgefox.edu