Lecture 'Reflections on Dr. King and the Beloved Community' presented on George Fox University campus Oct. 31
October 09, 2019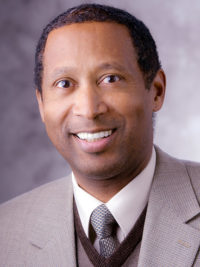 Eastern Washington University's Scott Finnie, PhD, recipient of more than 20 awards for excellence in teaching, leadership, civil rights and mentoring, to speak at free event
NEWBERG, Ore. – The public is invited to a special presentation, "Reflections on Dr. King and the Beloved Community," when Scott Finnie, PhD, a professor at Eastern Washington University, speaks on the campus of George Fox University on Thursday, Oct. 31.
Finnie, recipient of more than 20 awards for excellence in teaching, leadership, civil rights and mentoring, will speak on the legacy of Dr. Martin Luther King Jr. at 4:15 p.m. in the university's Canyon Commons facility. There is no cost to attend, and seating is on a first-come, first-served basis.
Finnie has been a faculty member in EWU's Africana Education Program and history department since 1992 and currently serves as director of Africana studies and as director of race and cultural studies. He has made more than 40 presentations worldwide in the last 10 years, including visits to Oxford in England, Mexico City, Atlanta, San Francisco, San Diego, Sao Paulo, and Honolulu. His presentations have covered themes surrounding civil rights, affirmative action, servant leadership, diversity and cross-cultural communication, the American criminal justice system, and faculty hiring in higher education.
In addition, he has published a dozen articles in numerous publications, including The National Social Science Journal, Investigating Diversity: Race, Ethnicity and Beyond, The Oxford Round Table Journal, The Council on Undergraduate Research Quarterly, and The International Journal of Servant Leadership.
Finnie also owns a diversity consultant business, "Engaging Team Concepts," serving employers and institutions throughout the Spokane, Washington, area for the past 17 years. He has conducted customized trainings, workshops, symposiums, retreats, practicums and guest presentations in areas involving cultural competency, intercultural communication, diversity hiring, teamwork dynamics, servant leadership, conflict resolution, civil rights history, affirmative action and active listening.
Raised in the San Francisco Bay Area, Finnie arrived in Spokane, Washington, in 1975 on a basketball scholarship at Gonzaga University. He earned a bachelor's degree in English in 1979, a master's degree in American history from Eastern Washington University in 1992, and a PhD in leadership studies from Gonzaga University in 2000.
He is speaking at George Fox as part of the university's presidential lecture series. For more information on his visit, contact Missy Terry, chief of staff in the president's office, at 503-554-2101.
George Fox University is ranked by Forbes among the top Christian universities in the country and is a Christian college classified by U.S. News & World Report as a "Best National University." More than 4,000 students attend classes on the university's campus in Newberg, Ore., and at teaching centers in Portland, Salem and Redmond, Ore. George Fox offers bachelor's degrees in more than 40 majors, degree-completion programs for working adults, seven seminary degrees, and 13 master's and doctoral degrees.
-30-
Contact:
Missy Terry
Chief of Staff
George Fox University
503-554-2101