George Fox University invites families to campus celebration Oct. 25-27
October 10, 2019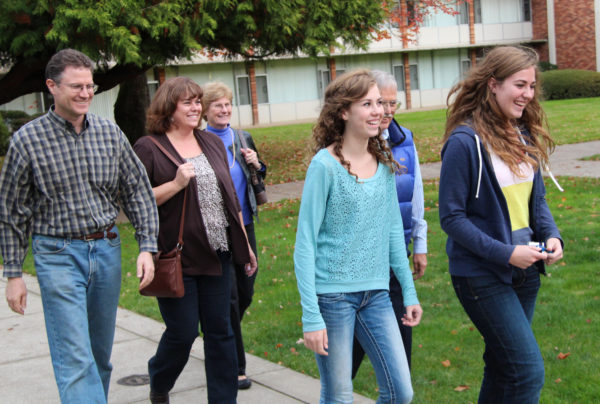 Family Weekend events include athletic contests, tours of a local farm, a family game night, a tailgate party, a concert and a theatrical performance
NEWBERG, Ore. – George Fox University invites families of current students to visit campus for a weekend of activities that include athletic contests, a music performance, a family game night, a theatre presentation, and a tailgate party Oct. 25-27. Though families are welcome to visit their student any time during the academic year, this weekend is set aside for families and students to reconnect and have fun together.
Events Friday include a career preparation workshop, a fall music showcase featuring vocal and instrumental ensembles, the opportunity to attend classes, a parent prayer time, and a theatrical production of the comedy A Gentleman's Guide to Love and Murder.
Saturday's schedule includes a football game against Northwest Conference opponent Pacific University at 1 p.m., a tailgate party prior to the game, a legacy family reception, an open gym at the Hadlock Student Center, volleyball and soccer games, and a family game night. The day will also include morning and afternoon tours of a local farm, Red Ridge Farms in Dayton, Oregon, for olive oil tasting, as well as another performance of A Gentleman's Guide to Love and Murder.
The weekend concludes Sunday with brunch, a women's soccer game, a final play performance, and two more opportunities for the Red Ridge Farms tour. The Hadlock Student Center – a 48,000-square-foot facility featuring a fitness center, a climbing wall, three basketball/volleyball courts, an elevated track, group fitness rooms, and offices for student activities – will also host an open house that day from 2 to 4 p.m.
To register online or learn more about Family Weekend, visit familyweekend.georgefox.edu.
George Fox University is ranked by Forbes among the top Christian universities in the country and is a Christian college classified by U.S. News & World Report as a "Best National University." More than 4,000 students attend classes on the university's campus in Newberg, Ore., and at teaching centers in Portland, Salem and Redmond, Ore. George Fox offers bachelor's degrees in more than 40 majors, degree-completion programs for working adults, seven seminary degrees, and 13 master's and doctoral degrees.
-30-
Contact:
Megan Fisher
Director of Parent Relations
503-554-2112