Traditional hymns to fill George Fox University's Bauman Auditorium Oct. 20
October 11, 2019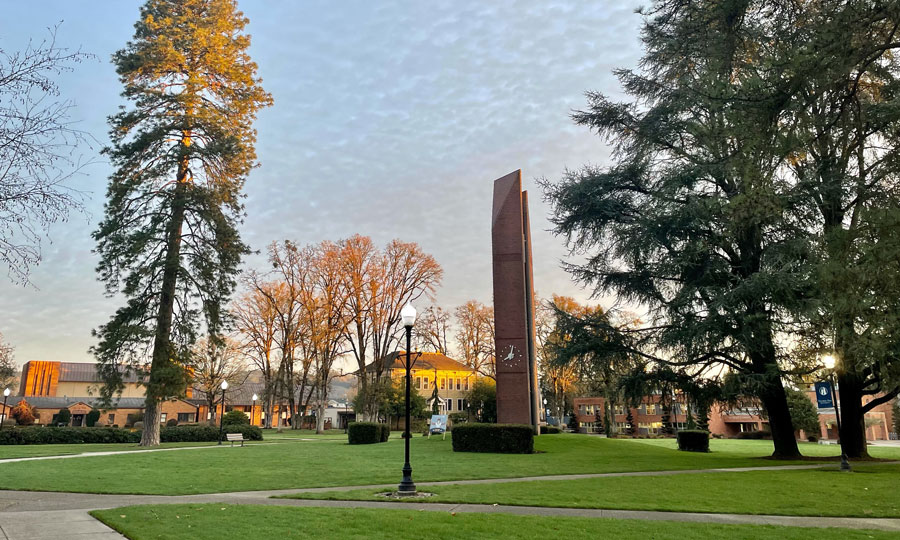 Daniel Miller returns to perform for fifth annual Organ Hymn Festival
NEWBERG, Ore. – Traditional church hymns and soaring organ music will again sound in George Fox University's Bauman Auditorium in the fifth annual Organ Hymn Festival, set for 6 p.m. on Sunday, Oct. 20.
Returning will be organist Daniel Miller, a nationally known organist who will play the university's recently upgraded Rodgers digital organ, featuring 2,067 pipes that are prominently displayed as the stage background. The event is sponsored by the George Fox University Legacy League, formerly the George Fox Auxiliary, with proceeds going toward the organization's endowed scholarship fund for students.
The 15-part program will feature selected well-known hymns and include audience participation. Several pieces will be preceded by stories explaining the origin and history of the song, presented by Brent Weaver, a George Fox professor of music, theory and composition and former music department chair.
Miller has been featured organist in concerts at St. John the Divine Church, New York City; the Mormon Tabernacle in Salt Lake City, Utah; and the International Music Trade Show in Frankfurt, Germany. A church organist since age 15, he has been a solo organist with several symphony orchestras, has recorded 22 compact discs, and had his performances air on National Public Radio.
Now in his 21st year with Rodgers Instruments, based in Hillsboro and one of the world's leading organ builders, Miller is a tonal director and Rodgers Artist. He also is an adjunct professor of organ at George Fox and an organist for St. Matthew Lutheran Church in Beaverton, Oregon.
General admission tickets are $10. George Fox students and children 12 and under are free. Tickets are available at the door or online at georgefox.edu/concerts, or through the university box office by calling 503-554-3844.
George Fox University is ranked by Forbes among the top Christian universities in the country and is a Christian college classified by U.S. News & World Report as a "Best National University." More than 4,000 students attend classes on the university's campus in Newberg, Ore., and at teaching centers in Portland, Salem and Redmond, Ore. George Fox offers bachelor's degrees in more than 40 majors, degree-completion programs for working adults, seven seminary degrees, and 13 master's and doctoral degrees.
-30-
Contact:
Rob Felton
George Fox University
503-554-2129