George Fox's Legacy League hosts luncheon to highlight the university's honors program
October 28, 2019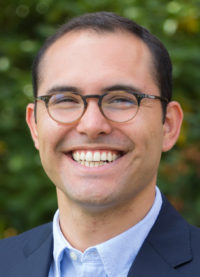 Javier Garcia associate director of the William Penn Honors Program, will speak Nov. 8
NEWBERG, Ore. – The William Penn Honors program at George Fox University will be the topic of the November meeting of the university's Legacy League when it meets Friday, Nov. 8, on campus.
The noon program in Canyon Commons, open to the public, will feature Javier Garcia, associate director of the program and assistant professor of religious studies. He joined the George Fox faculty in 2016 after completing a PhD at the University of Cambridge, England. Earlier, he graduated from Georgetown University, majoring in philosophy and French. He is a research fellow at the Institute for Advanced Studies in Culture at the University of Virginia and has presented research papers at universities in the United Kingdom, Europe and the United States.
The William Penn program is a great books curriculum for high-achieving undergraduate students. With a limit of 18 students per seminar and two professors, the average student-to-faculty ratio is 9:1. The program uses the Socratic method of teaching, which relies on a discussion-based format led by faculty mentors.
The Legacy League, until a year ago known as the George Fox Auxiliary, was renamed but without a change in mission or purpose. Each year it raises funds for student scholarships, and last year it netted more than $25,000. Funds are added to an endowment fund that provided three scholarships in 2018-19.
Reservations for the luncheon are $10 and must be made by Wednesday, Nov. 6. For information or to RSVP, contact Judy Woolsey at 503-538-7314 or Connie Magee at 503-927-5011 or online at georgefox.edu/legacyleague.
George Fox University is ranked by Forbes among the top Christian universities in the country and is a Christian college classified by U.S. News & World Report as a "Best National University." More than 4,000 students attend classes on the university's campus in Newberg, Ore., and at teaching centers in Portland, Salem and Redmond, Ore. George Fox offers bachelor's degrees in more than 40 majors, degree-completion programs for working adults, seven seminary degrees, and 13 master's and doctoral degrees.
-30-
Contact:
Judy Woolsey
503-538-7314
or Connie Magee
503-927-5011