George Fox University hosts midyear commencement ceremony Dec. 14
November 27, 2019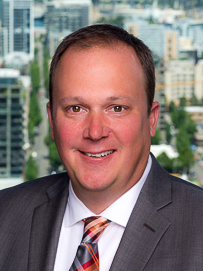 More than 200 students have earned undergraduate and graduate diplomas
NEWBERG, Ore. – Two-hundred and twenty-two students will be recognized for earning undergraduate and graduate diplomas at George Fox University's midyear commencement ceremony on Saturday, Dec. 14.
The ceremony will take place in Miller Gymnasium in the Wheeler Sports Center on the school's Newberg, Ore., campus. Seating begins at 10 a.m., and the ceremony will start at 11 a.m. Tickets are not required; however, seating is limited to 10 guests per graduate. At 10:45 a.m., a live broadcast of the ceremony will be available to watch online at a link posted on commencement.georgefox.edu.
All told, 151 students will receive bachelor's degrees after completing study in one of George Fox's 46 undergraduate bachelor's degree majors or its adult degree programs. Another 71 will receive a master's degree or a doctorate after completing study in one of the university's graduate programs or in its seminary. The university hosts its primary commencement event in the spring.
Alumnus Ryan Schlunz will address the graduates as commencement speaker, delivering an address entitled "An Exceptional Life." A 2013 graduate of George Fox's Adult Degree Program, from which he earned a degree in technology management, Schlunz will begin in January as chief information officer and partner at Profit Recovery Partners, LLC. He has more than 25 years of executive leadership and management experience, serving previously at several prestigious national law firms to lead change in how firms operate internally and how they deliver value to their clients.
Schlunz is also an active volunteer, helping others with strategic planning, leadership, teamwork, technology, fundraising, and general awareness of important community issues. He has coached dozens of youth sports teams, come to the aid of sports boosters in both his local community and nationally, and also serves on several advisory boards, lending his experience and knowledge to benefit both not-for-profit and for-profit organizations alike.
More specifics on the ceremony are available at commencement.georgefox.edu.
George Fox University is ranked by Forbes among the top Christian universities in the country and is a Christian college classified by U.S. News & World Report as a "Best National University." More than 4,000 students attend classes on the university's campus in Newberg, Ore., and at teaching centers in Portland, Salem and Redmond, Ore. George Fox offers bachelor's degrees in more than 40 majors, degree-completion programs for working adults, seven seminary degrees, and 13 master's and doctoral degrees.
-30-
Contact:
Janelle Freitag
Office of Academic Affairs
503-554-2141