Work of ceramic artist Jonathan Steele featured at George Fox University
January 07, 2020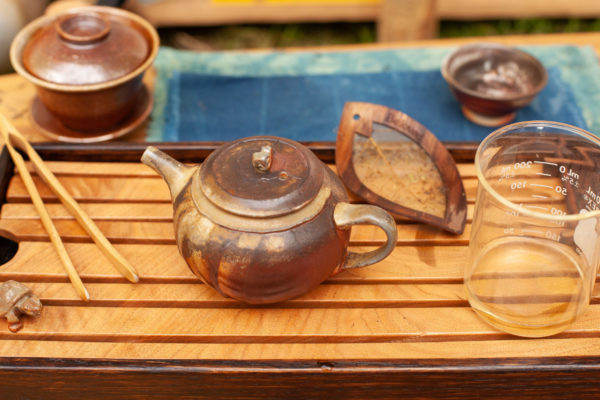 The show 'In the Service of Tea' features a Chinese tea service at opening reception Jan. 27
NEWBERG, Ore. – George Fox University invites the Newberg community to a free art exhibition featuring ceramic artist Jonathan Steele in the university's Minthorne Gallery, open from 9 a.m. to 5 p.m. on weekdays.
The show, titled "In the Service of Tea," will be on display Monday, Jan. 13, through Friday, Feb. 28. An opening reception is scheduled in the gallery from 4 to 5:30 p.m. on Monday, Jan. 27, at which time Steele will perform a Chinese tea service that is free and open to the public. An artist's talk will follow the reception from 6 to 7 p.m. at the Chehalem Cultural Center, 415 E. Sheridan St., in Newberg.
"Tea is a quiet joy – art is a fervid one," Steele said of his exhibit. "I make the tea to be still, to observe the present moment, to watch slowly unfurling leaves, feel the weight of the warm cup pressing against my fingertips, steam rising through my nostrils, the sweet, light astringency of the perfect steep welling on my tongue. I make the teapot, the cup, the tray and boat, the floral arrangement, the interior décor, the room and the house itself – all to the same end."
Originally from Seattle, Steele set out to be a scientist until he discovered art as his passion.
"I always thought I was going to be a scientist," he said. "It wasn't until I had a physics degree and was thinking about an internship in a lab that I realized that I was an artist because instead of tightly controlled variables in my experiments for the sake of repeatable data and the logical development of theory, I prefer to pile on variables for the sake of aesthetic poignancy."
He earned an MFA from Oregon College of Art and Craft in Portland in 2016 and completed an Artist in Residency at Pleasant Hill Pottery in Pleasant Hill, Oregon, where he organized wood firing for the community and made work.
More information on the exhibit is available by contacting Jennifer Salzman at 503-554-2634.
George Fox University is ranked by Forbes among the top Christian universities in the country and is a Christian college classified by U.S. News & World Report as a "Best National University." More than 4,000 students attend classes on the university's campus in Newberg, Ore., and at teaching centers in Portland, Salem and Redmond, Ore. George Fox offers bachelor's degrees in more than 40 majors, degree-completion programs for working adults, seven seminary degrees, and 13 master's and doctoral degrees.
-30-
Contact:
Jennifer Salzman
Director of Exhibitions and Collections
George Fox University
503-554-2634