MIT professor speaks on 'The True Story of Science and Faith' at George Fox University Jan. 27
January 07, 2020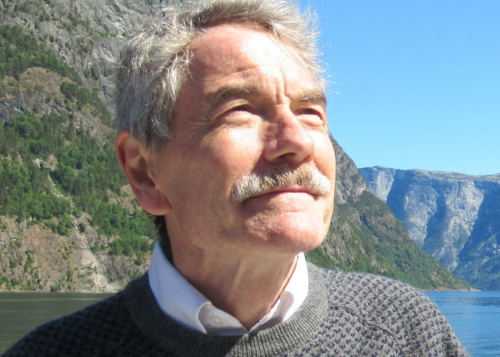 Ian Hutchinson visits for the school's 10th annual Dalton Lecture
NEWBERG, Ore. – The intersection of science and faith – and addressing the unfortunate presumption that they are incompatible competitors for our intellectual allegiance – will be the topic of the 10th annual Dalton Lecture at George Fox University, set for 7:30 p.m. Monday, Jan. 27, in the school's Bauman Auditorium. The public is invited to attend free of charge.
The presentation, titled "The True Story of Science and Faith," will be delivered by Ian Hutchinson, a professor of nuclear science and engineering at the Massachusetts Institute of Technology (MIT). He will discuss how the widely presumed "warfare myth" that science and religion are at odds is a distortion of both science and faith. In truth, Hutchinson argues, their relationship is a complex story, some highlights of which will be explained, that ultimately leads to the affirmation that God is revealed both in the "Book of His Word" (the Bible) and the "Book of His Works" (nature).
The lecture is one of two Hutchinson will present on campus. He will also speak at 3 p.m. on Monday, Jan. 27, on "Star Power! Scientific Frontiers of Fusion Energy." It will take place in the school's Bauman Auditorium, and the public is welcome at no charge.
Hutchinson is an international expert on the physics of plasmas – the ionized fourth state of matter – especially how to confine plasmas hotter than the center of the sun so as to generate practical energy from fusion reactions, the power source of the stars. He led MIT's major fusion research experiment for 15 years and was head of MIT's Department of Nuclear Science and Engineering.
In addition, he was chairman of the Division of Plasma Physics of the American Physical Society in 2008. He has authored more than 200 scientific journal articles and two advanced science textbooks. He is a fellow of the American Physical Society, and the Institute of Physics.
Hutchinson has also written and spoken widely on the relationship between science and Christianity at events sponsored by Christian organizations – including Intervarsity Christian Fellowship, The Veritas Forum, The American Scientific Affiliation, and BioLogos – and in wider secular media, including the American Association for the Advancement of Science panels, broadcast TV debates, syndicated radio interviews, public lectures, and international news blogs.
His 2011 book Monopolizing Knowledge explores how the error of scientism arose, how it undermines reason as well as religion, and how it feeds today's culture wars and an excessive reliance on technology. His latest book, Can a Scientist Believe in Miracles? An MIT Professor Answers Questions on God and Science (Intervarsity Press, 2018), addresses the specific questions he has been asked over decades of explaining science and Christianity to university audiences.
Huchinson's visit is being sponsored by George Fox's Department of Biology and Department of Chemistry and Biochemistry. His appearance marks the 10th installment of the Dalton Lecture Series, named for the world-renowned Quaker scientist John Dalton (1766-1844) best known for the development of modern atomic theory. The lecture annually brings in eminent scientists who are Christian.
For more information, call 503-554-2710 or visit georgefox.edu/daltonlecture.
George Fox University is ranked by Forbes among the top Christian universities in the country and is a Christian college classified by U.S. News & World Report as a "Best National University." More than 4,000 students attend classes on the university's campus in Newberg, Ore., and at teaching centers in Portland, Salem and Redmond, Ore. George Fox offers bachelor's degrees in more than 40 majors, degree-completion programs for working adults, seven seminary degrees, and 13 master's and doctoral degrees.
-30-
Contact:
Vetta Berokoff
Department of Biology and Chemistry
George Fox University
503-554-2710