Monster Piano Concert takes center stage at George Fox University on Feb. 6
January 08, 2020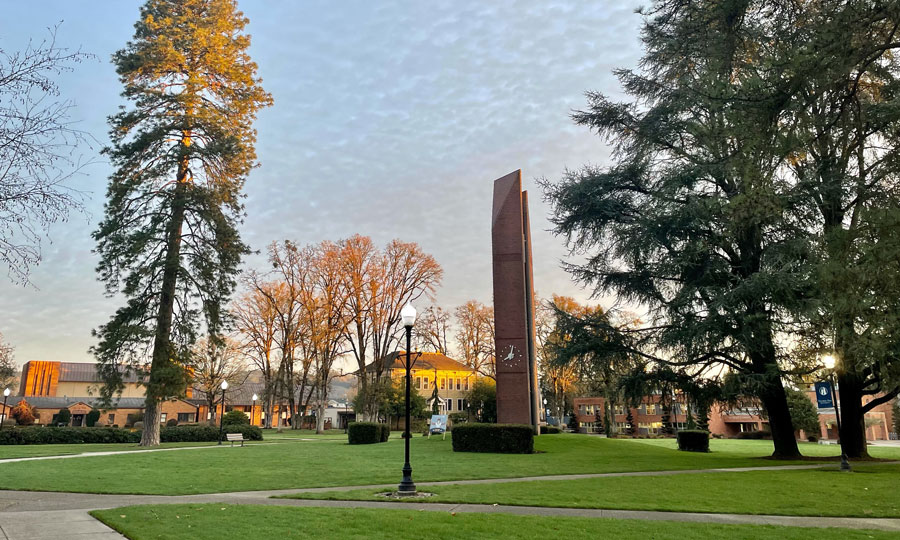 Eighteen pianists will play eight grand pianos at 14th annual Bösendorfer Artist Concert Series event
NEWBERG, Ore. – Both classical and familiar tunes will fill George Fox University's Bauman Auditorium when a Monster Piano Concert takes the stage for the university's 14th annual Bösendorfer Concert Series at 7:30 p.m. on Thursday, Feb. 6.
The evening will feature 18 performers playing eight pianos, on many occasions simultaneously, and the university's Rodgers organ. Those performing were selected from a pool of George Fox students and students from professor Kenn Willson's piano studio. Some selections will feature as many as 16 pianists playing at one time.
The program will feature Bach's Concerto for 3 Pianos, Mozart's Eine Kleine Nachtmusik, and Beethoven's 3 Marches as a tribute to the 250th anniversary of the composer's birth. Also included will be Saint-Saëns' Rondo Capriccioso, featuring three performers at each piano.
The evening will also feature well-known tunes such as Skip to My Lou, Stars Stripes Forever, two modern praise songs, and a hymn in which the audience will be encouraged to join in singing, accompanied by eight pianos and the organ.
Tickets are $12 for general admission, $8 for seniors and alumni, and $6 for students and children under 12. All tickets are reserved seating and are available at music.georgefox.edu/concerts or at the University Box Office by calling 503-554-3844.
The Bösendorfer Concert Series, sponsored by George Fox's music department, has brought in world-renowned classical pianists since its inception in 2007. Past performers have included Baruch Meir, Gianluca Luisi of Italy and Valentina Lisitsa of Ukraine. Last year's event featured internationally renowned pianist Soheil Nasseri, who played the music of Schubert, Schumann, Beethoven and Gershwin.
George Fox University is ranked by Forbes among the top Christian universities in the country and is a Christian college classified by U.S. News & World Report as a "Best National University." More than 4,000 students attend classes on the university's campus in Newberg, Ore., and at teaching centers in Portland, Salem and Redmond, Ore. George Fox offers bachelor's degrees in more than 40 majors, degree-completion programs for working adults, seven seminary degrees, and 13 master's and doctoral degrees.
-30-
Contact:
Kenneth Willson
Professor of Music and Coordinator of Keyboard Studies
503-554-2624