George Fox University's theatre department presents 'The Shakers of Mount Lebanon Will Hold a Peace Conference This Month' as its winter drama
January 21, 2020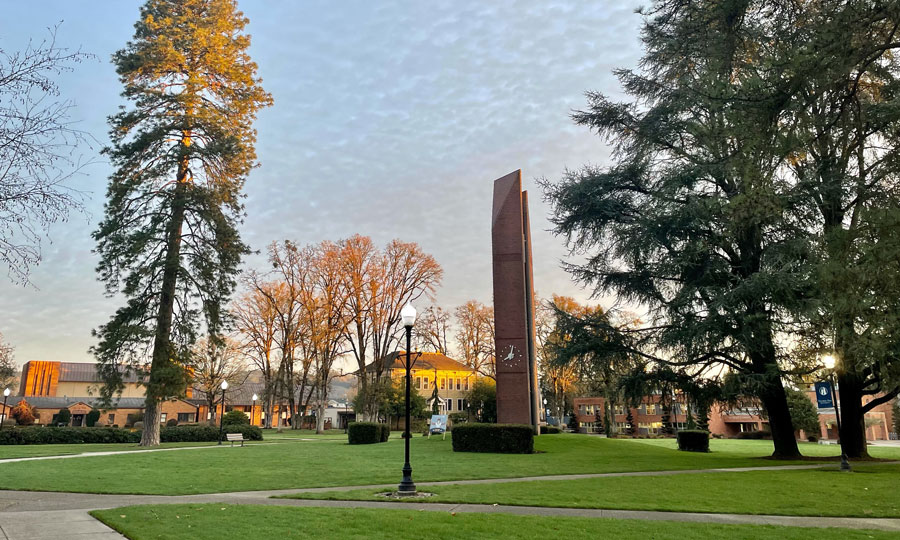 Shows scheduled Jan. 30 to Feb. 2 and Feb. 6-9 in school's Wood-Mar Auditorium
NEWBERG, Ore. – A new play that examines how faith both divides and unites communities as we attempt to live lives dedicated to peace, justice, love and redemption will take over George Fox University's Wood-Mar Auditorium over two successive weekends in late January and early February.
The Shakers of Mount Lebanon Will Hold a Peace Conference This Month will be presented Thursday through Sunday, Jan. 30 through Feb. 2, and again Thursday through Sunday, Feb. 6-9. All shows begin at 7:30 p.m. with the exception of the two Sunday performances, scheduled as 2 p.m. matinees.
Tickets – $12 for general admission, $8 for seniors and George Fox alumni, and $6 for students and children under 12 – can be purchased online at theatre.georgefox.edu. Tickets are also available for purchase in the university's box office, located in the Bruin Store, between 10 a.m. and 2 p.m. Monday through Friday, or in the lobby box office one hour prior to each production.
Directed by theatre professor Rhett Luedtke, the play was commissioned by the Big Bridge Theatre Consortium, a group of universities across the country committed to developing new plays dedicated to interfaith conflict and peace. The first Big Bridge play to hit the George Fox stage, it explores the theological battles and internal politics that tear a devout religious community apart even as they plan an international peace conference on their property. The play is based on historical events, and mirror many of the political and theological battles in our current church organizations.
The Shakers of Mount Lebanon Will Hold a Peace Conference This Month was written by Arlene Hutton, best known as the author of The Nibroc Trilogy, which includes Last Train to Nibroc (NY Drama League Best Play nomination), See Rock City (Spirit of America Award) and Gulf View Drive (Ovation Award for best production, 2018).
Her plays have been presented at FringeNYC, the Edinburgh Festival Fringe, Off- and Off-Off-Broadway and at theatres across the U.S., in London and throughout the world, and have been translated into Dutch, Romanian, Mandarin, Catalan, Bosnian, Hebrew and Portuguese.
"As a Quaker-led department, we are interested in plays that explore interfaith tensions and peace," Luedtke said. "How do we live with our faithful neighbors, and work together, rather than against each other, to further God's kingdom on earth? How do our internal battles in our churches, mosques and synagogues negatively impact our faith and our ability to pursue Shalom together?"
The cast includes Hope Bellinger ("Ahna"), a senior theatre major from Ocean Park, Washington; Elyse Bradford ("Charlotte"), a junior theatre major from Modesto, California; Elizabeth Herbert ("Agnes"), a sophomore double major in theatre and organizational communication from Oakdale, California; Araya Glancy ("Catherine"), a senior theatre major from Keizer, Oregon; Jenny Fournier ("Amanda"), a sophomore theatre major from Saint Helens, Oregon; Graeson Roll ("Daniel"), a sophomore animation major from Hillsboro, Oregon; Lauren Herman ("Sarah"), a junior psychology major from Terrebonne, Oregon; Gabrielle Brinkman ("Lillian"), a sophomore theatre and illustration major from Warrenton, Oregon; Luke Peters ("Calvin"), a sophomore theatre major from Sherwood, Oregon; Danny Walker ("Robert"), a sophomore theatre major from Salem, Oregon; and Isaac Edminster ("Earnest"), a junior double major in biochemistry and computer science from Chehalis, Washington.
The George Fox University theatre department has been recognized by the John F. Kennedy Center for the Performing Arts in Washington D.C. with awards for individual acting, set design, and overall production.
George Fox University is ranked by Forbes among the top Christian universities in the country and is a Christian college classified by U.S. News & World Report as a "Best National University." More than 4,000 students attend classes on the university's campus in Newberg, Ore., and at teaching centers in Portland, Salem and Redmond, Ore. George Fox offers bachelor's degrees in more than 40 majors, degree-completion programs for working adults, seven seminary degrees, and 13 master's and doctoral degrees.
-30-
Contact:
Kathy Harris
Administrative Assistant, Theatre Department
George Fox University
503-554-2670