Award-winning Hollywood producer screens HBO documentary at George Fox University
January 24, 2020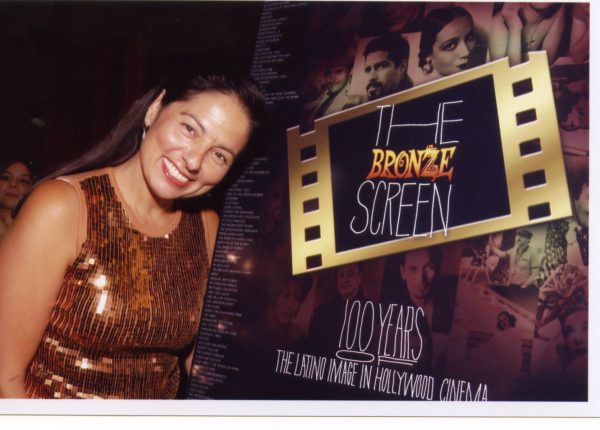 Public is invited to free presentation Feb. 18 featuring Nancy de los Santos-Reza
NEWBERG, Ore. – George Fox University will host award-winning Hollywood producer Nancy de los Santos-Reza to present and discuss her new HBO documentary, The Bronze Screen: 100 Years of the Latino Image in Hollywood, at 6 p.m. Tuesday, Feb. 18, in Room 105 of the university's Hoover Academic Building. The public is invited free of charge.
De los Santos-Reza's film provides an overview of how Latinos have been portrayed in Hollywood in each decade of the 20th century. The screening will be followed by a question-and-answer time with de los Santos-Reza, the film's director and producer.
"We are excited about the opportunity for students and attendees to ask about her archival research process in the Library of Congress, the making of the documentary, as well as rich discussion about the roles of and portrayals of the U.S. Latinx population," said Debbie Berhó, a professor of Spanish and chair of the Department of World Languages and Applied Linguistics at George Fox.
The event is being co-hosted by George Fox's world languages and communications departments, as well as the university's Latinx Heritage Club. In addition to her presentation in the evening, she will spend time on campus meeting with the Latinx Heritage Club and in communications professor Steve Classen's Independent Films class.
A writer, producer, and documentary-maker, de los Santos-Reza has extensive experience in television and film production, theatre, and print media. In television, she began her career in Chicago as associate producer, then producer, of film critics Roger Ebert and Gene Siskel's film review program. She has written for numerous television shows, including Gotta Kick It Up! for Disney, One Hot Summer for Lifetime, and the drama series Resurrection Blvd., American Family and Hulu's East Los High.
De los Santos-Reza has also worked as a staff writer and supervising writer for the Hispanic Heritage Awards on PBS, hosted by Rita Moreno, and The Alma Awards, hosted by Eva Longoria. She was also the associate producer for the iconic Latino feature films My Family, Mi Familia, starting Jimmy Smits and Edward James Olmos, and Selena, starring Jennifer Lopez.
To learn more about her visit, contact Berhó at 503-554-2644.
George Fox University is ranked by Forbes among the top Christian universities in the country and is a Christian college classified by U.S. News & World Report as a "Best National University." More than 4,000 students attend classes on the university's campus in Newberg, Ore., and at teaching centers in Portland, Salem and Redmond, Ore. George Fox offers bachelor's degrees in more than 40 majors, degree-completion programs for working adults, seven seminary degrees, and 13 master's and doctoral degrees.
-30-
Contact:
Debbie Berhó
Professor of Spanish and Chair, Department of World Languages and Applied Linguistics
George Fox University
503-554-2644