Work of Portland artist Erika Rier featured at George Fox University
January 24, 2020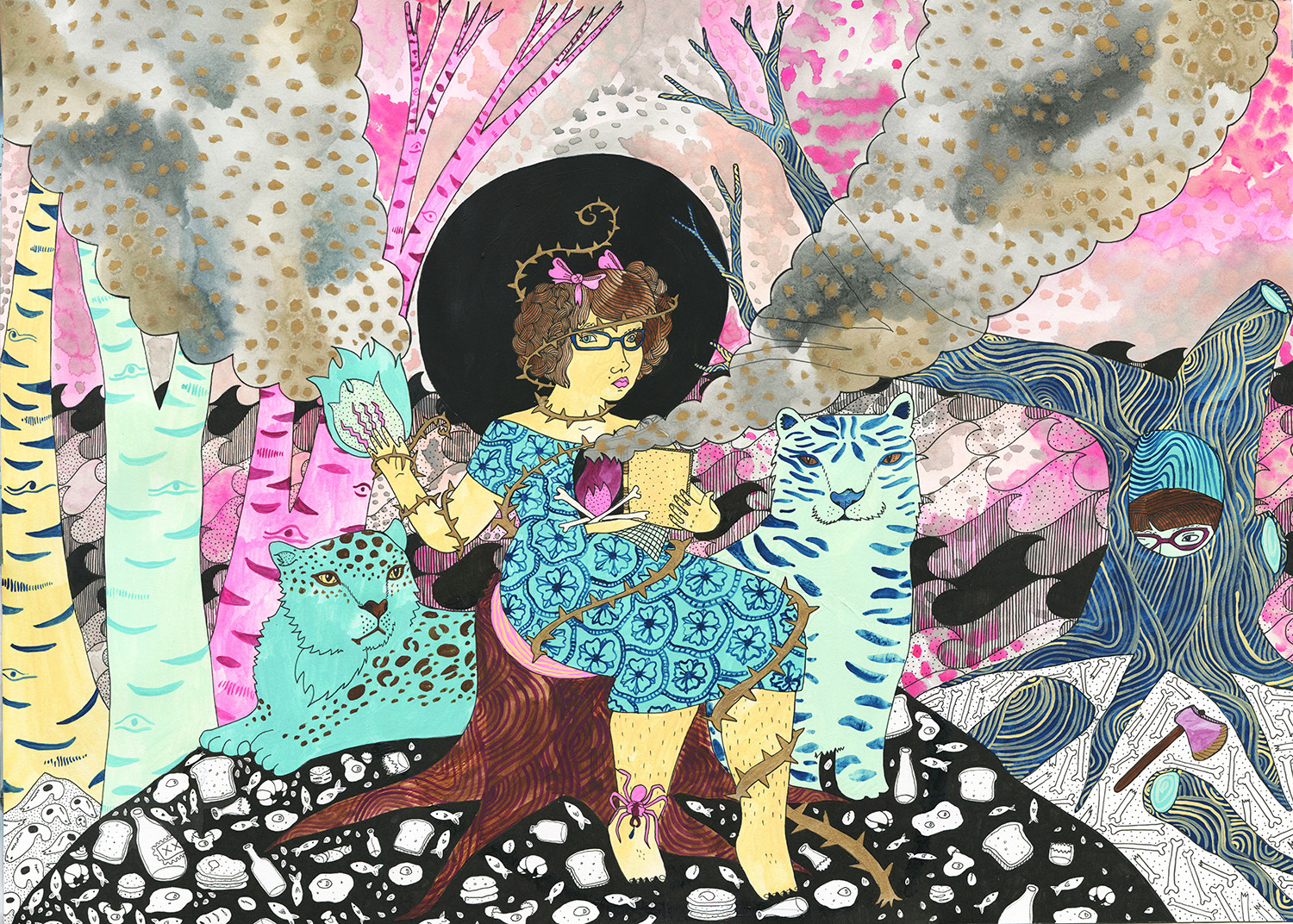 The show 'A Fork in the Road' runs in school's Lindgren Gallery Feb. 3-28
NEWBERG, Ore. – George Fox University invites the Newberg community to a free art exhibition featuring Portland artist Erika Rier in the university's Lindgren Gallery, open from 9 a.m. to 5 p.m. on weekdays.
The show, titled "A Fork in the Road," will be on display Monday, Feb. 3, through Friday, Feb. 28. An artist talk is scheduled at the nearby Chehalem Cultural Center, 415 E. Sheridan St., in Newberg, at 6 p.m. on Monday, Feb. 10, followed by a reception in the gallery from 7 to 8 p.m. The public is invited to attend free of charge.
Rier is a self-taught artist working mostly in inks and paints on paper in a style she calls "folk surrealism." After many years of oil painting and designing clothes, she shifted her focus to works on paper. Using ink, watercolor, gouache and graphite, she is focused on developing a visual narrative she has been building over the past decade built with pattern, color and line. She creates pieces that draw viewers in with their bright colors and delicate line work, but as the viewer delves deeper into the piece they find themselves immersed in a complex narrative.
Rier lived in Maine, Vermont, Connecticut, New York City, Arizona and Washington state before moving to Portland. Her work draws heavily upon folk tales and mythology as a means to examine themes of the modern world. "I seek to twist narratives to make old themes feel new and of-the-moment," she says of her work.
More information on the exhibit is available by contacting Jennifer Salzman at 503-554-2634.
George Fox University is ranked by Forbes among the top Christian universities in the country and is a Christian college classified by U.S. News & World Report as a "Best National University." More than 4,000 students attend classes on the university's campus in Newberg, Ore., and at teaching centers in Portland, Salem and Redmond, Ore. George Fox offers bachelor's degrees in more than 40 majors, degree-completion programs for working adults, seven seminary degrees, and 13 master's and doctoral degrees.
-30-
Contact:
Jennifer Salzman
Director of Exhibitions and Collections
George Fox University
503-554-2634