Prospective students invited to virtual visit sessions at George Fox University
June 19, 2020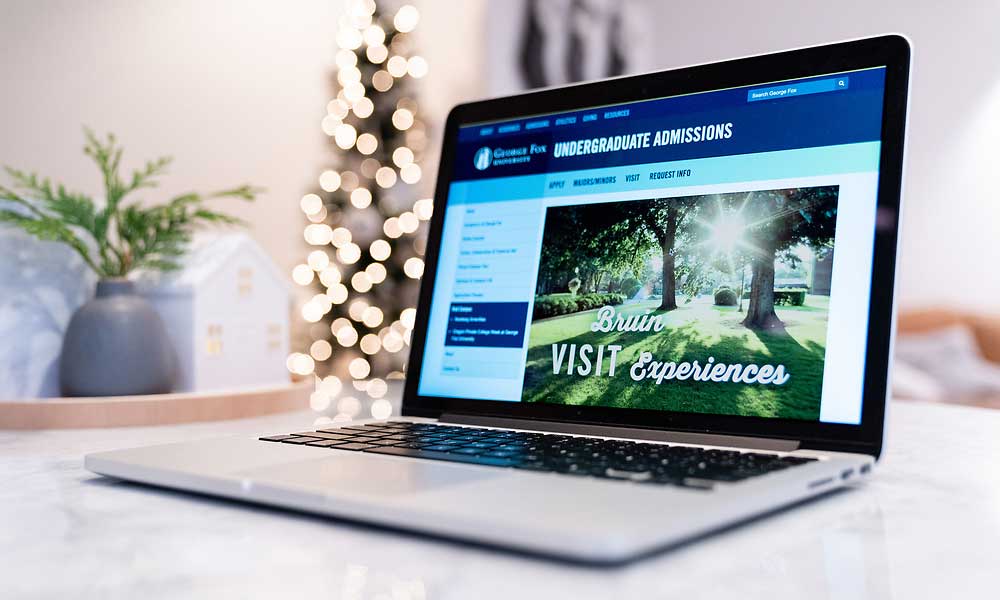 Institution hosts three 80-minute sessions in conjunction with Oregon Private College Week July 27-31
NEWBERG, Ore. – Prospective students interested in learning more about a George Fox University education are invited to a series of virtual visit sessions in conjunction with Oregon Private College Week Monday, July 27, through Friday, July 31.
George Fox is among 10 private, nonprofit institutions participating in the event. Each of the participating schools will host three 80-minute virtual visit sessions to go over admissions, financial aid, and academic programs.
Prospective students and their families, high school teachers and staff members, access program professionals, independent higher education counselors, and all interested community members are invited to register for OPCW and learn about what makes each of the participating institutions unique.
For more information about OPCW, including the virtual visit schedule, registration links, tips to get the most out a virtual visit, COVID-19 considerations for prospective students, and transfer student resources, visit nprivatecolleges.com.
The private, nonprofit, independent colleges and universities that comprise The Alliance are vital contributors to Oregon's educated and skilled workforce, local communities, and the state's education attainment goals. Together, Alliance institutions offer degrees in more than 260 fields of study, including engineering, business, law, nursing, and computer science.
The majority of undergraduate students (62 percent) enrolled in Alliance member institutions finish their bachelor's degrees in four years – the highest rate of completion in the state – and 28 percent graduate with zero debt.
Among other facts about private higher education:
Nearly one in three undergraduates at an Alliance member institution receives/is eligible for Federal Pell grants. Twenty-one percent of undergraduates are the first in their family to attend college, and 32 percent of undergraduates identify as students of color.
One of the best indicators of success is class size, and the student-to-faculty ratio averages 11:1 at Alliance institutions. Faculty utilize high-impact teaching strategies that include service learning, research with faculty, internships/field experiences, and study abroad options.
Eighty-five percent of undergraduates at Oregon private, nonprofit colleges and universities receive institutional aid. For those undergraduates at Alliance institutions who have need, 99.8 percent receive financial aid.
The Oregon Alliance of Independent Colleges and Universities ("The Alliance") is comprised of 15 private, nonprofit, independent colleges and universities. In total, these institutions educate more than 30,000 students, delivering high-quality experiential learning with high-impact teaching strategies. Earned undergraduate and graduate degrees total nearly 10,450. For more information, visit oaicu.org.
George Fox University is ranked by Forbes among the top Christian universities in the country and is a Christian college classified by U.S. News & World Report as a "Best National University." More than 4,000 students attend classes on the university's campus in Newberg, Ore., and at teaching centers in Portland, Salem and Redmond, Ore. George Fox offers bachelor's degrees in more than 40 majors, degree-completion programs for working adults, seven seminary degrees, and 13 master's and doctoral degrees.
-30-
Contact:
Brent Wilder
Interim President, Oregon Alliance of Independent Colleges and Universities
503-342-0004, ext. 201