Former U.S. ambassador, author and longtime professor David Rawson dies
September 18, 2020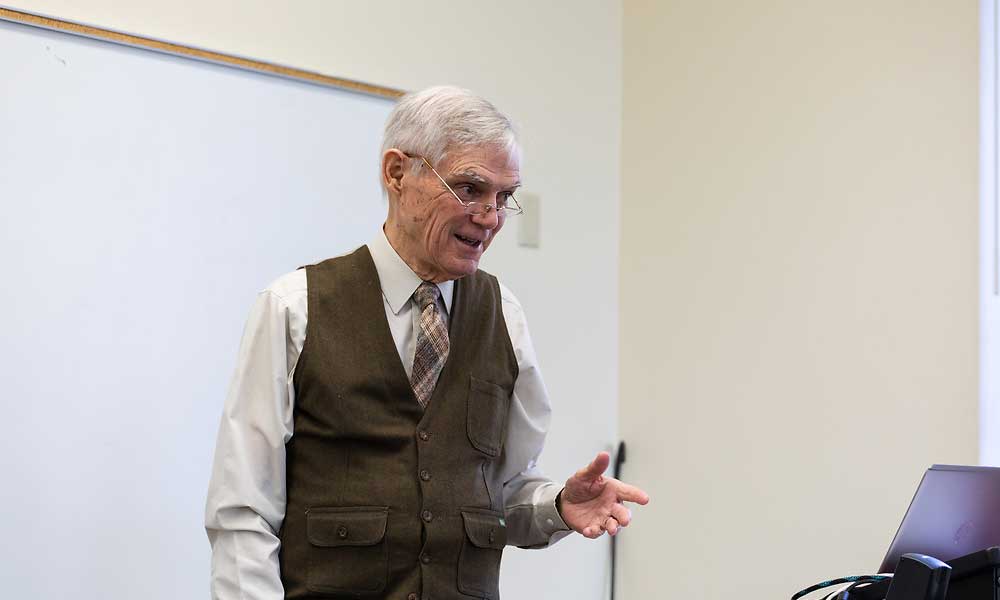 The scholar in residence at George Fox University, an ambassador to Rwanda leading up to the 1994 genocide, was 79
NEWBERG, Ore. – David Rawson, a former U.S. ambassador to the republics of Rwanda and Mali, a longtime professor and author, and, for the past two years, a scholar in residence at George Fox University, died Sept. 16. He was 79.
From 1993 to 1996, Rawson served as an ambassador to Rwanda, a nation experiencing racial tensions between the Hutus and Tutsis. The downing of a plane with Rwandan president Juvenal Habyarimana aboard triggered a genocide in the spring of 1994 that resulted in the death of 800,000, forcing American officials, including Rawson, to leave the country.
Rawson recounted the events leading up to the tragic event in his book, Prelude to Genocide: Arusha, Rwanda, and the Failure of Diplomacy, released in the fall of 2018 through Ohio University Press. In it, he provided a detailed account, drawn from declassified documents and his personal involvement, of what went wrong.
"I had two goals with the book: The first was to declassify the material that was available surrounding the negotiations and during the early days of genocide," he said in 2019. "The second was to tell the story of what went on before the genocide actually happened, particularly in terms of the political negotiations between the two sides."
The materials Rawson drew upon to write his book – including declassified government documents, press releases, letters and printouts of the telegraphic communications between the U.S. State Department and various embassies – were donated to George Fox University's archives and library in 2018.
"I was there, so when papers were handed out I kept them," Rawson said of his collection, which spanned the years 1991 to 1996 and fills seven and a half cubic feet of boxes. "Honestly, I don't know where else many of these documents can be found. And many were originally classified, so much of my work went into getting them declassified so this story could be more fully told."
Rawson's interest in Rwanda began when he was a professor at Malone College in the 1960s, when he received a postdoctoral grant in 1966 to visit Rwanda and Burundi to investigate how the political situation in the two countries related to religious culture. By the 1980s, he was a deputy chief of mission for the American Embassy in Somalia (1986-88) and later director of the Office of West African Affairs (1989-91). He was a U.S. ambassador to Rwanda and later the Republic of Mali (1996-99).
Upon retiring from foreign affairs in 1999, Rawson moved to Michigan and taught at Spring Arbor University and Hillsdale College. He joined George Fox's College of Business as a visiting scholar in 2018 and served the following year as a scholar in residence at the university, teaching in the institution's political science, international studies, and business programs. He was a resident of the Friendsview Retirement Community.
Born in 1941 in Addison, Michigan, as the son of missionaries, Rawson moved to Burundi with his family in 1947, where his father ran a medical clinic. David Rawson returned to the U.S. in 1958 to attend Malone College, where he earned his bachelor's degree, and American University, where he earned both a master's degree and doctorate. He then taught at Malone for six years before joining the U.S. Department of State, beginning his diplomatic career.
George Fox University is ranked by Forbes among the top Christian universities in the country and is a Christian college classified by U.S. News & World Report as a "Best National University." More than 4,000 students attend classes on the university's campus in Newberg, Ore., and at teaching centers in Portland, Salem and Redmond, Ore. George Fox offers bachelor's degrees in more than 40 majors, degree-completion programs for working adults, seven seminary degrees, and 13 master's and doctoral degrees.
-30-
Contact:
Rob Felton
George Fox University
503-554-2129