The Portland Writing Center (PWC) offers fully online one-on-one writing assistance and academic coaching free of charge to George Fox University graduate and George Fox Connect students. Please note that we are not an editing service.
Consultations are typically 50 minutes long, but you can also request asynchronous feedback. Get help with APA and Turabian formatting, brainstorming, thesis development, and more!
Schedule an Appointment
The best way to schedule an appointment is through Penji, the Portland Writing Center's online scheduling system.

You can also download the Penji app or access Penji through Canvas.
How to Schedule an Appointment Through Penji
Watch a video on how to schedule an appointment in Penji
Access Penji using the "Schedule Appointment" button above, the Penji App, or through Canvas
Sign in with your George Fox username and password
Select the "Learn" tab in the PWC Community
Choose the appointment option that works best for you
Choose the class you'd like help with. If the course you want help with is unavailable, choose "Writing Help" or "Academic Coaching." Chances are one of our consultants will still be able to help you out!
A calendar view will pop up. Choose the day/time that works best for you.
Choose your consultant
Choose location "Synchronous" or "Asynchronous" (more on asynchronous appointments below)
Let us know what you want help with
Select "Complete" and "Create" when you are sure your appointment is right
You should receive a confirmation email with a calendar invite option.
After your appointment is made, you can upload any documents or course materials you want help with in the "Open session materials" or "Chat" functions.
Asynchronous Appointments
If you requested an asynchronous appointment:
Message your consultant through the Penji app
Upload your paper to Penji either through "Messaging" or when you make your appointment
Make sure your file sharing settings are on if you're using Google Docs
Allow 24-hour turnaround for your consultant to make suggestions on your paper
Your consultant will message you through the Penji app when your paper is complete
Questions or concerns? Email us at wc@georgefox.edu.
FAQ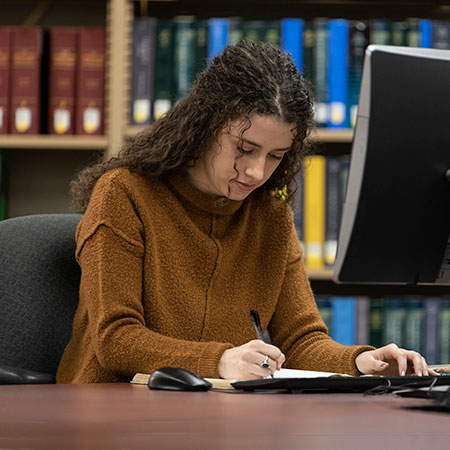 Can I make a longer appointment? Or multiple appointments per week?
No. Since we have a limited number of consultants, we allow one 50-minute appointment per week per student.
I'm an international student, English Language Learner, or student with accommodations. Can I have more than one visit as an exception?
Yes. Students who have accommodations or are ESL learners can make up to two 50-minute appointments per week. The student must email wc@georgefox.edu beforehand.
Can I use the PWC as an editing service for my dissertation?
No. We outsource copyediting requests. However, you are encouraged to use our services for dissertation development in no more than one-chapter increments.