Scholarship Information: Doctor of Psychology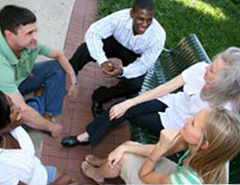 Diversity Scholarship

The goal of the Scholarship Program in the Graduate Department of Clinical Psychology is to facilitate cultural/ethnic diversity in the student community and to encourage the provision of psychological services to underserved groups.
The GDCP faculty award a limited number of scholarships each year to students admitted to the GDCP. Scholarship awards are given on an annual basis and range from $2,000 to $5,000 per year. Although awards are for one year, our intent is to provide financial support to qualified students throughout the four years of academic study (the internship year is excluded). Awards are renewable each year provided the qualified students maintain satisfactory academic and clinical progress. Students wishing to make an initial application for this award should complete this form. A re-application form can be found here.
It is expected that recipients will contribute to multicultural awareness on campus and/or provide services to diverse groups while enrolled in the GDCP. Initial and continuing scholarship recipients are required to apply for an APA Minority Scholarship within three months of receiving the scholarship from the GDCP. 
Richter Scholarship
The Paul K. Richter Memorial Fund and the Evalyn E.C. Richter Memorial Fund, administered by the Bank of America, have awarded the funds for this program to George Fox University. The Richter Scholars program enables undergraduate and graduate students to receive funding for independent research projects conducted with a faculty mentor. Students can apply for the Richter Scholar program during their first or second year in the PsyD program. Richter grants are available to full-time graduate (8 hrs per semester) or undergraduate (12 hrs per semester) students at George Fox. George Fox is one of only 11 universities in the Richter Scholars program, including Yale, Dartmouth, Cal Tech, and University of Chicago. To learn more, click here
Tuition
Program Costs: Doctor of Psychology (PsyD) Program
2015-16 Academic Year Program Costs
| | |
| --- | --- |
| Application Fee; nonrefundable, submit with application for admission | $40 |
| Tuition per semester hour; due by the first day of class | $839 |
| Student-body Fee per semester (full-time students, 8 or more hours) | $70 |
| Student-body Fee per semester (part-time students, 4-7.5 hours) | $35 |
| Health/Counseling Fee per semester (students with 5 or more hours per semester) | $68 |
| Health Insurance per year (full-time students, 8 or more hours, without waiver and proof of insurance) | $1,750 |
| Internship, full-time, per semester | $1,000 |
| Internship, part-time, per semester hour | $132 |
| Graduation Fee; typically covered by enrollment deposit for those who start in Fall 2010 or later | $165 |
PsyD

/

Scholarships & Tuition