Research Teams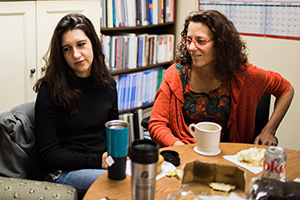 PsyD students at George Fox become members of vertically integrated research teams that meet biweekly with professors. Teams consist of small groups of students from each year in the program. First-year students visit all research teams to observe and learn about the areas of research being undertaken. Students join an RVT in the spring of their first year.
In the second year, students commit to a team and engage in research under the direction of a faculty member. This research will culminate in completion and defense of a doctoral dissertation.
Research Vertical Team Description
The Research Vertical Team is the formal mechanism by which original empirical research efforts are formulated and guided. Therefore, dissertation research typically evolves in this manner. In addition, students are encouraged to participate in other individual or collaborative research efforts during their GSCP training. It is hoped that program graduates will value and possess the skills to generate and evaluate original research that will enrich and improve the field and their own clinical practice, as well as guide the policies of agencies with which they affiliate. To this end Research Vertical Research Teams exist, as well as a formal academic sequence involving statistical analysis, research design, and research application.
Each student is required to attend a two-hour faculty-led research team meeting every other Wednesday afternoon. Research Vertical Teams (RVTs) are designed to involve students in collaborative research efforts with peers and a faculty mentor. RVTs serve to allow modeling of research by faculty as well as to expedite completion of the dissertation.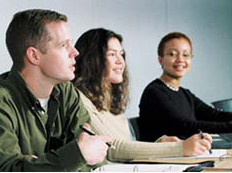 All students are expected to attend RVTs throughout their four years in the program. During the first year, students will meet with each faculty member and the respective RVT. During the second semester of their first year in the program, students select and join an RVT. The Director of Research maintains responsibility for team assignments, the individual faculty team leader as well as the entire faculty... approve all assignments. When a student formally joins an RVT, the faculty team leader will become the student's dissertation chair and the student will remain in that RVT. The faculty member will also become the student's academic advisor.