What We Are Known For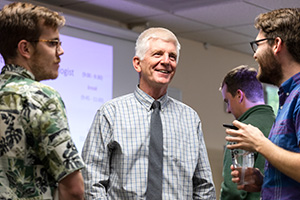 At George Fox we understand that excellent clinical training and research must be a foundational part of every APA-accredited program training licensed professionals. We also know that our supportive community, emphasis on diversity, and unique integration of the Christian faith set us apart. Our program distinctives include:
Community Mentoring
George Fox's PsyD program has a unique focus on Mentoring and has often been recognized as a leader in providing mentors to our students during their doctoral program. Our students report that by the time they graduate, they have had an average of six mentors! These mentors have been purposefully built into the framework of our program and can be everything from peer mentors within our community-based cohort model, to clinical training mentors, research mentors, faculty mentors, spiritual mentors or other personal or professional mentors in different phases of their program. We know that mentoring is a key factor in student success both during their graduate program and then beyond into their professional career.
Clinical Training
As with any PsyD program, we know that excellent clinical training must be at the core of what we do. We believe our Clinical Teams add an extra layer of support and training. These vertically integrated teams build on the Clinical Practicum experiences to enhance the clinical skills and professional growth of each student. The mixture of training levels provides a rich training environment in which students learn from each other as well as from the faculty mentor.
Christian Faith Integration
A wholistic view of mental health includes a spiritual component. At George Fox University, we give explicit training in the relationship between mental health and the Christian Faith. A central distinctive of the program is the integration of a Christian worldview and the science of psychology at philosophical, practical and personal levels.
Our program offers specialized training in dealing with the psychological aspects of religious or spiritual issues. We are one of only six governing members of the Council for Christian Colleges & Universities in the U.S. with American Psychological Association (APA) accreditation of its PsyD program.
Research Teams
George Fox's PsyD program has been recognized for having a distinct focus on research. In fact, while George Fox does not have a publishing requirement for students, approximately 80 percent of recently enrolled students presented at professional meetings or were published in professional journals before graduation.
In addition to the required research courses, our students participate in Research Vertical Teams (RVTs). These uniquely designed groups place first-year, second-year, third-year and fourth-year students all on the same team under the direction of a faculty member. Our students learn to mentor one another and to put their research concepts into practice within the context of the groups.
Diversity
The George Fox Graduate School of Clinical Psychology emphasizes the importance of diversity in our program and in our work with clients and the community. Diversity is woven into each aspect of our program - from the classroom, to colloquia events, clinical experiences, research projects, and student committees.
Our desire is that students will gain knowledge regarding the importance of diversity and an attitude of cultural humility and respect when working with people from diverse groups, including specific training in the integration of religion and spirituality within the practice of professional psychology.