March 2012
The Journey We Walk, Together
By Nancy Almquist - Director of Parent Relations

Five years ago, our family of 5 joined a caravan of 50 others, bound for Mexico. The intent of our Spring Break trip was to "help others." We were headed to San Luis, Mexico for a week of building together – both homes and relationships. My husband, Paul and I had been on multiple short term mission trips prior to this first time experience for our boys. Our youngest son, Andrew was only 10 years old when we went. He was the youngest on the team – but bound and determined to work alongside the more experienced builders. More...
Is college worth the big bucks?
By Terry Christopherson - Parent Council Member

What is the return on investment from the university experience? What do mom, dad and student get for the thousands of dollars they spend? It depends on what you are looking for. There is, of course, the parchment certificatethat places a person in a pool of candidates with improved odds of surviving the screening process during a job search. One would hope that the time and money spent was more than an expensive entrance fee, yet there are those who see college as little more than some letters after a name; for them any institution is adequate. More...
Serve Trips
By Andrea Crenshaw McLeod - Director of Outreach and Service

I love the first signs of spring after a long, sometimes dreary, winter season. Most people associate spring with the sign of crocuses popping up and buds forming on trees. I associate spring with the incredibly fragrant smell of the Daphne plant. They usually bloom between February and March. I can detect it from blocks away. I love it! It reminds me that spring is coming and all of our serve trip teams are in the midst of preparing, planning and fundraising for their various trips. There is fervor in the air ... anticipation for things to come. More...
Does a High Dollar Education Still Have Value?
By Bonnie Jerke - Director of Career Services

It seems justified and important to question the value of a college education when the economy is not producing jobs the way it used to and college tuition is on the rise. Is the present focus on the financial, however, diverting us from considering other sources of value for a college degree that has proven itself over the years with innumerable life-altering outcomes for ourselves and our country? Perhaps considering the alternatives (some lucrative, some not) would help put this into perspective. One of the stories I hear over and again is from students who decide to quit college in order to work and then return with a very different point of view and motivation. Experiencing that alternative reality made a difference, and these returnees will do whatever it takes to get that college education. More...

---
You might be interested to know what some of our administrators and faculty members are reading these days. So, we bring to you: "Books on the Nightstand" to let you in on a few books you might want to check out. 

President Baker:
Simply Jesus by NT Wright
The Circle Maker by Mark Batterson
Knowing Christ Today by Dallas Willard
Outliers by Malcolm Gladwell
Provost Allen:
A Public Faith by Miroslav Volf
Immunity to Change by Robert Kegan & Lisa Lahey
The Aims of Education by Alfred North Whitehead
The Good of This Place by Richard Brodhead
---
University Day of Prayer - March 10

Sponsoredby the George Fox Parent Council – join us for the University Day of Prayer. If you cannot make it to campus or join us at one of our regional locations, please watch our University Day of Prayer virtual tour of campus and pray from the comfort of your own home. For more information click here.
Bruins Headed to Virginiato Meet Polar Bears in NCAA Basketball Sectional Mar. 9-10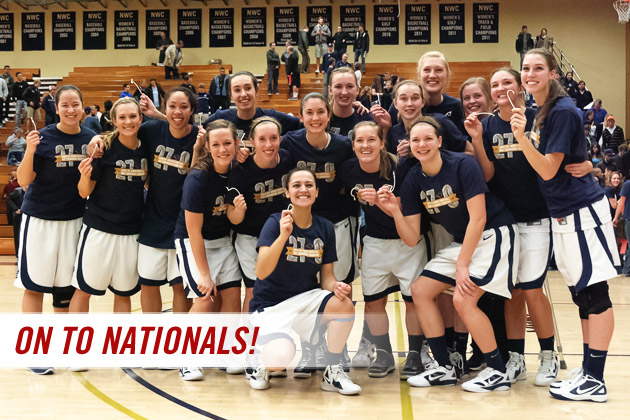 Making their fifth consecutive appearance in the "Sweet 16" round of the NCAA Division III Women's Basketball National Tournament, the George Fox University Bruins will meet the Bowdoin College Polar Bears first in one of our sectionals Friday-Saturday, March 9-10, at Mary Washington University in Fredericksburg, Va.
For those who cannot get to the East Coast, Mary Washington will be providing both live stats and live video streaming. The links:
Selah, A Conference For Women
"Getting Un-stuck"
-
March 17

There are times in life when we feel stuck physically, emotionally, spiritually, professionally ... even relationally. The Selah conference will unpack what the Word of God says about such seasons. Join us as we talk about the traps that paralyze us in helplessness – and the spiritual renewal and freedom that is waiting for us on the other side of "stuck!" For more information click here.
Bösendorfer Artist Series - April 12

Sixth Annual Bösendorfer Artist Series
Featuring pianist Kenn Willson ('80) and one of America's foremost baritones, Richard Zeller ('83)
Thursday, April 12, 2012 7:30 p.m.
Bauman Auditorium, George Fox University
$10 Adult / $8 alumni orsenior citizens / $6 students and children
"The Broken" Theatre Performance

Written & devised by the ensemble & design team

April 12-14 and 19-21 at 7:30 p.m.
April 22 at 2 p.m.
Wood-Mar Auditorium

To Purchase Tickets online

One of our theatre department's most ambitious productions in years, The Broken, will show in Wood-Mar Auditorium. An original play created by George Fox students, the plot centers on the tensions that develop in Papua New Guinea after a conflict arises between a missionary and a New Guinean. The thought-provoking story, based on true events, is sure to engage you as we tackle issues of globalization and faith in a postmodern world.
Spring Concert - April 20, 7:30pm

Performing Arts
The concert will consist of performances by the University Symphonic Band, Concert Choir and Orchestra.
Symphonic Band under the direction of Pat Vandehey will perform the: David Maslanka, Symphony No. 4 for Symphonic Wind Ensemble
This piece is a musical example of a spontaneous force that gives rise of the impulse to shout for the joy of life.
The George Fox University Concert Choir and orchestra (under the direction of Loren Wenz) join forces to present Joseph Haydn's Missain Angustiis, (Mass in Times of Trouble) more commonly known as the Lord Nelson Mass.
Soloists for this work will be George Fox University voice faculty members: Ms. Maggie Daane, Ms. Cynthia McGladrey and Mr. Matthew Hayward. Tenor Soloist: will be Mr. Matthew Dolphin.
Spring Commencement Ceremonies - April 28

Commencement is a great celebration time. For more information on our ceremonies this spring: Commencement Ceremony Information
Spring Bruin Athletics Schedule

Come out and support Bruin Athletics and our players during our spring sports games. To see a list of all the games click here.
Golf Tournament - July 11

Join fellow golfers for the annual George Fox golf tournament at The Reserve Vineyards and Golf Club in Aloha, Ore. We are seeking sponsors and players for the tournament, which supports George Fox Athletics. Many sponsorship levels are available. For more information, visit golf.georgefox.edu.
---
This Month - File the FAFSA form.  GFU's school code= 003194
March 10th – University Day of Prayer
March  24-31st Spring Break – University Housing and Meal Services Closed
March 30th – Mid-Semester Holiday – offices closed
April 6th – Good Friday Holiday – offices closed
April 28th – Spring Commencement
November 2-4, 2012 – Family Weekend

You might bookmark the university calendar for your own reference: click here.
---
To view a complete chapel schedule, click here.
March 2012

Chapels on Monday's and Wednesday's are held from 10:40 to 11:30 a.m. in Bauman Auditorium. Chapel and other programs can be found online in MP3 and video format.
Chapel and other programs can be found online in MP3 and video format.
---
Addition to Alcohol, Drugs, & Tobacco Policy for Undergraduate Students
Effective March 1, 2012 there will be an addition to the Alcohol, Drugs, & Tobacco policy for traditional undergraduate students. In response to some alcohol incidents, there may be a voluntary breathalyzer test offered to students. Please see the following link to the Student Handbook that outlines the policy, as well as the rationale for the change and FAQs: click here. This communication is being distributed via email and E-nnouncements to all traditional undergraduate students and serves as official notification of the policy change.
Where should you stay in Newberg while visiting the George Fox campus? Check out the list of recommended local hotels and bed and breakfast establishments, some of whom offer discounts to George Fox families. Click here to see the list.
Wallet-sized Spring season sports calendars are available and can be sent to you in the mail. To receive your copy, contact Nancy Almquist at nalmquist@georgefox.edu or 503.554.2114.
The Student Support Network

The Student Support Network (SSN) provides practical and intentional support for students who are struggling academically, spiritually, emotionally, socially, or personally. If you would like to refer a student to the SSN please fill out the Intervention Alert Form found at ssn.georgefox.edu. If you have further questions or concerns please see the contact information on the SSN home page.
Join us on campus to pray for our students, Thursday mornings 10am-11am, in the Hoover Hatfield Library (Hoover 104). (Thursdays except for: February 23rd, March 22nd, March 29th and April 19th.)
Sign up to receive the SFS News!

The Student Financial Services Office wants to give you access to all the information you need to successfully navigate through the financial aid and student payment process. To accomplish that goal, we have established the SFS News; a list of email addresses to whom we send brief alerts and announcements such as SFS due dates, financial aid policy information, calendar reminders, time-sensitive alerts, and other notifications.
Don't worry about our selling your email information or "spam". Our goal is succinct, timely and relevant communication and you can unsubscribe without any hassles!
By the way, if you choose to not subscribe, please be aware that with the beginning of this academic year, this is the primary communication tool SFS will be using. If you choose to not participate, you may miss out on critical information.

Click Here to Register!