Need help writing a paper or preparing for tests? Through one-on-one and group consultations, trained peer consultants can help you..
Read. Write. Learn... Better.
The Academic Resource Center (ARC) provides free writing help and academic coaching to traditional undergraduate students and is located on the first floor of the Murdock Library.
Graduate students and George Fox Connect students can get assistance from the Portland Writing Center.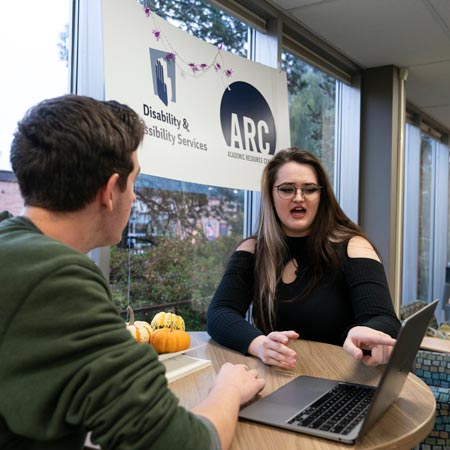 Schedule an ARC Appointment
We offer 25- or 50-minute appointments during these hours:
Monday-Thursday: 1-10 p.m.
Friday: Noon – 4 p.m.
The best way to schedule an appointment is through Penji, the ARC's online scheduling system.

You can also download the Penji app or access Penji through Canvas.
Scheduling Through Penji
Watch a video to learn how to schedule an appointment using Penji
Access Penji using the "Schedule Appointment" button above, the Penji App, or through Canvas
Sign in with your George Fox username and password
Select the "Learn" tab in the ARC Community
Choose the appointment option that works best for you
Choose the class you'd like help with. If the course you want help with is unavailable, choose "Writing Help" or "Academic Coaching." Chances are one of our consultants will still be able to help you out!
A calendar view will pop up. Choose the day/time that works best for you.
Choose your consultant
Choose location "Murdock Library"
Let us know what you want help on. Your class not showing up? Type in "Academic coaching" for general assistance in any subject or "Writing help" for help with any type of paper.
Select "Complete" and "Create" when you are sure your appointment is right
You should receive a confirmation email with a calendar invitation.
After your appointment is made, you can upload any documents or course materials you want help with in the "Open session materials" or "Chat" functions. 
Canceling an Appointment in Penji 
Open the app or website and select your appointment
To cancel a session, select the three dots on the right-hand corner, and then select "Cancel Session"
You can also schedule an appointment by:
What can I use an ARC appointment for?
Writing
Brainstorming a topic
Organizing information
Transitioning between sentences, paragraphs
Critiquing your final paper
Academic Coaching
Planning your schedule
Taking notes more efficiently
Improving study habits
Overcoming test anxiety
Be sure to plan ahead and schedule appointments as soon as possible. The ARC schedule fills quickly, especially during busy phases of semesters, such as midterms and finals. The quickest and surest way to schedule an ARC consultation that fits into your academic plan is to schedule through our online system.
What to Bring to Your Appointment
When you come for your consultation, be sure to bring:
Your class syllabus
The assignment sheet (if separate from the syllabus)
Any work you have done on the assignment
Other materials you need to complete the assignment (textbook, source materials, class notes)